Box.Live Getting Started Guide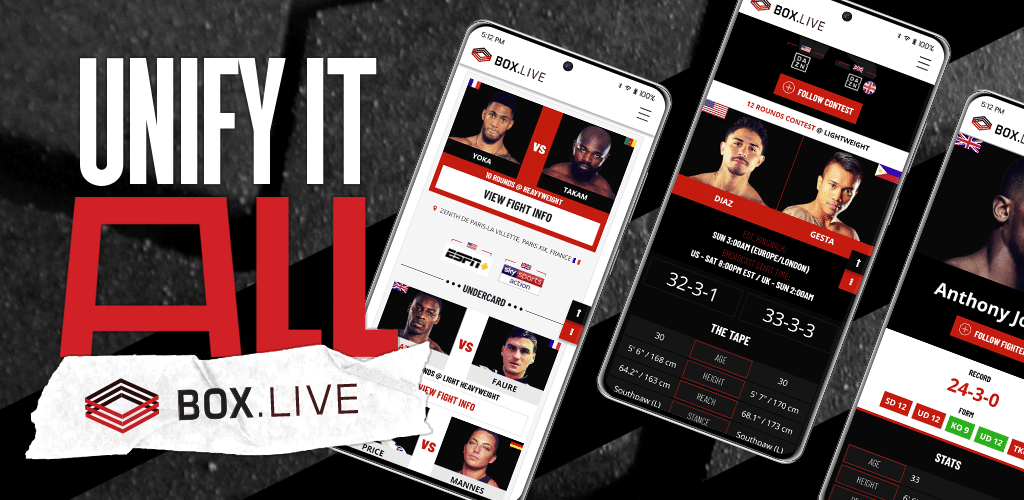 Welcome to the Box.Live, the world's best boxing schedule app with many extra features to keep you close to all the big fight action. 
This quick guide will help maximise your experience with the app, and help you to follow boxing your way!
Watch the complete guide here, or use the quick jump menu to skip to the section you'd like to learn about.
Quick Jump Menu
---
Signing-up
You'll need a login to access the app. If you don't have one already, you can create a Box.Live account for free.
Creating one takes less than 30 seconds. We just take a few details to tailor the app to your location and preferences. 
Once you've signed up, you can access the app immediately. However, you'll need to confirm your email address before accessing all of our features. 
---
Navigating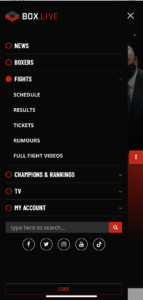 Getting around Box.Live is quick and easy.
Main Menu
The main menu is accessed from the hamburger icon in the top right-hand corner of the app and allows you to access different sections. Where you see a down-facing arrow next to a menu item, it'll expand with more options for you. 
There is also a search option should you wish to find something in particular.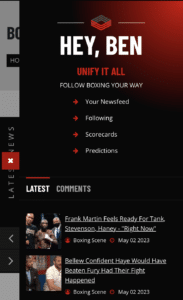 Right Menu
We have a quick-access menu on the right of the app screen, giving you access to your account features. The menu also provides an overview of the latest news headlines, community comments, recent results, upcoming fights, and daily rankings updates. 
Top Button
When you scroll down a page, a top button will also appear next to the right menu icon to help you quickly head back to the top of your current view.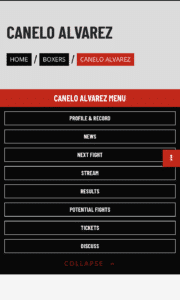 In-Page Menu
Most screens will have an in-page menu, to allow you to quickly access the different sections within that page. Using the 'expand' link, you can view more menu options on longer pages. 
Breadcrumbs
You'll often see breadcrumb navigation at the top of a page, allowing you to move back to a parent page or return to the home screen.
Navigating Back
If you want to return to the last screen you visited, you can use the system button on Android to go back. On Apple devices, simply drag the screen from left to right to return to the last page you visited.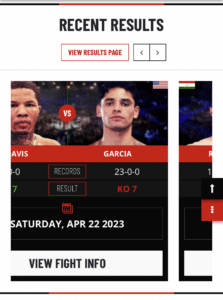 Arrows
Where you see arrow icons, you can slide the section with your finger or thumb to view more contests or information. 
Viewing Fighters
You can click on a fighter's image or name to view their profile. 
Viewing Contests
Contest pages can be viewed using the 'view fight info' button.
Returning Home
Finally, you can also touch the Box.Live logo to return to the app home page at any time. 

---
Schedule & Results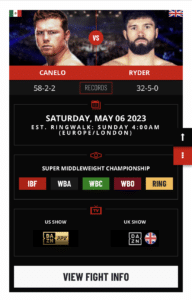 Our editors curate the schedule and list only the top-level events within the sport. The schedule is updated daily and result details are usually added just a few minutes after the fights finish. 
The upcoming fights and results sections are available under 'fights' in the main menu. Alternatively, you can access both from the home screen by clicking the 'view button' on the relevant section.
The top of these pages includes a carousel of the biggest upcoming contests or results.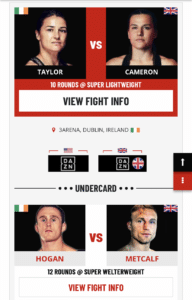 In the full schedule section, main event fights are highlighted by a red background and undercard fights are displayed under the belt & TV details.
If you'd prefer a text schedule of upcoming fights or recent results, click 'view text schedule' from the in-page menu.
Local TV & Screaming schedules are currently available for our users in the US & UK. You can view these from the TV section in the main menu.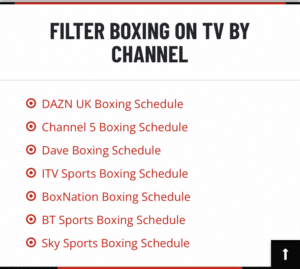 We also have pages for individual broadcasters and channels where you see their upcoming schedules and some recent show results. Select 'Filter by channel' in the in-page menu to view the available broadcasters.
You can view more information on each fight in all the schedule views by clicking 'View Fight Info'.
---
Contests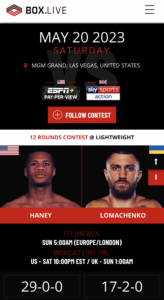 All major fights have a page on Box.Live. We track scheduled contests and then update the page with a curated news feed, tickets and TV details. Then finally, the result, once the fight happens.
You can access these by pressing the 'view fight info' button wherever a contest is listed across the app or using the search feature. 
You can use the in-page menu from the contest page to skip to the section you wish to view.
In the tape section, you can see the official contest date, or when it's rumoured to occur. Then the venue and TV details if they've been announced.
You can use the 'follow contest' button if you want to get reminders and extra notifications about a fight.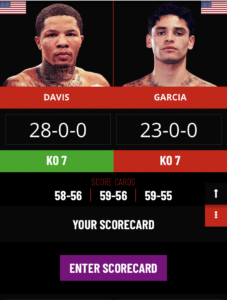 Just above both fighters, you can see the billed rounds and weight.
If the contest is a result, you can see the outcome and the official scorecards.
You can also enter your own scorecard. If you'd like to score the fight live, this feature becomes available just before the fighters enter the ring. Further details on how to enter scores and view your previous scorecard are available later in this video. 
We display an estimated ringwalk time converted to your local time zone. Also listed are the event broadcast start times if the fight is being shown in either the US & UK.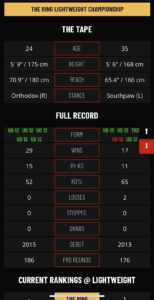 Then you can see the fighter's current records, or what they were leading into the fight if the contest is now a result.
Next, we display any championship belts that may be on the line.
Then a full head-to-head of both fighters' stats, records and current rankings or where they were ranked when the fight occurred. 
You can also see and browse other contests on the same card. 
Then you can enter your prediction or see how the community sees, or saw, the fight playing out. We'll discuss how to enter your own predictions and view your previous ones later in this video. 
You can also access a curated feed for the contest in the news section. This allows you to get all the background info and stories leading into the fight and a full report when the fight happens. 
You can view an archive of all the news stories leading up to a fight by pressing 'read all news'.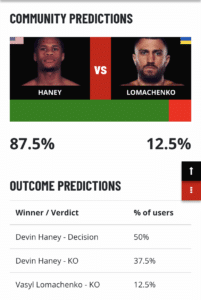 Then we have streaming details, including the cost if it's a PPV or a monthly subscription with a broadcaster.
In the ticket section, we include details for the main box office and resell tickets if the fight is sold out. 
Then, if we find a full replay of the fight on YouTube, we'll embed it into the contest page for you.
Finally, you can leave your thoughts on the fight or your detailed prediction in the comments section.
We also track big future matchups, so you can follow them for updates and discuss them with other fans. You can access these from the rumour option in the fight menu.
This section overviews our top 10 most wanted fights in the sport and some of the latest rumours we've added to the app.
You can also view these for an individual fighter in their profile under 'potential fights'. 
---
Boxer Profiles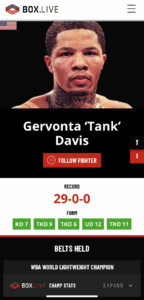 We have individual profile pages for virtually every major fighter in the sport, so you can always stay updated with the boxers you love. You can access these from any part of the app by clicking on a fighter's image or name when you see them.
If you'd like to check in on a particular boxer, you can access our profile list from the Boxer section of the menu.
From here, you can search for a fighter by name, view the currently featured boxers,  or navigate through an A-Z of fighters in our system.
Once you've entered a profile, you can use the in-page menu to navigate to the different sections of their page.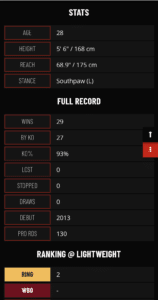 Below their profile picture and name, you can opt to follow a fighter. This will inform the app that you want notifications about big news stories, fight announcements and reminders regarding this fighter. 
Just below that that you can see their current record and recent form. Then, any major belts they currently hold, including their Box.Live champ stats.
If you continue scrolling down, you can see their stats, full record, and current rankings.
The profile section includes some common questions you might have about the fighter and their recent fights. We've also included a full list of contests in our database, including if we've found a video replay for one of their fights.
We then list their next fight if they have one scheduled.
Then there's a curated news feed of the fighter's recent stories in the press, and you can look through their news archive by pressing 'Read All Fighter News'.
In a stream section, we list where their next fight will be shown or where their fight nights can typically be streamed. 
Below is a carousel of recent results, including if we have found a replay video for the contest.
You can also find a link to their BoxRec Profile, should you wish to get a details view of their career.
The fighter's next section lists future opponents under 'potential fights'.
You can also view tickets for their next fight if one is scheduled.
Finally, in the comment section, you can let everyone know your opinion about a boxer or suggest future fights you'd like to see them in. 
---
Champions & Rankings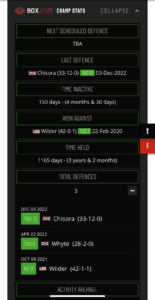 We keep track of all the major world title holders and all the latest rankings.
Champions & rankings details can be accessed from the main menu. 
In the champions section, we list all the world title holders from the 4 major governing bodies and The Ring Magazine. 
Using the in-page menu, you can quickly jump to a weight.
You can expand the details for each titleholder to see their champion stats. This includes how they won the belt, title defences, mandatories, and activity details.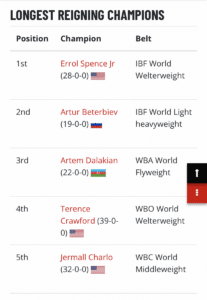 We also track several stats about all the title holders in the sport, like the youngest, oldest, newest and longest reigning champions. You can view these at the bottom of the page by selecting Stats & Records from the in-page menu. 
On our dedicated rankings page, again, you can utilise the in-page menu to jump to each weight.
For each division, we provide the top ten from the ring magazine and the top 15 from each major governing body. You can also see each fighter's position change from the previous month's rankings. New entries have a star next to their name and you can see those that have dropped out of the rankings in the past month at the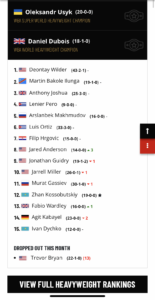 bottom.
You can get a more detailed view of the rankings for a weight division, including big upcoming fights and recent results for that weight, by selecting 'View full weigh rankings' at the bottom of each division's section. 
If you wish to view an individual governing body's complete ranking in every weight, select 'by organisation' in the main menu, and navigate to the one you want to view. 
---
Tickets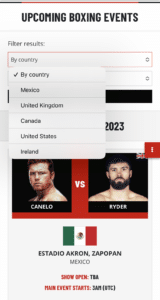 You can view all the events we found ticket listings for in the fight section. We try to list tickets directly from the box office and include resell tickets for more popular events.
You can filter by country, and individual days, using the drop-down boxes located just below the in-page menu.
Ticket prices and links can also be viewed from an individual contest or fighter page.
---
Full Fight Replays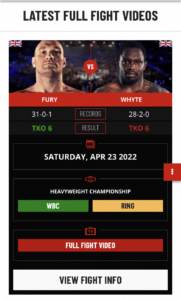 If a full contest replay has been made available on YouTube, we embed them into their respective contest pages within Box.Live.
From the fight option in the main menu, you can also access an overview page that displays the latest replays and the highest-rated fights in our community.
Selecting 'full fight video' from a contest will take you to the embedded video. 
Note: Some videos are geo-restricted by the publisher, so, we may list different videos for US and UK users.  
---
Scorecards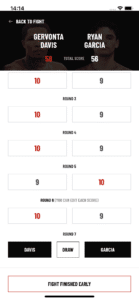 Our scorecard feature lets you become the judge and instantly share your scores with friends or followers.
The scorecard option becomes available on the contest page shortly before the fighter's ringwalk. You can also retrospectively enter a scorecard for any previous contest in our database.  
Simply press the 'enter scorecard' button to start scoring a fight.
To score, select who you thought won the round, or pick the draw. You can manually edit each score if you need to edit or change the standard 10-9 score.
You can generate an image to share anytime by pressing the share icon. This will either save to your phone's photo gallery or open a web link to a downloadable image, depending on the make of your phone.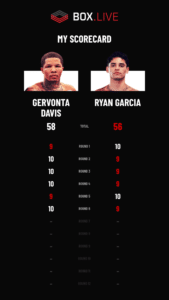 You can exit by selecting 'back to fight' and return to your scorecard at any time, by using the edit scorecard button.
You can finish your scorecard anytime by selecting the 'fight finished early' button. If all the rounds are complete, you can enter your card by selecting 'confirm scorecard'.
Either way, you'll then be taken to an overview. You can use the share button from here to generate a final image of your card.
You can select edit, should you wish to make any final adjustments.
You can view your other cards by selecting 'my scorecards', or exit this feature completely by using the 'back to fight' link at the top.
You can view and search for your previous scorecards anytime by navigating to 'My Account' and selecting 'Scorecards' in the main menu. 
---
Predictions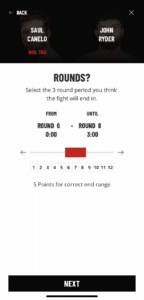 You can leave your prediction on upcoming fights by heading to the predictions section of any scheduled contest.
You'll need to select which fighter you think will win, or select a draw, and then the method. Finally, you'll need to select the stage of the fight you think the stoppage will come, or the points margin, if you think the fight will go to the judges. 
If you make a mistake or change your mind, you can select the back link to return to the previous question. You can exit the prediction screen using the x in the top right-hand corner. 
Once you confirm your prediction, you can generate an image of your selection to share with friends or on social media.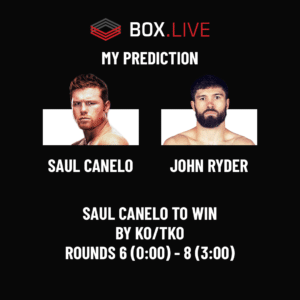 You can edit your prediction at any time up until just before the estimated ring walk time.
Your prediction will be added to the overview community prediction poll, which you can view, below your own, on each contest page.
You can view your previous or upcoming predictions, from the predictions link in the 'my account' section of the main menu.
---
Follow Features
You can follow fighters and contests on Box.Live to customise your experience.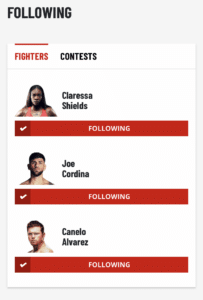 Following either will allow you to receive extra notifications and updates with big breaking news, fight announcements, fight day reminders, and result notifications, without any spoilers.  
You can view which fights and boxers you follow under My Account in the main menu.
From here you can also quickly unfollow any you no longer wish to receive notifications from. 
Likewise, you can unfollow an individual fighter or contest from the app's pages using the same button you used to follow them. 
---
Notifications & Account Settings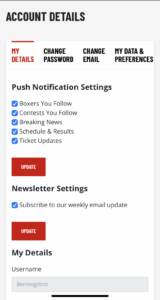 You can update notification preferences or your account details anytime from 'accounts settings' under 'my account'.
As well as custom notifications for fighters & contests, you can receive general updates of big breaking news and regular updates about the schedule and what boxing is coming up on TV.
You can update your email newsletter settings and basic details from here too, including updating your password, changing your email address and revising your data preferences.
You can also view all your recent notifications from your personal 'newsfeed', again under 'my account' in the menu.
---
Getting Help
If you need help, want to report an issue with the app, give us feedback or even suggest a feature, you can contact us from the help section. This is also available under the 'My Account' section.
We're always happy to help and fix any issues, so never hesitate to contact us.
Thanks for downloading Box.Live and we hope the app helps you enjoy the greatest sport on earth even more.
---