Saturday, 9 December 2023
Sunday, 10 December 2023
Thursday, 14 December 2023
Friday, 15 December 2023
Saturday, 16 December 2023
Friday, 29 December 2023
Saturday, 6 January 2024
Saturday, 13 January 2024
Saturday, 20 January 2024
Thursday, 25 January 2024
Saturday, 27 January 2024
Saturday, 3 February 2024
Saturday, 17 February 2024
Boxing Tickets
Date
Event
Venue
Ticket Prices
Undercard fights
Saturday, 9 December 2023
Prograis vs Haney
Chase Center, San Francisco, CA, United States
$37 - $1507

Paro vs Love
Bridges vs Yoshida

Saturday, 9 December 2023
Ramirez vs Espinoza
Charles F. Dodge City Center, Pembroke Pines, FL, United States
$25 - $200

Zayas vs Fortea
Polanco vs Hunter
Johnson vs Espinosa
Torrez Jr vs Harper

Sunday, 10 December 2023
Billam-Smith vs Masternak
Bournemouth International Centre, Bournemouth, Dorset, United Kingdom
TBA

Price vs Bortot
Whittaker vs Dredhaj
Cutler vs Egbunike
Edmondson vs Fedas

Thursday, 14 December 2023
Sanchez vs Santibanes
Fantasy Springs Resort Casino, Indio, CA, United States
TBA
Friday, 15 December 2023
Jake Paul vs August
Caribe Royale Resort, Orlando, FL, United States
$50 - $2000

Crews-Dezurn vs Green
Tellez vs Navarro
Medina vs Temple

Saturday, 16 December 2023
Rodriguez vs Edwards
Desert Diamond Arena, Glendale, AZ, United States
$21 - $130

Akhmadaliev vs Gonzalez
McGrail vs O'Quinn
Yafai vs Santomauro

Saturday, 16 December 2023
Morrell vs Agbeko
The Armory, Minneapolis, MN, United States
$25 - $200

Colbert vs Valenzuela II
Martinez vs Cordova

Saturday, 16 December 2023
Kelly vs Knapp
Beacon of Light, Sunderland, Tyne and Wear, United Kingdom
£0 - £180
Friday, 29 December 2023
Mielnicki Jr vs Larbi
Prudential Center, Newark, NJ, United States
$66 - $306
Saturday, 6 January 2024
Ortiz Jr vs Lawson
Virgin Hotels, Las Vegas, NV, United States
$67 - $0
Saturday, 13 January 2024
Beterbiev vs Smith
Centre Videotron, Quebec City, Canada
$73 - $779

Mbilli vs Murdock
Moloney vs Sanchez

Saturday, 20 January 2024
Mayer vs Jonas
M&S Bank Arena, Liverpool, United Kingdom
£36 - £226
Thursday, 25 January 2024
Bazinyan vs Godoy
Montreal Casino, Montreal, Quebec, Canada
$102 - $869
Saturday, 27 January 2024
Munguia vs Ryder
Footprint Center, Phoenix, AZ, United States
$27 - $217
Saturday, 3 February 2024
Buatsi vs Azeez
OVO Arena Wembley, London, United Kingdom
£36 - £422
Saturday, 17 February 2024
Fury vs Usyk
Kingdom Arena, Riyadh, Saudi Arabia
£0 - £0
Quick Menu
Intro
Getting a ticket to be at a big fight is, in our biased opinion, the chance to witness one of the pinnacles of live sport. Nothing beats the electric atmosphere of the lion's den as the fighters make their way to the ring, the opening bell goes, and two warriors start to battle it out.
When the sport of boxing gets it right, the drama that unfolds is unparalleled. Boxing is often a reflection of the crazy swings we experience in life. It's unpredictable, cruel, beautiful, brutal, life-affirming, cold, ridiculous, dangerous, and glorious. It creates a lens of the highest highs and lowest lows of the human experience, all within a 20-foot ring.
Unlike other sports, when two fighters meet it's often a unique once in a lifetime event. These great moments are few and far between, which is why getting a ticket and 'being there' is often something boxing fans boast about for a lifetime.
So, if you've decided to go to the boxing for the first time, or looking for some tips to get a better seat, this guide will help you secure the best boxing ticket available for your hard earned money.

Best Place to Sit
Not all seats are made equal, nor priced that way.
We'll discuss the two general rules of thumb in what is considered a good seat at the boxing.
In the first section, we'll discuss how the closer you are to the action the more you'll pay on the scale of ticket available. We also outline the advantages and disadvantages of common seating sections you'll find at boxing events.
In the second section, we'll talk through how being parallel to the ring can significantly affect how much of the action you are able to judge in a live setting.
1# Distance to the ring
Boxing seats are roughly split into 4 or 5 keys areas.
Ringside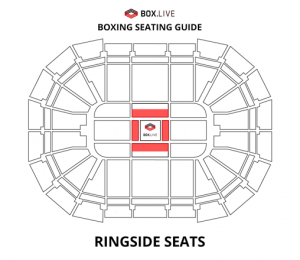 This is as close to the action as you can get, and usually encompasses the first to eight or ten rows directly on the outskirts of the ring apron. This is sometimes defined as the inner circle.
As you're mere feet away from the action, these are considered the best seats in the house. At the bigger shows, you'll find yourself rubbing shoulders with the promoters, the media, celebrities, and other boxers.
As they are the crème-da-la-crème of views, if they are available to buy to the public, expect to shell out a massive amount of money for these tickets.
Advantages:
You can't get any closer.
You can almost feel the action unfold.
Often among other boxers, VIP's and the fighter's families.
Disadvantages:
Usually very expensive.
You're below the level of the action, which can be slightly awkward for some.
People standing in front of you can block your view.
The referee can block the action.
Floor Seats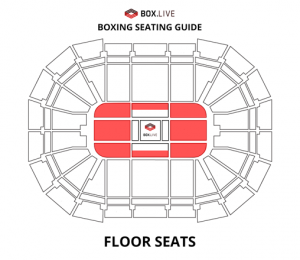 Like ringside tickets, these are at floor level but tend to be further away from the ring. It defines the area between the 'inner circle' and the tiered seats.
These tend to be considered the best seats in the house beyond ringside because of the proximity to the action.
Although, in big arenas, and their large oval shapes, these can be worse than the first tiered center seats because of the distance you potentially find yourself away from the ring. So check the row number and section number before you book to make sure you're not too far back from the action.
Advantages:
Close to the action.
Disadvantages:
Can be overpriced compared to the actual view of other sections.
People standing in front of you can block your view.
First Tier Center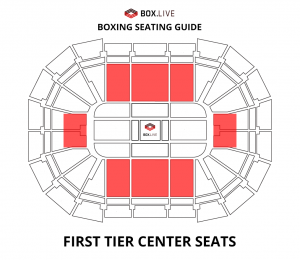 In an arena or theatre, this is the first set of tiered seating that is central to the ring.
As the boxing ring will be placed in the center of the oval (if the whole arena is open) you want to as close to the minor axis as possible.
These will be the best seats in the first tiers, especially as many modern arenas are oval shapes. These seats are usually priced the highest in the tiered sections because they are a lot closer to the ring compared to the corners.
Within this section, the further you are towards the bottom of the area, the better. As not only are you closer to the action but tend to be more level with it.
Some people prefer a slightly elevated position to level to the ring, but this is a personal preference.
The higher you're seated in the tiered section, the more the height will distort your perspective of the action. And naturally, you'll just be further away from the fight.
Advantages:
Often level or just above the ring, meaning an unobstructed view.
Tiered seating means your view can't be obstructed by other fans easily.
Can be closer to the action than floor seats in bigger arenas.
Disadvantages:
Not as close to the action as most of the floor seats.
First-tier corners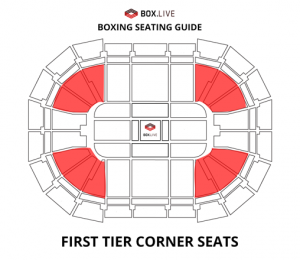 These are the seats in the tiers furthest towards the corners of the venue. These will be cheaper than the tiered center sections because your distance to the ring increases. This distance tends to be more pronounced in larger modern arenas boxing often finds itself in, due to the large oval shapes.
Cornered tiered seating also suffers from not being parallel to the ring, which we'll discuss in our next section.
Advantages:
Often level or just above the ring, meaning an unobstructed view.
Tiered seating means your view can't be obstructed by other fans easily.
Reasonably priced compared to adjacent sections.
Disadvantages:
Suffers from the obstructions and warped perspective of not being parallel to the ring.
Can be far away from the ring, at the highest seats, making the action awkward to judge in large venues.
Second tiers / Nose bleeds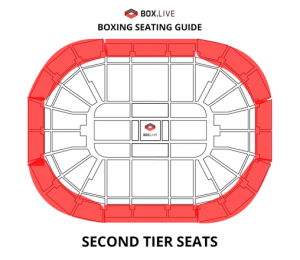 In larger venues, these are the 2nd tier of seating that sits above and first tier stand.
Depending on the size of the venue, these can have sub-par views for watching boxing, but this is often balanced by the very reasonable price of the ticket.
Due to the height distortion, fighters will appear much smaller than other sections. This means it can be hard to judge the distance between the boxers and if glancing shots have actually landed. You tend to rely on the head rocking back, a fighter backing up or the crowd's reaction to know if a significant shot has been landed.
At stadium fights, you rely mostly on the big TV screens above the ring to understand how the action is going.
When you buy these types of tickets, it's often more about being there, soaking up the atmosphere of the event, rather than actually being able to judge the live fight correctly.
Like other sections, the closer you sit and face the center point of the ring, the better your view will be.
One plus point is that the atmosphere can be excellent in the higher seats. They tend to have more of a party feel with people embracing the event rather than just the fight.
Advantages:
You get to 'be there' for a great price.
Often great atmosphere.
Disadvantages:
Can be hard to judge some of the action.
2# How parallel you are to the ring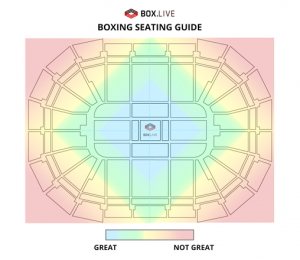 This is often an under-debated aspect of buying boxing tickets. However, how you face the ring can have a massive difference in the quality of how you experience the fight live.
Bear with us on this one, as we'll need to use diagrams to illustrate some points.
In our opinion, the more parallel you are to one side of the ring, the better your comprehension of the action will have. As you move away from the minor axis at the center of the ring at an angle, the quality of your view will decrease based on how equidistant the furthest away ring posts will be from each other in your field of vision.
As the angle from the minor axis increases, the ring will actually appear wider and the furthest points shallower. This makes your field of vision more cluttered and also decreases your depth perception.
This will decrease the quality of the view for you.
Speculative Science - Motion Parallax
This also throws up a potential discussion about the motion parallax of the fighters. When moving, angles to distant objects change slowly compared to the angles to objects close by. Our brains can use this to create a sense of depth. Think of how fast the trees pass us by on a motorway, compared to a building in the distance.

Credit: Nathaniel Domek [CC BY 3.0 (https://creativecommons.org/licenses/by/3.0)]
How much of this is a factor in an arena watching boxing? Perhaps a theoretical physicist or an expert in visual physiology can correct me, but I've always noticed something a little 'off' when watching the action from the corners.
Perhaps the acceleration of the fighters feels odd, as we're trying to judge distances on a rhombus shape as well as dealing with the motion parallax of both boxers?
There are also some more fundamental issues with sitting at an angle to the ring. Fans in these seats must deal with some possible obstructions on the action too.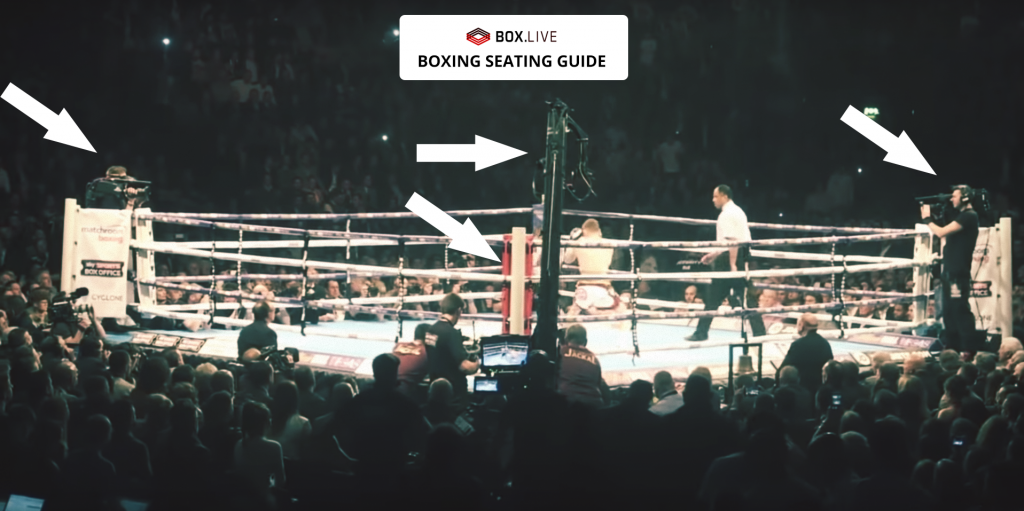 1# Ring posts and padding: The corner rings posts, there to hold up the ropes, can provide an obstacle. Especially as they tend to have padding on them to mark the red and blue corner, as well as sponsors in the neutral corner.
2# Cameramen and arms at televised events: As you'll know because they often appear in the camera shot on TV, boxing is filmed using two cameramen on the ring apron in the corners of the ring. So you usually have to contend with seeing 4 people (2 fighters, 1 ref, 1 cameraman) in the ring. This means there is more chance of your view becoming blocked when the fighters become face-on to you.
Modern videography increasingly relies on large mechanical arms to capture the action and the crowd at live events. If you're unfortunate enough to be facing the same corner as one, you'll have to get used to it moving in front of the action.
3# The struts of the ring canopy at outdoor fights: Although it's rare that there will be actual seating directly behind the struts of the canopy at the boxing, these still might be a distraction in your peripheral vision in the corners.

Pricing
How much are boxing tickets?
The scales of pricing of the various tiers/section of seating will be based on the two factors we mentioned above. The closer your proximity to ring and how parallel you are to the center of it will dictate how expensive your seat will be in the context of the fight.
How high the average price will be for these various tiers for an individual fight will be based on another two factors.
Demand: This is usually created by how big the fight is considered in boxing and to the broader public. Only a few fights cross over from the hardcore boxing crowd and grab the attention of the average sports fan. This will dictate how much demand for tickets there will be and how much the promoter can get away with charging.
A massive heavyweight world title clash will be priced much higher than a prospect headlining a local show.
Location: Big US fights in Las Vegas, New York & LA tend to be priced much higher than smaller US cities and UK show for similar level fights.
This might be that bigger fighters tend to gravitate to these prominent US locations anyway. However, it's also just a bigger country with more potential demand. So promoters are able to charge a premium.
Remember, you can use Box.Live to compare different ticket prices between different shows, venues, and ticket outlets.

How To Buy Boxing Tickets
Where can I buy boxing tickets from?
Online
Like the rest of the live event industry, the majority of boxing tickets are now sold online. Most major boxing promoters and venues sell online via likes of Ticketmaster, AXS and Eventim. Even the secondary market marketplace (discussed next) like StubHub have begun selling primary (first-hand) tickets.
Outside the big ticketing brands, some smaller venues have their own in-house ticketing system.
You'll either receive tickets purchased online via post or get an e-ticket via email. Just print off or have them ready to be on scanned from your smartphone screen on the entrance to the fight.
Buying resell tickets on the secondary market
Like all significant sporting and live event over the past few years, in-demand boxing shows have attracted a robust secondary market. This is where people, who (allegedly) can no longer attend, can list their tickets via a third-party marketplace. This allows other fans to purchase them, often at a premium.
With the resurgence in boxing, there have allegations of professional resellers (touts) snapping up the best tickets and trying to sell them on these platforms for a massive profit.
If you're buying last minute and can afford the premium, this might be an excellent way for you to get tickets. For the average boxing fan, these sites are extremely disliked for inflating prices.
However, they're not always bad. If a show isn't selling well, you might be able to secure a better ticket for a similar priced general sale ticket.
Resell, and partner tickets are often sold via platforms like StubHub, TicketNetwork, and Ticketweb.
However, tickets can be heavily marked up once you go to check out with a buyer's fee. StubHub charge between 2-20% on the priced listed based on location, the event, and demand.
Also be aware if the event has paper tickets only, you won't be able to snap up one at the last minute. Most of these secondary outlets will only let you make a purchase on these up to a few days before the fight. You will often need to buy early to avoid missing out on them.
Can you buy boxing tickets on the door of the venue?
Usually, if an event doesn't sell out, you are able to approach a venue's box office of the day or night of the fight and purchase them. These are known in the trade as 'walk-ups'.
It's worth checking the online outlets for tickets available before making the decision to travel to the venue on the day of the fight.
If possible, you should always try to book online. Not only will you often be able to choose your exact seats, but with the popularly of e-tickets, they can be delivered to your emails instantly. If you own a smartphone, you don't even need to print anything off.
It might also stop you being disappointed if you arrive at the box office only to find the last remaining tickets have been snapped up.
Buying tickets directly from a fighter.
In the UK and on smaller US cards, promoters often rely on boxers who are appearing on the undercard to help sell some tickets directly. Boxers with moderate fan bases are often on commission deals. Buying directly from them can be a great way to support a local fighter.
The best way to be on the lookout if a fighter is selling tickets is to follow them on social media. They usually let their fans know what priced tickets they have available and when they can start selling them. Some also take orders before the release date, meaning you can secure your ticket to a hot card early.
Boxing VIP ringside packages
If you're wealthy, feeling flush, or perhaps want to mark a special occasion, VIP tickets for the boxing could be for you.
You'll typically be given ringside seats, and often 'free' food and drinks at a private bar, just for other VIPs like you. Expect to rub shoulders with celebrities and boxing royalty at bigger shows.
Beyond the excellent seats, it's great for escaping the crowds and most of the hassle of being at a big event.
However, as you would expect, these tickets have a massive premium.
Depending on the size of the fight, VIP tickets can cost the same as a small family car. Even at smaller events, expect to spend 2-3 times the price of a floor seat.
Avoid Touts Outside The Show
You've probably seen a gaggle of these guys proclaiming they're ready to buy and sell tickets at popular events as you arrive outside.
The issue with buying and exchanging these boxing tickets is that you have no recourse if they are fake or have already been used.
With the move to online ticketing with paper and electronic documents, these are much easier to counterfeit than ever.
If the worst happens, your chances of catching up with them to get your money back are slim to none.
When are boxing ticket released?
Fights tend to be announced 2 to 4 months before they are due to happen. Once a fight is announced, tickets tend to go on sale within a couple of days. Although, for bigger contests, the release date may be delayed until they are able to arrange a press conference.
Some American broadcasters have started to announce their schedule 5-6 month ahead of time. Often these fights won't have a venue confirmed yet so there may be a delay of up to a couple of months before tickets become available.
Box.Live list all ticket release dates as they are announced.
For popular events, you will probably need to attempt to buy your tickets the minute they are released. This will ensure you secure one before the event sells out, and/or get the seat in the section you want.
Jumping the queue with boxing presales.
For larger fights, you may be able to jump the queue a day early and secure tickets before they go on general sale.
In the US, promoters often offer release a small number of tickets early, usually in collaboration with a sponsor. They typically give fans an early access code to those that sign up to their email list or follow them closely on social media.
In the UK, Matchroom offers a yearly membership scheme for fans called 'Fight Pass' for £30. This gives members early access to Matchroom shows before the general (public) ticket release. This includes cards involving Anthony Joshua.
If a fight is held at the o2 in London, o2 customers also have access to a small presell via o2 priority too.
How quickly do boxing shows sell out?
Most boxing shows never get close to selling out. However, there are few exceptions, and if a contest has been highly anticipated, it may sell out very quickly.
Top UK shows tend to have a very high demand compared to the US because they have a tendency to be reasonably priced in comparison. UK promoters have also grown a loyal fan base in recent times.
The more expensive super fights, that land in the likes of Las Vegas, don't sell out that quickly. Although, the cheaper seats may be snapped up by keen fans, meaning you should act fast if you're trying to go to the fight on a reasonable budget.
If you know a show is going to be high demand, you should get ready to try and snap up your ticket as soon as they become available. We try our best to list all the release dates and times on Box.Live. Once you know these, you should prepare with a decent internet connection and try to beat the queues at the release time.
We also link directly to where the tickets will become available, meaning you don't have to wait for a social media announcement from the promoter or try to navigate from the ticket outlets home page.
Even if you don't think a show will sell out quickly, buying early ensures you can secure the best tickets within your preferred section.
Going to a small hall show.
Although we don't list 'small hall' local shows, these can be amazing for getting close to the action and experience the raw energy of live boxing. They also tend to be priced at a fraction of the cost of major televised shows too.
You'll often find these happening outside the big cities. So, if you're not close to the bright lights of a major fight city, small hall boxing could help you get a live boxing fix.

FAQ
What time should you arrive?
Most major boxing events can open 6 or 7 hours before the actual main fight is due to start. Promoters will often get their prospects out against journeymen to gain experience during the early parts of the cards.
In terms of the undercard as a whole, the more important the contest, the later in the show they tend to be shown. The card will build until the climax of the main event.
It's also worth noting that there can be long gaps between fights, especially if a number of the contests on the card finish early via KO.
We love boxing, but for entertainment purposes, trying to sit through a whole card can be a very long evening. A good rule of thumb is that 3-4 hours of total show is enough.
What time you should arrive depends on how much of the undercard you want to see. We try our best to estimate the ring walk times on Box.live, so having an idea of which fights you want to see will help you judge what time you need to be in your seats for.
Promoters only tend to announce a running order the morning of the fight. Most fights on the cards will not have a definite ring walk time but will be grouped into a section start time. Most contests will follow straight after the last one if they go the full distance.
You should take that estimated start time and aim to reach at the venue 30-45 minutes before. When you arrive outside a large arena it can take a long walk to get to the section you're seated in. You'll also need to contend with queues, having your ticket checked and potentially a body search by security.
At more significant events, you might also face large queues for refreshments. So if you're planning on eating and having a few beers, it's worth leaving plenty of extra time before the first fight you want to see starts.
Can you drink alcohol at boxing?
Yes, boxing has quite a large drinking culture amongst fans, and there is usually plenty of basic alcohol available, like beer and wine.
Not everyone drinks though, so don't be put off if you're not a big drinker either.
As mentioned previously, there can be long queues for alcohol, particularly at British shows.
Is there a big difference between US vs UK shows?
Having experienced crowds in both countries, there is definitely a difference between the atmosphere of shows in the UK and US.
The UK has a large terrace culture from football (soccer), so singing, shouting and generally being passionate is second nature to most fans there. Boxing is also often seen a night out, so they tend to drink more too.
Outside of the hard-core fans, the mindset is definitely on entertainment over pure boxing. However, this leads to big, loud electric atmospheres that are hard to beat.
America is a big mixing pot culturally, so while still passionate, don't create the same type of unified atmosphere. US crowds tend to be more respectful, and people are more interested in the actual action than reacting to it.
Don't be mistaken, a good fight will still have an average American fan on their feet screaming!
Is it safe to go to the boxing?
Boxing is very safe, and the chance of witnessing trouble has decreased as it now attracts much more of a mainstream crowd.
Although, when you mix booze with the high energy of combat sport, sadly, you do we the odd set of morons falling out. It's a bit like visiting a night club in that sense. However, at bigger events, the security teams move in quickly to deal with any trouble makers.
In the UK there have been videos circulating on social media of big brawls breaking out. However, these tend to be between groups of rival fight fans connected to the fighter and their teams. These are often connected to rival football teams too.
If you an ordinary fan, it's doubtful you'll be caught up in this type of trouble.
In terms of age restrictions, most boxing events are 18 years and over. Due to the drinking and the time of the shows, live boxing isn't suitable for young teenagers and children.
What happens if the fight gets cancelled or postponed?
If an injury happens and one of the main fighters has to pull out, the event will usually be cancelled and moved to another date. If you're unlucky to have already bought a ticket, the promoter will often offer you the choice to transfer the ticket to the rearranged date or provide a full refund.
Boxing is unique in the fact that it's totally reliant on both sides staying injury free, so a delay to original fight dates is quite common. If you're traveling to and staying overnight for a fight, you should seek to book your travel and accommodation with free cancellation or flexibility deals.
You don't want to end up stuck with a hotel and travel tickets you're unable to use.

Boxing Ticket Tips
If you're going for the first time, don't get distracted by watching the action on the big TV above the ring. Try to focus on the live fight, it's much better!
In some sections, what you lose in being close to the ring, you gain in being parallel to it. Floor seats are often priced more than ones that are far superior in the first center tier.
Box.Live will find the actual selling page for you on the ticket release time. This means you're ahead of most people, who start at the ticket outlets website site front page, and you're more likely to get a ticket.
Securing a ticket early means that you can get the best seats within your price tier.
If you're booking accommodation, try to get a deal with free cancellation. If an injury happens in the build-up, you won't have to pay for a room.
Check start times on Box.Live to know what time to arrive to see the fights you want to see on the undercard.
See you at the fight!