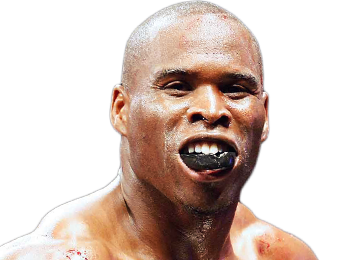 Form
KO 11
MD 12
TKO 2
KO 4
TKO 3
Haitian-Canadian professional boxer Adonis Stevenson was born Stevenson Adonis on September 22, 1977 in Port-au-Prince, Haiti. He relocated to Montreal, Quebec with his family at the age of 7 in search of better living conditions. At an early age he became involved with the criminal lifestyle and was eventually convicted of heading a prostitution ring. It was while incarcerated that he garnered a reputation for his fierce fighting ability. Soon after he was released from prison, he embarked on a storied amateur boxing career that led to a 33-5 record and placed him squarely in the center of the Canadian boxing world. He vowed to never return to prison, using the hardships of his past to keep him motivated on the road to greatness.
Stevenson's first professional bout was held at the Montreal Casino in Montreal, Quebec, where he faced another fighter making his professional debut, Mike Funk. He made quick work of his opponent, demolishing him by TKO in the 4th round. After his inception into the professional boxing world, he went on a tear, knocking out nine of his next thirteen opponents. His first defeat came during his 14th professional bout, where he faced off with veteran fighter Darnell Boone losing by TKO in the 2nd round. This defeat was later rectified in a rematch where he knocked Boone out in the 6th round after clearly dominating his opponent with superior technique and power punching. He would later admit that he hadn't properly trained for his first match with Boone, citing a myriad of personal issues.
On June 8th, 2013 Adonis Stevenson faced what was believed to be the toughest opponent of his career when he challenged WBC title-holder Chad Dawson. Up until this point, Dawson had only two career losses on his resume and had recently defeated Hall-of-Famer Bernard Hopkins in a majority decision. His bout with Chad Dawson resulted in a devastating knockout of the champion and earned Stevenson knockout of the year honors by Ring magazine. This victory catapulted his stock into the stratosphere, proving that he could live up to his "Superman" moniker and placed him on the radar of the entire boxing world. Despite the dominance he displayed in the win, his overall ability was still in question by many boxing pundits who believed Dawson's skills were clearly in the declining stages.
As Adonis Stevenson continued his ascension to the top ranks of the sport, his superstar contemporaries also took notice. Sergey Kovalev, because of his hard-hitting, punishing boxing style, became an obvious choice for a megafight, and after his destruction of fellow Canadian powerhouse, Jean Pascal, proceeded to taunt the champ, referring to him as Adonis "Chickenson", further spurring their rivalry and nearly resulting in an impromptu battle. Kovalev hinted at the prospect of the fight taking place prior to his matchup with boxing juggernaut, Andre Ward and seemed to scoff at Superman's well-documented punching power. Despite Kovalev's controversial loss to Ward, the enmity between the two never lost steam as both fighters continue to hover at the top of the boxing world.
What is Adonis Stevenson's Record?
Adonis Stevenson's record currently stands at 29 wins, 2 loses and 1 draw. Of those 29 wins he has stopped 24 of his opponents, so his current knock-out ratio is 83%. Of his 2 loses, he's been stopped 2 times. He's boxed a total of 154
rounds, meaning his professional fights last 4.8 rounds on average.
What was Stevenson's last fight?
Adonis Stevenson's last fight took place against Oleksandr Gvozdyk's on 1st Dec 2018, in Montreal, Canada. He lost by knockout in the 11th round. That fight was 3 years and 1 month ago.
How active is Adonis Stevenson?
Stevenson's last 5 fights have come over a period of 6 years, 4 months and 5 days, meaning he has been fighting on average every 1 year, 3 months and 8 days. In those fights, he fought a total of 32 rounds, meaning that they have lasted 6.4 rounds on average.
Where is Adonis Stevenson From?
Stevenson was born in Canada.
How Old Is Adonis Stevenson?
The light heavyweight is currently 44 years old. He was born on 22nd September 1977, so he will turn 45 in 8 months and 6 days.
How long has Stevenson been fighting?
Adonis Stevenson made his professional debut in September 2006, so he has been a pro for 15 years and 3 months.
How tall is Adonis Stevenson?
Stevenson is 5' 11" (5 Foot and 11 inches) which is 180cm (1 meter and 80 centimeters).
What is Stevenson's Reach?
His reach is 77.2 inches (77.2") which is 196 cm (1 meter and 96 centimeters).
What stance does Adonis Stevenson use?
Stevenson fights from a southpaw stance, which means he favours his left hand as his power hand when fighting.
What will be Adonis Stevenson's Next Fight?
Adonis Stevenson's doesn't currently have a fight scheduled.
How can I stream Adonis Stevenson's Fights?
In the US you can usually stream Adonis Stevenson's fights via Showtime App and ShowTime via Hulu.
What are some recent Adonis Stevenson results?
Stevenson has beaten 4 of his last 5 opponents, stopping 3 of them, going the distance once.
In his last fight, he drew Badou Jack on 19th May 2018 by majority draw in their WBC World Light heavyweight championship fight at Air Canada Centre, Toronto, Canada.
Previous to that, he had won against Andrzej Fonfara on 3rd June 2017 by technical knockout in the 2nd round in their WBC World Light heavyweight championship fight at Bell Centre, Montreal.
Going into that contest, he had beat Thomas Williams Jr on 29th July 2016 by knockout in the 4th round in their WBC World Light heavyweight championship fight at Centre Videotron, Quebec City.
Before that, he had defeated Tommy Karpency on 11th September 2015 by technical knockout in the 3rd round in their WBC World Light heavyweight and The Ring Light Heavyweight championship fight at Ricoh Coliseum, Toronto.
He had won against Sakio Bika on 4th April 2015 by unanimous decision in their WBC World Light heavyweight and The Ring Light Heavyweight championship fight at Pepsi Coliseum, Quebec City.
Bad Left Hook
Mar 23 2021
Adonis Stevenson's next fight
When is Adonis Stevenson's Next Fight?
Adonis Stevenson's doesn't currently have a fight scheduled.
Adonis Stevenson Potential Fights
Sorry, we don't know of any potential fights for Adonis Stevenson at the moment, why not send us some suggestions?
Where can I get Adonis Stevenson tickets?
We couldn't find any ticket details for Adonis Stevenson at the moment.