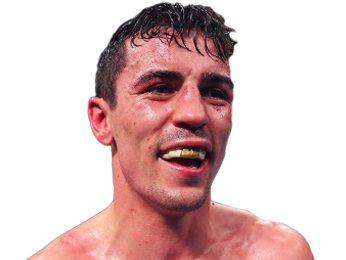 Form
MD 10
KO 4
UD 12
UD 12
UD 12
An Illustrious Boxing Career
Briton Anthony Crolla won the WBA World Lightweight Champion belt in 2015 despite sustaining a significant health setback in 2014. His victory then startled boxing experts.
He successfully defended his title for nearly a year. As a boxer, he has displayed remarkable resilience and endurance.
A Highly Disciplined And Determined British Boxer
Born in 1986, Mr. Crolla earned the nickname "Million Dollar" from fans. He stands only 5'8" in height, yet according to the online encyclopedia Wikipedia he reportedly possesses an impressive reach of 67".
In addition to boxing, Anthony Crolla incorporates several physical fitness exercises into his training. For instance, her regularly performs exercises intended to enhance cardiovascular fitness and muscle strength. He also swims and lifts weights. During the past few years he had included Yoga exercises in his daily regimen, a practice which perhaps contributes to his powerful reach.
Early Successes
The 30-year old made his first professional appearance in the ring as a boxer in Manchester in October, 2006 at the age of 20. In his first pro fight, he scored a victory. His wins continued through seven consecutive contests. He suffered his first loss during his ninth professional fight in a points decision which favored British boxer Youssef al-Hamidi during a match in Bolton.
Then his string of victorious matches resumed. He had earned a 13-1 record by the time he sustained his second loss, a points decision in favor of Briton Gary Sykes on May 29, 2009 in Stokes-on-Trent. His winning streak resumed immediately afterwards and his fame as a boxer grew. He won the British lightweight title by TKO during in the ring against John Watson on February 12, 2011.
Setbacks
Mr. Crolla suffered his first loss by TKO on April 21, 2012 during a fight against Derry Matthews. It cost him his title. Soon after he won by unanimous decision against Stephen Jennings, but then suffered a second loss to Gary Sykes on October 6, 2012. He rebounded from these setbacks and prepared to vie for the WBA lightweight title in a fight against Richard Abril on January 23, 2014. Then the most serious setback of his career occurred outside of the ring!
The young father intervened when burglars attempted to steal from a neighbor. During the ensuing altercation, the robbers hit him in the head with a chunk of concrete and broke his ankle in several places. These injuries could easily have derailed a professional boxing career. Yet he recovered and returned to the ring to fight Darleys Perez to a draw in Manchester Arena. He won the WBA World Lightweight Champion belt from him by knockout during a rematch on November 21, 2015.
A Contender
Mr. Crolla defended his WBA World Lightweight Championship belt successfully against Venezuela's Ismael Barroso (also by KO). However, he lost the title to the second challenger, Venezuelan boxer Jorge Linares, during a fight in Manchester Arena on September 24, 2016.
What is Anthony Crolla's Record?
Anthony Crolla's record currently stands at 34 wins, 7 loses and 3 draws. Of those 34 wins he has stopped 13 of his opponents, so his current knock-out ratio is 38%. Of his 7 loses, he's been stopped 2 times. He's boxed a total of 289
rounds, meaning his professional fights last 6.6 rounds on average.
What was Crolla's last fight?
Anthony Crolla's last fight took place against Frank Urquiaga's on 2nd Nov 2019, in Lancashire, United Kingdom. He won by majority decision in the 10th round. That fight was 2 years and 2 months ago.
How active is Anthony Crolla?
Crolla's last 5 fights have come over a period of 4 years, 10 months and 3 days, meaning he has been fighting on average every 11 months and 20 days. In those fights, he fought a total of 50 rounds, meaning that they have lasted 10 rounds on average.
Where is Anthony Crolla From?
Crolla was born in the United Kingdom.
How Old Is Anthony Crolla?
The lightweight is currently 35 years old. He was born on 16th November 1986, so he will turn 36 in 9 months and 19 days.
How long has Crolla been fighting?
Anthony Crolla made his professional debut in October 2006, so he has been a pro for 15 years and 3 months.
How tall is Anthony Crolla?
Crolla is 5' 9" (5 Foot and 9 inches) which is 174cm (1 meter and 74 centimeters).
What is Crolla's Reach?
His reach is 66.9 inches (66.9") which is 170 cm (1 meter and 70 centimeters).
What stance does Anthony Crolla use?
Crolla fights from a traditional orthodox stance, which means he favours his right hand as his power hand when fighting.
What will be Anthony Crolla's Next Fight?
Anthony Crolla's doesn't currently have a fight scheduled.
How can I stream Anthony Crolla's Fights?
In the UK you can usually stream Crolla's fights on NowTV and Sky Go.
In the US you can usually stream Anthony Crolla's fights via DAZN.
What are some recent Anthony Crolla results?
Crolla has beaten 3 of his last 5 opponents, stopping 2 of them, going the distance once.
In his last fight, he lost to Jorge Linares on 24th September 2016 by unanimous decision in their WBA World Lightweight and The Ring Lightweight championship fight at Manchester Arena, Manchester, United Kingdom.
Previous to that, he had beat Ismael Barroso on 7th May 2016 by knockout in the 7th round in their WBA World Lightweight championship fight at Manchester Arena, Manchester.
Going into that contest, he had won against Darleys Perez on 21st November 2015 by knockout in the 5th round in their WBA World Lightweight championship fight at Manchester Arena, Manchester.
Before that, he had drawn with Darleys Perez on 18th July 2015 by majority draw in their 12 round contest in their WBA World Lightweight championship fight at Manchester Arena, Manchester, United States.
He had beat Gyorgy Mizsei Jr on 15th November 2014 by points in the 6th round at 3Arena, Dublin, Ireland.
Anthony Crolla's next fight
When is Anthony Crolla's Next Fight?
Anthony Crolla's doesn't currently have a fight scheduled.
Anthony Crolla Potential Fights
Sorry, we don't know of any potential fights for Anthony Crolla at the moment, why not send us some suggestions?
Where can I get Anthony Crolla tickets?
We couldn't find any ticket details for Anthony Crolla at the moment.