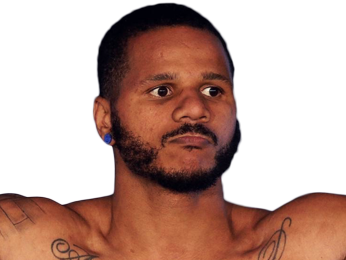 Anthony Dirrell
Form
KO 9
TD 10
UD 10
TD 6
TKO 6
Stats
Full record
Ranking @ Super Middleweight
Ever since childhood, Anthony "The Dog" Dirrell lived by one motto: Train hard, fight hard. By always pushing himself to the next level throughout his life, this professional boxer has accumulated an impressive number of victories and milestones since his debut in 2005.
As a child, Dirrell grew up attending the school of hard knocks. Flint, Michigan was a difficult area in the '80s, and many of Dirrell's friends and family members succumbed to a life of crime or death. Raised by his grandfather, he instilled in Anthony the values of hard work and respect. Looking for a way to channel his energy into a positive environment, Anthony found his passion in boxing. Boxing runs in his blood, as his brother, uncle and cousins before him all practiced the sport. With some motivation from his grandfather, Anthony Dirrell laced up a pair of gloves for the first time to try boxing for himself. After being victorious in his first amateur event in Saginaw, Michigan, Anthony knew that a career in boxing was in his future.
Dirrell officially turned pro in 2005, and his first match was against a powerful opponent: Henry Dukes. Anthony ran circles around his opponent, scoring a TKO on him in the first round. This first round victory set the pace for Dirrell's next few matches. In his second professional fight, he beat Dewayne Warren in the second round by TKO, but not before knocking his opponent down a few times in the first round. Anthony would then beat Larry Brothers in the second round by TKO and Mike Walthier in the first round with a powerful knockout punch.
Dirrell's first challenge came at the hands of Gabriel Riviera. Riviera was on a win streak of his own; just like Anthony Dirrell, Riviera had won his last four fights. Only one man would come out of this battle the victor, and that man was Anthony. This win would help propel Anthony to a 26 fight win streak, with Anthony typically knocking his opponents out by the second round, if not the first. This win streak would earn Anthony the right to challenge Sakio Bika for the WBC Super Middleweight title.
However, Bika proved to be more of a challenge than Anthony expected. When the fight continued past the second round, fans knew they were in for the fight of a lifetime. In an unprecedented outcome, the bout lasted the entire 12 rounds, with the judges ruling the fight a draw. While not technically a loss, this is the first fight in which Anthony was not the victor. On August 16, 2014, the two men met again in a rematch, and after another 12-round match, Anthony won the title by unanimous decision. However, he wouldn't hold the title long, as Badou Jack would hand this boxer his first loss in 2015.
Throughout his career, Anthony Dirrell has overcome the odds. Despite a cancer diagnosis and a motorcycle accident, the boxer is still a force of nature in the ring. When it comes to overpowering an opponent and putting a stop to them early in the fight, few are better than this super middleweight boxer.
What is Anthony Dirrell's Record?
Anthony Dirrell's record currently stands at 33 wins, 2 loses and 1 draw. Of those 33 wins he's stopped 24 of his opponents, so his current knock-out ratio is 73%. Of his 2 loses, he's been stopped 1 time. He's boxed a total of 159 rounds, meaning his professional fights last 4.4 rounds on average.
What was Dirrell's last fight?
Anthony Dirrell's last fight took place against David Benavidez's on 28th Sep 2019, in LA, United States. He lost by knockout in the 9th round. That fight was 1 year and 4 months ago.
How active is Anthony Dirrell?
Dirrell's last 5 fights have come over a period of 4 years, 1 month and 14 days, meaning he has been fighting on average every 9 months and 28 days. In those fights, he fought a total of 41 rounds, meaning that they have lasted 8.2 rounds on average.
Where is Anthony Dirrell From?
Dirrell was born in the United States.
How Old Is Anthony Dirrell?
The super middleweight is currently 36 years old. He was born on 14th October 1984, so he will turn 37 in 7 months and 17 days.
How long has Dirrell been fighting?
Anthony Dirrell made his professional debut in January 2005, so he has been a pro for 16 years and 1 month.
How good is Anthony Dirrell?
Dirrell is currently ranked 4th by the The Ring, 10th by the IBF, 4th by the WBC and 10th by the WBA at Super Middleweight.
How tall is Anthony Dirrell?
Dirrell is 6' 2" (6 Foot and 2 inches) which is 188cm (1 meter and 88 centimeters).
What is Dirrell's Reach?
His reach is 74.4 inches (74.4") which is 189 cm (1 meter and 89 centimeters).
What stance does Anthony Dirrell use?
Dirrell fights from a traditional orthodox stance, which means he favours his right hand as his power hand when fighting.
What are some potential opponents for Anthony Dirrell?
Some potential future fights for Dirrell include Unified Super Middleweight Champion Saul 'Canelo' Alvarez and Caleb Plant.
What will be Anthony Dirrell's Next Fight?
Anthony Dirrell is to face Kyrone Davis next on Saturday 27th February 2021. The fight will take place at Shrine Exposition Center, California, United States. The fight will be broadcast on FOX in the United States.
How can I stream Anthony Dirrell's Fights?
In the US you can stream Anthony Dirrell fight via FuboTV and FOX NOW.
What are some recent Anthony Dirrell results?
Dirrell has won 5 of his most recent fights, stopping 2 of them, going the distance 3 times.
In his last fight, he defeated Avni Yildirim on 23rd February 2019 by technical decision in their WBC World Super Middleweight championship fight at Minneapolis Armory, Minnesota, United States.
Previous to that, he had defeated Abraham Han on 28th April 2018 by unanimous decision in their 10 round contest at Don Haskins Convention Center, Texas.
Going into that contest, he had beat Denis Douglin on 17th November 2017 by technical decision in their 6 round contest at Dort Federal Event Center, Michigan, Afghanistan.
Before that, he had won against Norbert Nemesapati on 13th January 2017 by technical knockout in the 6th round at Hialeah Park Racing & Casino, Hialeah, United States.
He had beat Caleb Truax on 29th April 2016 by technical knockout in the 1st round at Trump Taj Mahal, Atlantic City.
Anthony Dirrell's next fight
US streams

Stream Big US Sport
You can stream Anthony Dirrell on this cable channel via FuboTV's Live TV package or add on bundle. You can watch FuboTV via your Apple, Android, Firestick, Roku devices, smart TV or your games console.
| | |
| --- | --- |
| 7 Days | Free |
| 1 Month | $64.99 |
Stream now

Free FOX Stream
You can live stream Anthony Dirrell on regular Fox via the FOX NOW app. The app is available on Apple, Android, Fire TV, Roku and many others.
Stream now
How can I stream Anthony Dirrell's Fights?
In the US you can stream Anthony Dirrell fight via FuboTV and FOX NOW.
Anthony Dirrell's Potential Fights
Where can I get Anthony Dirrell tickets?
We couldn't find any ticket details for Anthony Dirrell at the moment.