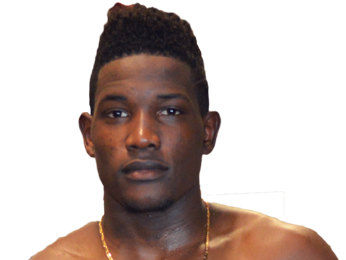 Erickson Lubin
Form
UD 12
UD 10
TKO 4
TKO 3
TKO 4
Stats
Full record
Ranking @ Super Welterweight
Born on October 1, 1995 in Orlando, Florida, Erickson Lubin is a junior middleweight boxer who is known for being strong mentally and physically, along with possessing sharp technique. A fighter in the classic boxer-puncher mold, he can deliver powerful shots from both hands, and both technicians and analysts appreciate how he attacks the body, which can sometimes seem like a lost art.
Lubin went to boxing gyms with his older brother when he was only 3-years-old, and soon he too was training. He first fought as an amateur when he was 8, and when he started training under Jason Galarza at 13, he didn't lose another amateur fight. He amassed an amateur record of 143-7 and won the junior Olympics twice, and his skill had many in the USA Boxing program picking him as a future Olympic gold medalist. He surprised USA Boxing when he instead decided to turn pro at just 18, signing with Iron Mike Promotions. USA Boxing president Charles Butler was so upset by this that he wrote Mike Tyson an open letter claiming that the former heavyweight champion interfered with Olympic process, although Tyson says that it was the young boxer's own choice to turn professional.
His first fight came on November 26, 2013 against Eric De Jesus, and Lubin showed that he was definitely ready for the big leagues as he scored a KO in the very first round. His first three fights were all dominant first round stoppages. His fourth opponent, Tirobio Ball, made it to the third round before losing by TKO, while his fifth opponent, Jovan Ramirez, lost via second-round KO.
It wasn't until fight number six that Erickson Lubin saw the scorecards for the first time, and he defeated Noe Bolanos by unanimous decision after eight rounds of action. He followed that up by beating down Francisco Javier Reza and stopping him after just one round.
While Lubin fought primarily lower-level opponents throughout the beginning of his career, the young fighter stayed very active, as he fought seven times in 2014, with one of those fights coming just 15 days after his previous fight. Most importantly, he won every fight and he did so in dominant fashion.
After running his record to 11-0, Erickson Lubin got one of the first tests of his young career when he fought Orlando Lora, a game fighter who had challenged several top-ranked boxers over the years, albeit in losing efforts. Lubin showed his star potential in that fight, as he easily dispatched Lora with a sixth-round TKO. He closed out 2015 with another TKO, this one over Alexis Camacho in the second round.
2016 was another big year for the boxer known as "The Hammer" for his punching power. He started off with a unanimous decision win over Jose De Jesus Macias on January 31, 2016. He scored a third-round TKO over Daniel Sandoval in June, then fought again in July and won a unanimous decision over Ivan Montero. He again finished the year with a bang, knocking out Juan Ubaldo Cabrera in the second round, which resulted in ESPN naming him its 2016 prospect of the year.
What is Erickson Lubin's Record?
Erickson Lubin's record currently stands at 23 wins, 1 loss and 0 draws. Of those 23 wins he has stopped 16 of his opponents, so his current knock-out ratio is 70%. In his 1 loss, he was stopped. He's boxed a total of 104 rounds, meaning his professional fights last 4.3 rounds on average.
What was Lubin's last fight?
Erickson Lubin's last fight took place against Terrell Gausha's on 19th Sep 2020, in Connecticut, United States. He won by unanimous decision after 12 rounds. That fight was 9 months and 4 days ago.
How active is Erickson Lubin?
Lubin's last 5 fights have come over a period of 3 years, 1 month and 26 days, meaning he has been fighting on average every 7 months and 18 days. In those fights, he fought a total of 33 rounds, meaning that they have lasted 6.6 rounds on average.
Where is Erickson Lubin From?
Lubin was born in the United States.
How Old Is Erickson Lubin?
The super welterweight is currently 25 years old. He was born on 1st October 1995, so he will turn 26 in 3 months and 8 days.
How long has Lubin been fighting?
Erickson Lubin made his professional debut in November 2013, so he has been a pro for 7 years and 6 months.
How good is Erickson Lubin?
Lubin is currently ranked 6th by the The Ring and 1st by the WBC at Super Welterweight.
How tall is Erickson Lubin?
Lubin is 5' 11" (5 Foot and 11 inches) which is 180cm (1 meter and 80 centimeters).
What is Lubin's Reach?
His reach is 76 inches (76") which is 193 cm (1 meter and 93 centimeters).
What stance does Erickson Lubin use?
Lubin fights from a southpaw stance, which means he favours his left hand as his power hand when fighting.
What are some potential opponents for Erickson Lubin?
Some potential future fights for Lubin include Unified Super Welterweight Champion Jermell Charlo, Austin Trout, Tony Harrison, Dennis Hogan and Sergio Garcia.
What will be Erickson Lubin's Next Fight?
Erickson Lubin is to face Jeison Rosario next on Saturday 26th June 2021. The fight will take place at State Farm Arena, Atlanta, United States. The fight will be broadcast on Showtime PPV in the United States.
How can I stream Erickson Lubin's Fights?
In the US you can stream Erickson Lubin fight via Showtime App PPV.
What are some recent Erickson Lubin results?
Lubin has beaten 4 of his last 5 opponents, stopping 3 of them, going the distance once.
In his last fight, he defeated Nathaniel Gallimore on 26th October 2019 by unanimous decision in their 10 round contest at Santander Arena, Reading, United States.
Previous to that, he had defeated Zakaria Attou on 29th June 2019 by technical knockout in the 4th round at NRG Arena, Texas.
Going into that contest, he had beat Ishe Smith on 9th February 2019 by technical knockout in the 3rd round at StubHub Center, Carson.
Before that, he had won against Silverio Ortiz on 28th April 2018 by technical knockout in the 4th round at Don Haskins Center, Texas.
He had been beaten by Jermell Charlo on 14th October 2017 by knockout in the 1st round in their WBC World Super Welterweight championship fight at Barclays Center, New York.
Bad Left Hook
Jun 18 2021
Erickson Lubin's next fight
When is Erickson Lubin's Next Fight?
Erickson Lubin is to face Jeison Rosario next on Saturday 26th June 2021. The fight will take place at State Farm Arena, Atlanta, United States. The fight will be broadcast on Showtime PPV in the United States.
US streams

Stream SHOWTIME PPV
Stream Erickson Lubin PPV live online or in the SHOWTIME app on supported TV and mobile devices. The Showtime have native apps for Apple TV (4th Gen+), Roku, Fire TV, Xbox One, iOS, and Android TV and mobile. SHOWTIME subscription is not required or included.
Stream now
Erickson Lubin's Potential Fights
Saturday, 26 June 2021
Where can I get Erickson Lubin Tickets?
Tickets are officialy on sale for Barrios vs Davis from Ticketmaster and are priced at $54 - $1254.
You can also buy Barrios vs Davis tickets on the resale market for this fight from StubHub. Tickets are exchanging hands from $159 - $7500.