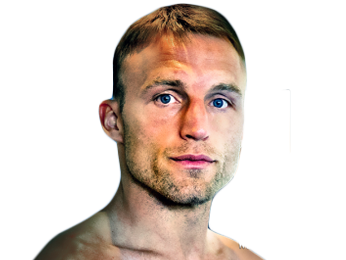 Belts held
CBC Commonwealth Super Welterweight champion

Stats
Full record
Ranking @ Super Welterweight
What was Metcalf's last fight?
James Metcalf's last fight took place against Jason Welborn's on 15th Jun 2019, in Leeds, United Kingdom. He won by knockout in the 8th round. That fight was 1 year and 7 months ago.
What belts does James Metcalf hold?
He won a vacant CBC Commonwealth Super Welterweight belt against Jason Welborn, beating him by knockout in the 8th round on 15th June 2019. He has held this belt for a total of 588 days (1 year, 7 months and 8 days) and has defended the belt . He is yet to make a mandatory defence of this belt.
Where is James Metcalf From?
Metcalf was born in the United Kingdom.
How Old Is James Metcalf?
The super welterweight is currently 32 years old. He was born on 27th July 1988, so he will turn 33 in 6 months and 4 days.
How long has Metcalf been fighting?
James Metcalf made his professional debut in December 2011, so he has been a pro for 9 years and 1 month.
How good is James Metcalf?
Metcalf is currently ranked 5th by the IBF at Super Welterweight.
How tall is James Metcalf?
Metcalf is 5' 9" (5 Foot and 9 inches) which is 175cm (1 meter and 75 centimeters).
What stance does James Metcalf use?
Metcalf fights from a traditional orthodox stance, which means he favours his right hand as his power hand when fighting.
What are some potential opponents for James Metcalf?
Some potential future fights for Metcalf include Liam Williams and Jack Flatley.
What will be James Metcalf's Next Fight?
James Metcalf is to face Ted Cheeseman next on Saturday 6th March 2021. The fight will take place in the United Kingdom. The fight will be shown on Sky Box Office HD in the UK, and DAZN in the United States.
How can I stream James Metcalf's Fights?
In the UK you stream Metcalf's fight against Cheeseman on Sky Sports Box Office.
In the US you can stream James Metcalf fight via DAZN.
James Metcalf's next fight
US streams

Netflix of Spots
You can stream James Metcalf via the DAZN app and platform. You can download the app for PC, Apple, Android, Fire TV, Roku, your Smart TV and many others. Note: You save over 60% if you pay for a full year of DAZN.
| | |
| --- | --- |
| 1 Month | $19.99 |
| 1 Year | $99.99 |
Stream now
UK streams

You don't need to be a Sky customer to stream James Metcalf. Sky allow you to stream their pay-per-view cards via the Sky Sports Box Office app for Android or Apple. They also have a web player you can use. You'll need to sign-up and pay online before logging in.
Stream now
James Metcalf's Potential Fights
Where can I get James Metcalf tickets?
We couldn't find any ticket details for James Metcalf at the moment.