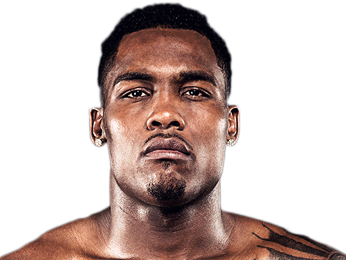 Jermall Charlo
Form
UD 12
TKO 7
UD 12
UD 12
KO 2
Belts held
WBC World Middleweight champion

Montiel (22-4-2) 19-Jun-2021
Derevyanchenko (13-2-0)
UD 12
26-Sep-2020
229 days - (7 months & 17 days)
(Promoted From Secondary Belt)
686 days - (1 year & 10 months)
Sep 26 2020
UD 12
Derevyanchenko
(13-2-0)
Dec 07 2019
TKO 7
Hogan
(28-2-1)
Jun 29 2019
UD 12
Adams
(21-2-0)
Every 229 days - (7 months & 17 days)
686 days - (1 year & 10 months)
Stats
Full record
Ranking @ Middleweight
Born on May 19, 1990 in Lafayette, Louisiana, Jermall Charlo comes from a boxing family. His father was a boxer, and his twin brother, Jermell is also a professional boxer. Both brothers began boxing when they went to the gym with their father at 9-years-old, and Jermell turned pro in 2007. Jermall Charlo waited another year, as he wanted to earn a place on the 2008 USA Olympic Boxing team, but a toe injury kept him from competing for a spot. He finished his amateur career with a record of 65-6, and then made his professional debut in 2008.
For his first fight on August 12, 2008, Charlo fought Cimmaron Davis and scored a second-round TKO. He won his first four fights convincingly, with two TKOs and two unanimous decisions, and then went up against Deon Nash, a fighter his brother had beaten already. He won a unanimous decision, then defeated Carlos Garcia by unanimous decision in his next fight. After that, he took on Nash in a rematch, and beat him even more decisively this time around, as Nash's corner stopped the contest after just two rounds.
That kicked off a string of finishes, as he won every fight for the next four years by either TKO, KO or a corner retirement. While many of those victories were over journeyman fighters, he also defeated several notable fighters, including Orlando Lora, Antwone Smith and Norberto Gonzalez, establishing himself as a strong prospect in the junior middleweight division. He faced off against another highly touted fighter on March 28, 2015 when he fought Michael Kenneth Finney, who had a strong amateur career. Finney was the first fighter to take him to a decision since Carlos Garcia, but Charlo still took the fight fairly easily by unanimous decision.
With that victory, he earned a shot at the IBF junior middleweight title. His opponent, Cornelius Bundrage, was a solid fighter and the current champion, but he was no match for a faster, more powerful and younger opponent. He knocked Bundrage down four times, once each in the first two rounds and twice in round three, with the final knockdown resulting in a KO. Charlo defended his title for the first time on November 28, 2015, against another game opponent in the 21-1 Wilky Campfort. Again, he made the veteran look like an amateur, dropping Campfort with a counter in round two and then forcing Campfort to a knee in round three. He then landed a beautiful uppercut towards the end of the round that put Campfort on his knee again, and because Campfort couldn't see, the referee stopped the fight.
Jermell Charlo defended his title twice in 2016, once against Austin Trout in a close unanimous decision win, and then at the end of the year with a fifth-round TKO of Julian Williams. His brother Jermell won the WBC light middleweight title that same year. On February 16, 2017, Charlo chose to vacate his IBF junior middleweight title due to the difficult weight cut and a lack of challengers, deciding to move up to middleweight.
What is Jermall Charlo's Record?
Jermall Charlo's record currently stands at 31 wins, 0 loses and 0 draws. He is currently undefeated in a total of 31 contests. Of those 31 wins he has stopped 22 of his opponents, so his current knock-out ratio is 71%. He's boxed a total of 159 rounds, meaning his professional fights last 5.1 rounds on average.
What was Charlo's last fight?
Jermall Charlo's last fight took place against Sergiy Derevyanchenko's on 26th Sep 2020, in Connecticut, United States. He won by unanimous decision after 12 rounds. That fight was 7 months and 16 days ago.
How active is Jermall Charlo?
Charlo's last 5 fights have come over a period of 3 years and 21 days, meaning he has been fighting on average every 7 months and 11 days. In those fights, he fought a total of 45 rounds, meaning that they have lasted 9 rounds on average.
What belts does Jermall Charlo hold?
He currently holds the WBC World Middleweight belt, having been promoted from a secondary belt on 26th June 2019. He has held this belt for a total of 686 days (1 year, 10 months and 16 days) and has defended the belt 3 times. He is yet to make a mandatory defence of this belt.
Where is Jermall Charlo From?
Charlo was born in the United States.
How Old Is Jermall Charlo?
The middleweight is currently 30 years old. He was born on 19th May 1990, so he will turn 31 in 7 days.
How long has Charlo been fighting?
Jermall Charlo made his professional debut in September 2008, so he has been a pro for 12 years and 8 months.
How good is Jermall Charlo?
Charlo is currently ranked 2nd by the The Ring at Middleweight.
How tall is Jermall Charlo?
Charlo is 6' 0" (6 Foot and 0 inches) which is 183cm (1 meter and 83 centimeters).
What is Charlo's Reach?
His reach is 73.6 inches (73.6") which is 187 cm (1 meter and 87 centimeters).
What stance does Jermall Charlo use?
Charlo fights from a traditional orthodox stance, which means he favours his right hand as his power hand when fighting.
What are some potential opponents for Jermall Charlo?
Some potential future fights for Charlo include Demetrius Andrade, Unified Super Welterweight Champion Jermell Charlo, Gennady Golovkin, Billy Joe Saunders and Unified Super Middleweight Champion Saul 'Canelo' Alvarez.
What will be Jermall Charlo's Next Fight?
Jermall Charlo is to face Juan Macias Montiel next on Saturday 19th June 2021. The fight will take place in the United States. The fight will be broadcast on ShowTime in the United States.
How can I stream Jermall Charlo's Fights?
In the US you can stream Jermall Charlo fight via ShowTime via Hulu, ShowTime via Amazon Prime and Showtime Anytime.
What are some recent Jermall Charlo results?
Charlo remains undefeated as a professional, stopping 3 of his last 5 opponents.
In his last fight, he defeated Dennis Hogan on 7th December 2019 by technical knockout in the 7th round in their WBC World Middleweight championship fight at Barclays Center, New York, United States.
Previous to that, he had defeated Brandon Adams on 29th June 2019 by unanimous decision in their WBC World Middleweight championship fight at MGM Grand, Las Vegas.
Going into that contest, he had beat Matt Korobov on 22nd December 2018 by unanimous decision in their WBC World Middleweight championship fight at Barclays Center, New York.
Before that, he had won against Hugo Centeno Jr on 21st April 2018 by knockout in the 2nd round in their WBC Interim World Middleweight championship fight at Barclays Center, New York.
He had beat Jorge Sebastian Heiland on 29th July 2017 by technical knockout in the 4th round at Barclays Center, New York.
Jermall Charlo's next fight
US streams

Showtime via Hula
You can stream Jermall Charlo via Hula when you buy a Showtime add-on, on top of a standard Hulu package (From $5.99).
| | |
| --- | --- |
| 1 Month | $10.99 (+ Standard Live Package) |
Stream now

Showtime via Prime TV
You can also stream Jermall Charlo via Amazon Prime when you purchase a buy a Showtime add-on, on top of a standard Prime package ($12.99/month). Prime is also available as a 30-Day free trial.
| | |
| --- | --- |
| 1 Month | $10.99 (+ Standard Package) |
Stream now

Stream Sho
You can stream Jermall Charlo via Showtime Anytime, their streaming platform. It's free to existing Showtime cable customers or $10.99 per month as a stand-alone app.
| | |
| --- | --- |
| Existing Customers | Free |
| 7 Days | Free |
| 1 Month | $10.99 |
Stream now
Jermall Charlo's Potential Fights
Where can I get Jermall Charlo tickets?
We couldn't find any ticket details for Jermall Charlo at the moment.