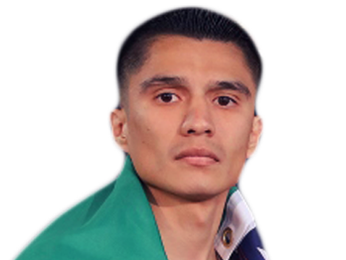 Joet Gonzalez
Form
UD 12
KO 6
KO 10
KO 8
KO 10
Stats
Full record
Ranking @ Featherweight
What is Joet Gonzalez's Record?
Joet Gonzalez's record currently stands at 24 wins, 1 loss and 0 draws. Of those 24 wins he has stopped 14 of his opponents, so his current knock-out ratio is 58%. In his only defeat, he lost on the scorecards. He's boxed a total of 129 rounds, meaning his professional fights last 5.2 rounds on average.
What was Gonzalez's last fight?
Joet Gonzalez's last fight took place against Shakur Stevenson's on 26th Oct 2019, in Nevada, United States. He lost by unanimous decision after 12 rounds. That fight was 1 year and 10 months ago.
How active is Joet Gonzalez?
Gonzalez's last 5 fights have come over a period of 3 years, 5 months and 26 days, meaning he has been fighting on average every 8 months and 12 days. In those fights, he fought a total of 46 rounds, meaning that they have lasted 9.2 rounds on average.
Where is Joet Gonzalez From?
Gonzalez was born in the United States.
How Old Is Joet Gonzalez?
The featherweight is currently 27 years old. He was born on 12th October 1993, so he will turn 28 in 25 days.
How long has Gonzalez been fighting?
Joet Gonzalez made his professional debut in July 2012, so he has been a pro for 9 years and 2 months.
How good is Joet Gonzalez?
Gonzalez is currently ranked 10th by the The Ring, 1st by the WBO and 15th by the IBF at Featherweight.
How tall is Joet Gonzalez?
Gonzalez is 5' 6" (5 Foot and 6 inches) which is 168cm (1 meter and 68 centimeters).
What is Gonzalez's Reach?
His reach is 70.1 inches (70.1") which is 178 cm (1 meter and 78 centimeters).
What stance does Joet Gonzalez use?
Gonzalez fights from a traditional orthodox stance, which means he favours his right hand as his power hand when fighting.
What will be Joet Gonzalez's Next Fight?
Joet Gonzalez is to face Emanuel Navarrete next on Friday 15th October 2021. The fight will take place at Pechanga Arena, California, United States. The fight will be shown on ESPN+ in the United States.
How can I stream Joet Gonzalez's Fights?
In the US you can stream Joet Gonzalez fight via ESPN+.
Joet Gonzalez's next fight
US streams

Great Price & Big Action
You can stream Joet Gonzalez via the ESPN+ app. This is a standalone service from regular ESPN, so you don't need to be an existing TV subscriber. You can download the app for PC, Apple, Android, Fire TV, Roku, your Smart TV and many others.
| | |
| --- | --- |
| 1 Month | $6.99 |
| 1 Month (Disney+/Hulu) | $13.99 |
| 1 Year | $69.99 |
Stream now
Joet Gonzalez Potential Fights
Sorry, we don't know of any potential fights for Joet Gonzalez at the moment, why not send us some suggestions?
Friday, 15 October 2021
Pechanga Arena, California
United States
Show open: TBA
Main event starts: 2am est
Resell tickets

TicketNetwork
Where can I get Joet Gonzalez Tickets?
You can buy Navarrete vs Gonzalez tickets on the resale market for this fight from TicketNetwork. Tickets are exchanging hands from $107 - $683.