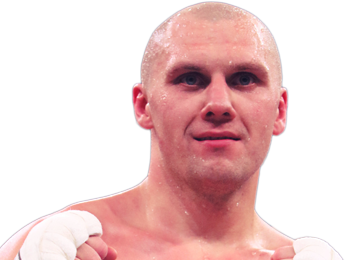 Krzysztof Glowacki
Form
TKO 3
UD 12
KO 1
UD 8
TKO 5
Stats
Full record
Ranking @ Cruiserweight
Krzysztof Glowacki profile
What was Glowacki's last fight?
Krzysztof Glowacki's last fight took place against Mairis Briedis' on 15th Jun 2019, in Riga, Latvia. He lost by technical knockout in the 3rd round. That fight was 1 year and 7 months ago.
How active is Krzysztof Glowacki?
Glowacki's last 5 fights have come over a period of 1 year, 8 months and 16 days, meaning he has been fighting on average every 5 months and 4 days. In those fights, he fought a total of 29 rounds, meaning that they have lasted 5.8 rounds on average.
Where is Krzysztof Glowacki From?
Glowacki was born in Poland.
How Old Is Krzysztof Glowacki?
The cruiserweight is currently 34 years old. He was born on 31st July 1986, so he will turn 35 in 6 months and 5 days.
How long has Glowacki been fighting?
Krzysztof Glowacki made his professional debut in October 2008, so he has been a pro for 12 years and 3 months.
How good is Krzysztof Glowacki?
Glowacki is currently ranked 3rd by the The Ring and 1st by the WBO at Cruiserweight.
How tall is Krzysztof Glowacki?
Glowacki is 6' 0" (6 Foot and 0 inches) which is 183cm (1 meter and 83 centimeters).
What is Glowacki's Reach?
His reach is 75.2 inches (75.2") which is 191 cm (1 meter and 91 centimeters).
What stance does Krzysztof Glowacki use?
Glowacki fights from a southpaw stance, which means he favours his left hand as his power hand when fighting.
What are some potential opponents for Krzysztof Glowacki?
Some potential future fights for Glowacki include Ilunga Makabu and Unified Cruiserweight Champion Mairis Briedis.
What will be Krzysztof Glowacki's Next Fight?
Krzysztof Glowacki is to face Lawrence Okolie next on Saturday 20th March 2021. The fight will take place in the United Kingdom. The fight will be shown on Sky Sports Arena in the UK, and DAZN in the United States.
How can I stream Krzysztof Glowacki's Fights?
In the UK you stream Glowacki's fight against Okolie on NowTV and Sky Go.
In the US you can stream Krzysztof Glowacki fight via DAZN.
What are some recent Krzysztof Glowacki results?
Glowacki has beaten 4 of his last 5 opponents, stopping 2 of them, going the distance twice.
In his last fight, he beat Maksim Vlasov on 10th November 2018 by unanimous decision in their 12 round contest at UIC Pavilion, Illinois, United States.
Previous to that, he had beat Santander Silgado on 12th May 2018 by knockout in the 1st round at Hala Sportowa, Osiedle Dolne Miasto 14A, Walcz, Poland.
Going into that contest, he had won against Serhiy Radchenko on 10th February 2018 by unanimous decision in their 8 round contest at Hala Nysa, ul. Sudecka 23, Nysa.
Before that, he had beat Leonardo Damian Bruzzese on 30th September 2017 by technical knockout in the 5th round at Arena Riga, Riga, Latvia.
He had been beaten by Oleksandr Usyk on 17th September 2016 by unanimous decision in their WBO World Cruiserweight championship fight at Ergo Arena, Gdansk, Poland.
Krzysztof Glowacki's next fight
Krzysztof Glowacki streams
US streams

Netflix of Spots
You can stream Krzysztof Glowacki via the DAZN app and platform. You can download the app for PC, Apple, Android, Fire TV, Roku, your Smart TV and many others. Note: You save over 60% if you pay for a full year of DAZN.
| | |
| --- | --- |
| 1 Month | $19.99 |
| 1 Year | $99.99 |
Stream now
UK streams

Cheap Sky Sports
You can stream Krzysztof Glowacki via NowTV. They allow you to stream Sky Sports boxing cards via their app, based on a 24 hour, weekly or monthly passes. You'll also get access to 11 Sky Sports Channels during your pass period. They also do a monthly smartphone only pass for £5.99, which is great if you need to catch Krzysztof Glowacki on the move.
| | |
| --- | --- |
| 24 Hours | £8.99 |
| 1 Week | £14.99 |
| 1 Month | 33.99 |
| 1 Month (Mobile Only) | £5.99 |
Stream now

Sky on the Go
Existing or new Sky Sports subscribers can stream Krzysztof Glowacki, and all Sky boxing cards, via the Sky Go App. This is free is you're already a Sky Sports TV customer. It's available for Apple, Android, Firestick, Roku and games consoles.
| | |
| --- | --- |
| Existing Customers | Free |
| 1 Month (for TV) | £45 |
Stream now
Krzysztof Glowacki results
Krzysztof Glowacki's Potential Fights
Krzysztof Glowacki tickets
Where can I get Krzysztof Glowacki tickets?
We couldn't find any ticket details for Krzysztof Glowacki at the moment.