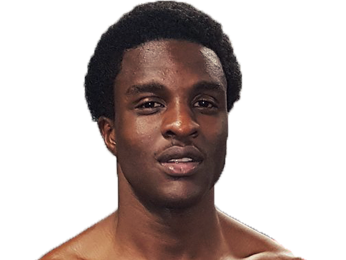 Form
UD 10
MD 10
TKO 6
TKO 7
PTS 10
Stats
Full record
Ranking @ Super Lightweight
Born on February 9, 1992 in Hackney, London, England, Ohara Davies is a heavy-handed fighter known almost as much for his sharp tongue as his hard punches. He didn't grow up in the best area, so he started boxing at an early age and spent most of his time at the gym. He had a very short amateur career of only 19 fights. Although he was undefeated, he didn't win any major tournaments and decided to turn pro, as he felt that better suited his fighting style.
Davies had his pro debut on April 19, 2014 at York Hall. He took on Ivans Levickis, and although he couldn't put his opponent away, he still dominated the contest on the way to a points decision after four rounds. He returned to York Hall less than two months later to take on Kristian Dochev and destroyed his opponent with a barrage of punches, picking up the TKO in the very first round.
On October 11, 2014, he had his first fight at the 02 Arena, although it was against a low-level opponent in the 3-18-1 Andy Harris. Still, Ohara Davies put him away easily, with a KO in the second round. After that, it was back to York Hall to close out the year with his first fight against someone with a winning record. He took on the 10-7 Oszkar Fiko, and again, it wasn't close. He stopped Fiko in the first round by TKO.
His next fight was a spectacular first-round KO over Lee Gibbons, and then he had his first fight out of the United Kingdom when he fought Jacek Wylezol in Germany. He didn't get the finish this time, but he did get the unanimous decision after six rounds.
Davies had definitely demonstrated star potential to that point in his career. The young fighter had sharp technical skills to go along with his stunning power. Even though he wasn't fighting the strongest competition, he was taking out the men in front of him each time.
Once he had built his record to 10-0 with eight finishes, he fought for the BBBofC English lightweight title on April 9, 2016. The fight was against the 11-3 Andy Keates, and Davies left his opponent bloodied and battered, securing a stoppage in the fourth round by TKO. Next, he gave the 9-0 Zoltan Szabo his first loss, getting a fifth-round TKO on cuts.
On October 1, 2016, he beat down Chaquib Fadli and picked up a second-round KO. That earned him a shot at the WBC Silver lightweight title. The fight was on November 26, 2016, making it a short turnaround. While he didn't have his best performance, he was still able to coast to a unanimous decision victory after 12 rounds. He fared much better in his title defense at the 02 Arena on March 4, 2017. He took on Derry Mathews, a game but past-his-prime veteran, and the outcome was never in doubt. Ohara Davies kept control of the action in the early going and then turned up the pressure, stopping Mathews in the third round.
What is Ohara Davies' Record?
Ohara Davies' record currently stands at 23 wins, 2 loses and 0 draws. Of those 23 wins he has stopped 16 of his opponents, so his current knock-out ratio is 70%. Of his 2 loses, he's been stopped 1 time. He's boxed a total of 126 rounds, meaning his professional fights last 5 rounds on average.
What was Davies' last fight?
Ohara Davies' last fight took place against Ismael Barroso's on 26th Nov 2021, in Dubai, United Arab Emirates. He won by unanimous decision in the 10th round. That fight was 7 days ago.
How active is Ohara Davies?
Davies' last 5 fights have come over a period of 2 years, 5 months and 5 days, meaning he has been fighting on average every 5 months and 26 days. In those fights, he fought a total of 43 rounds, meaning that they have lasted 8.6 rounds on average.
Where is Ohara Davies From?
Davies was born in the United Kingdom.
How Old Is Ohara Davies?
The super lightweight is currently 29 years old. He was born on 9th February 1992, so he will turn 30 in 2 months and 6 days.
How long has Davies been fighting?
Ohara Davies made his professional debut in April 2014, so he has been a pro for 7 years and 7 months.
How good is Ohara Davies?
Davies is currently ranked 4th by the WBA at Super Lightweight.
How tall is Ohara Davies?
Davies is 5' 7" (5 Foot and 7 inches) which is 170cm (1 meter and 70 centimeters).
What is Davies' Reach?
His reach is 70.9 inches (70.9") which is 180 cm (1 meter and 80 centimeters).
What stance does Ohara Davies use?
Davies fights from a traditional orthodox stance, which means he favours his right hand as his power hand when fighting.
What are some potential opponents for Ohara Davies?
Some potential future fights for Davies include Anthony Fowler.
What will be Ohara Davies' Next Fight?
Ohara Davies' doesn't currently have a fight scheduled.
Some potential future fights for Davies include Anthony Fowler.
How can I stream Ohara Davies' Fights?
In the UK you can usually stream Davies' fights on IFL TV.
In the US you can usually stream Ohara Davies' fights via ESPN+.
What are some recent Ohara Davies results?
Davies has beaten 4 of his last 5 opponents, stopping 2 of them, going the distance twice.
In his last fight, he defeated Tyrone McKenna on 30th September 2020 by majority decision in their 10 round contest at York Hall, London, United Kingdom.
Previous to that, he had defeated Jeff Ofori on 21st February 2020 by technical knockout in the 6th round at York Hall, London.
Going into that contest, he had beat Logan Yoon on 22nd November 2019 by technical knockout in the 7th round at York Hall, London.
Before that, he had won against Miguel Vazquez on 28th June 2019 by points in the 10th round at York Hall, London.
He had been beaten by Jack Catterall on 6th October 2018 by unanimous decision in their 12 round contest at Leicester Arena, Leicestershire.
When is Ohara Davies' Next Fight?
Ohara Davies' doesn't currently have a fight scheduled.
Some potential future fights for Davies include Anthony Fowler.
Ohara Davies' Potential Fights
Where can I get Ohara Davies tickets?
We couldn't find any ticket details for Ohara Davies at the moment.