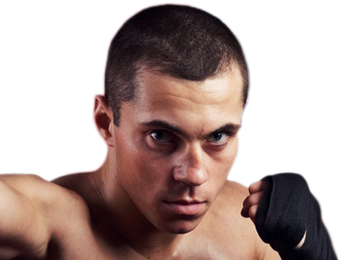 Form
TKO 11
UD 12
TKO 6
UD 12
KO 9
Born on October 9, 1988 in Bury, Greater Manchester, England, Scott Quigg's amateur career could best be described as short but sweet. He started out training in Muay Thai as a child, but then decided to switch to boxing at 16, and he quickly made his mark, winning an ABA Junior's championship after just seven fights. When he ended his amateur career, he had a record of 10-2.
Feeling he could have even more success in the pro ranks, Quigg made his professional debut on April 21, 2007 against Gary Sheil, who he defeated on points after six rounds. In his next fight on June 30, he had his first finish with a first-round TKO over Shaun Walton. On August 11, he once again fought Walton, a somewhat unique occurrence since Walton was a journeyman fighter with a poor record. Still, Scott Quigg won again, taking the rematch on points.
Like many British fighters, his early career consisted of fights against low-level boxers with records ranging from mediocre to atrocious. It wasn't until his eighth fight, against the 4-1-1 Angelo Villani, that he faced an opponent with a winning record. He won that fight by TKO in the second round. While his level of competition wasn't very high, he was impressing observers with his well-rounded technical game and his aggressive, angle-heavy style. It was clear that he was an exciting young prospect with championship potential.
It took over three years of victories, but with a 19-0 record, Quigg got his first title fight on September 25, 2010 when he took on Santiago Allione for the WBA Inter-Continental super bantamweight belt. His aggression carried him to an impressive win by third-round KO. After two title defenses, he stopped Jason Booth after seven rounds on October 22, 2011 to add the British super bantamweight title to his collection.
After another title defense, he took on the 24-2-0 Rendall Munroe for the WBA interim super bantamweight title. It was a close fight while it lasted, as it had to be stopped when Munroe ended up cut after a head clash. Since the scorecards were even, the fight was ruled a technical draw.
Scott Quigg didn't let another opportunity at a world title pass him by on November 24, 2012, as he survived a tough first round to stop Munroe by sixth-round TKO in their rematch. He followed that up by stopping William Prado in the third round.
On October 5, 2013, he took on the slick Cuban boxer Yoandris Salinas, who was 20-0-1. Both men fought hard and had their moments, and draws on two of the scorecards resulted in a majority draw.
Quigg scored decisive victories in his next three fights, winning the first two by second-round KO and the third by a third-round TKO. He defeated Hidenori Otake by unanimous decision after 12 rounds, and then brutally beat down Kiko Martinez for a second-round TKO victory.
He lost his belt on February 27, 2016 in a close split decision against Carl Frampton. At the end of the year, he moved up to featherweight and won the WBA international title with a ninth-round KO of Jose Cayetano.
What is Scott Quigg's Record?
Scott Quigg's record currently stands at 35 wins, 2 loses and 2 draws. Of those 35 wins he has stopped 26 of his opponents, so his current knock-out ratio is 74%. Despite his 2 loses, he has never been stopped. He's boxed a total of 200 rounds, meaning his professional fights last 5.1 rounds on average.
What was Quigg's last fight?
Scott Quigg's last fight took place against Jono Carroll's on 7th Mar 2020, in Lancashire, United Kingdom. He lost by technical knockout in the 11th round. That fight was 1 year and 10 months ago.
How active is Scott Quigg?
Quigg's last 5 fights have come over a period of 5 years, 1 month and 14 days, meaning he has been fighting on average every 1 year and 9 days. In those fights, he fought a total of 50 rounds, meaning that they have lasted 10 rounds on average.
Where is Scott Quigg From?
Quigg was born in the United Kingdom.
How Old Is Scott Quigg?
The super bantamweight is currently 33 years old. He was born on 9th October 1988, so he will turn 34 in 8 months and 15 days.
How long has Quigg been fighting?
Scott Quigg made his professional debut in April 2007, so he has been a pro for 14 years and 9 months.
How tall is Scott Quigg?
Quigg is 5' 8" (5 Foot and 8 inches) which is 173cm (1 meter and 73 centimeters).
What is Quigg's Reach?
His reach is 68.9 inches (68.9") which is 175 cm (1 meter and 75 centimeters).
What stance does Scott Quigg use?
Quigg fights from a traditional orthodox stance, which means he favours his right hand as his power hand when fighting.
What will be Scott Quigg's Next Fight?
Scott Quigg's doesn't currently have a fight scheduled.
How can I stream Scott Quigg's Fights?
In the UK you can usually stream Quigg's fights on NowTV and Sky Go.
In the US you can usually stream Scott Quigg's fights via DAZN.
What are some recent Scott Quigg results?
Quigg has beaten 3 of his last 5 opponents, stopping 2 of them, going the distance once.
In his last fight, he lost to Oscar Valdez on 10th March 2018 by unanimous decision in their WBO World Featherweight championship fight at StubHub Center, Carson, United States.
Previous to that, he had won against Oleg Yefimovych on 4th November 2017 by technical knockout in the 6th round at Salle des Étoiles, Monte Carlo, Monaco.
Going into that contest, he had beat Viorel Simion on 29th April 2017 by unanimous decision in their 12 round contest at Wembley Stadium, London, United Kingdom.
Before that, he had defeated Jose Cayetano on 10th December 2016 by knockout in the 9th round at Manchester Arena, Manchester.
He had been beaten by Carl Frampton on 27th February 2016 by split decision in their IBF World Junior Featherweight and WBA World Super Bantamweight championship fight at Manchester Arena, Manchester.
When is Scott Quigg's Next Fight?
Scott Quigg's doesn't currently have a fight scheduled.
Scott Quigg Potential Fights
Sorry, we don't know of any potential fights for Scott Quigg at the moment, why not send us some suggestions?
Where can I get Scott Quigg tickets?
We couldn't find any ticket details for Scott Quigg at the moment.