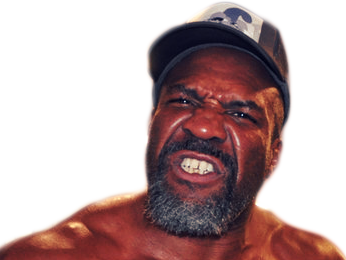 Form
KO 1
KO 2
KO 1
KO 1
TKO 1
Born on December 4, 1971 in Brooklyn, New York, Shannon Briggs is a bruising heavyweight who fought some of the biggest names in the sport over a career that spanned decades. He came from humble beginnings and had a difficult childhood, spending some of it homeless. His mother tragically overdosed on heroin and passed away on Briggs' 15th birthday. When he was 17, he started training at a local boxing club, and just a few years later he took home the silver medal at the 1991 Pan American Games. The next year, he was the United States Amateur Champion.
Working with the now-legendary trainer Teddy Atlas, Shannon Briggs became a professional fighter on July 27, 1992, when he took out John Basil Jackson by first-round KO. He had the same result for his next three fights. It wasn't until his fifth fight that he took on an opponent with a win to his name in the 6-24-2 Juan Quintana. He won that fight by a third-round TKO.
He stayed active in 1992, and despite not starting his career until the end of July, he managed to fight 10 times that year, going 10-0 with nine knockouts. He continued his hot streak through 1993, 1994, and 1995, putting together a string of victories, with most of them coming by stoppage. However, his competition consisted primarily of journeymen and lower-level boxers, many of them with losing records.
His first big fight came on March 15, 1996 against another heavyweight prospect, 15-0-2 Darroll Wilson. It didn't go well for Briggs, who lost by TKO in the third round. While that loss killed his momentum, he rebounded by winning his next four fights, all by stoppage. That set him up for a shot at the lineal heavyweight title on November 22, 1997 against one of the greatest heavyweights of all-time in George Foreman. Although Shannon Briggs landed fewer punches at a lesser accuracy and spent most of the fight going backwards, he still managed to pick up a controversial majority decision.
On March 28, 1998, he fought Lennox Lewis for the WBC heavyweight title, but he was outclassed the entire bout and lost in the fifth round by TKO.
With that loss, he spend the next several years fighting mid-tier opposition, winning most of his fights but also dropping the occasional decision. He had a one-fight stint as a kickboxer in 2004, fighting in K-1 and winning by KO.
After putting together 11 victories in a row from 2003 to 2006, all of them coming by stoppage, Briggs earned a shot at the WBO heavyweight title. On November 4, 2006, he fought Siarhei Liakhovich, and although he was down on the scorecards towards the end of the fight, he rallied for a 12th-round TKO victory. He lost the belt by unanimous decision in his next fight. After flirting with the idea of retirement, he came back and put together another winning streak. That led to a shot at the WBC heavyweight title against Vitali Klitschko. Although Briggs hung on to make it 12 rounds, he was battered over the course of the fight and lost a clear unanimous decision.
What is Shannon Briggs' Record?
Shannon Briggs' record currently stands at 60 wins, 6 loses and 1 draw. Of those 60 wins he has stopped 53 of his opponents, so his current knock-out ratio is 88%. Of his 6 loses, he's been stopped 2 times. He's boxed a total of 226 rounds, meaning his professional fights last 3.4 rounds on average.
What was Briggs' last fight?
Shannon Briggs' last fight took place against Emilio Ezequiel Zarate's on 21st May 2016, in London, United Kingdom. He won by knockout in the 1st round. That fight was 5 years and 7 months ago.
How active is Shannon Briggs?
Briggs' last 5 fights have come over a period of 7 years, 4 months and 24 days, meaning he has been fighting on average every 1 year, 5 months and 24 days. In those fights, he fought a total of 6 rounds, meaning that they have lasted 1.2 rounds on average.
Where is Shannon Briggs From?
Briggs was born in the United States.
How Old Is Shannon Briggs?
The heavyweight is currently 50 years old. He was born on 4th December 1971, so he will turn 51 in 10 months and 18 days.
How long has Briggs been fighting?
Shannon Briggs made his professional debut in July 1992, so he has been a pro for 29 years and 5 months.
How tall is Shannon Briggs?
Briggs is 6' 4" (6 Foot and 4 inches) which is 193cm (1 meter and 93 centimeters).
What is Briggs' Reach?
His reach is 79.9 inches (79.9") which is 203 cm (2 meters and 3 centimeters).
What stance does Shannon Briggs use?
Briggs fights from a traditional orthodox stance, which means he favours his right hand as his power hand when fighting.
What will be Shannon Briggs' Next Fight?
Shannon Briggs' doesn't currently have a fight scheduled.
How can I stream Shannon Briggs' Fights?
We don't have streaming details for Shannon Briggs' next fight yet.
Shannon Briggs' next fight
When is Shannon Briggs' Next Fight?
Shannon Briggs' doesn't currently have a fight scheduled.
How can I stream Shannon Briggs' Fights?
We don't have streaming details for Shannon Briggs' next fight yet.
Shannon Briggs Potential Fights
Sorry, we don't know of any potential fights for Shannon Briggs at the moment, why not send us some suggestions?
Where can I get Shannon Briggs tickets?
We couldn't find any ticket details for Shannon Briggs at the moment.