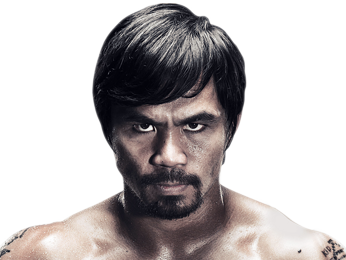 Manny Pacquiao
Form
SD 12
UD 12
TKO 7
UD 12
UD 12
Stats
Full record
Ranking @ Welterweight
One of the most accomplished boxers of all time, Manny Pacquiao won titles in multiple weight divisions and earned the title "Fighter of the Decade" in the 2000s. He collected several fighter of the year awards, was part of a record-breaking pay-per-view, and between all of that he also had time to record music and work as a politician in the Philippines.
What may be most impressive about all that was Pacquiao's humble beginnings. Born on December 17, 1978 in Kibawe, Bukidnon, Philippines, he grew up very poor and left home when he was just 14. Living on the streets, he eventually got free room and board when he made the Philippine national amateur boxing team. He built up an amateur record of 60-4, but decided to turn professional after the death of a friend of his. Weighing only 98 pounds, he needed to put rocks in his pocket just so he could weigh in high enough to fight in the minimumweight division. He made his debut on January 22, 1995 and defeated Edmun Enting Ignacio by unanimous decision after four rounds.
Fighting in the Philippines, he quickly became a fan favorite because of his aggressive, high-octane fighting style. That did get him into trouble in his 12th fight, as he was knocked out by Rustico Torrecampo in the third round. One thing about Manny Pacquiao, though, is that he always had mental toughness and didn't let defeat get him down. He came back less than three months later and got back to his winning ways, putting together another long streak of victories.
On June 26, 1997 he won his first belt, the OPBF flyweight title with a fifth-round KO against Chokchai Chockvivat. Four fights later, he took on Chatchai Sasakul and won the WBC and lineal flyweight titles. Although he lost his lineal flyweight title by third-round TKO against Medgoen Singsurat, he got another title shot in his next fight, this one for the WBC International super bantamweight title, and he knocked out Reynante Jamili in the second round.
After building up an impressive record of 37-2-1, Pacquiao had one of his most impressive performances when he fought Marco Antonio Barrera for The Ring and lineal featherweight titles on November 15, 2003. In a stunning performance, he showed that he still had his trademark punching power at a higher weight class, as he stopped Barrera by TKO in the 11th round.
His next fight was against the man who would become his biggest rival, Juan Manuel Marquez. In a classic battle, he came out strong and knocked Marquez down three times in the very first round. However, the Mexican fighter rallied and utilized his excellent counterpunching skills. At the end of 12 rounds, the fight was ruled a draw.
After a fourth-round TKO victory in his next fight, he took on another skilled Mexican fighter in Erik Morales, who defeated him by unanimous decision after 12 rounds of action. He returned to defeat Hector Velazquez by sixth round TKO to set up a rematch with Morales, and this time he emerged the victor, battering Morales on his way to 10th-round TKO.
The two fought their rubber match on November 18, 2006, and he performed even better this time around, knocking out Morales in round three. With another two impressive victories, he got another shot at Marquez on March 15, 2008. This fight was for the WBC, The Ring and lineal super featherweight titles. In another close and controversial fight, the Filipino boxer prevailed by split decision. In his next fight, he went up to lightweight and won the WBC title with a ninth-round TKO over David Diaz.
Manny Pacquiao had improved significantly as a fighter, particularly since he started training with Freddie Roach. The veteran trainer sharpened up his punches, in particular his right hook, which the trainer called "Manila Ice." He was becoming more of a boxer-puncher than a swarmer, and in his next two fights, he would emerge as a true superstar.
First, he took on Oscar De La Hoya. In one of the most impressive performances of his career, he dismantled the Mexican legend from start to finish, landing punches from seemingly every angle until a corner stoppage in round eight. He followed that up with an absolutely brutal KO over the tough British fighter Ricky Hatton, who he put to sleep with a picture-perfect left hand in the second round, winning the IBO, The Ring and lineal light welterweight titles in the process.
He continued his dominance across different weight classes by winning the WBO welterweight title when he defeated Miguel Cotto on November 14, 2009. After a title defense against Joshua Clottey, he went up to super welterweight and won the WBC belt with a 12-round unanimous decision over Antonio Margarito. He defended the title twice – first against Shane Mosley, and then in a fight against his old rival Marquez on November 12, 2011. The fight against Marquez was once again very close, and he pulled out a majority decision in a bout some feel he had lost.
He was upset by Timothy Bradley on June 9, 2012, losing a split decision that most thought he had won. He then had a fourth fight against Marquez, and in a violent, back-and-forth fight, the Mexican fighter finally emerged victorious when he brutally knocked Pacquiao out in the sixth round.
After some time off, he came back on November 24, 2013 to defeat Brandon Rios, and then got revenge against Bradley with a 12-round unanimous decision win. Another decision victory against Chris Algieri set up a super fight with one of the all-time greats in Floyd Mayweather Jr.
The fight between the two boxing legends destroyed the pay-per-view record with 4.6-million buys, earning Pacquiao well over $100 million. However, the fight itself turned out to be slow and resulted in many disappointed viewers. The Filipino fighter didn't have much luck catching Mayweather save a few bursts of action here and there, and he ended up on the losing end of a unanimous decision. He would bounce back by beating Bradley again by unanimous decision in their rubber match.
What is Manny Pacquiao's Record?
Manny Pacquiao's record currently stands at 62 wins, 7 loses and 2 draws. Of those 62 wins he has stopped 39 of his opponents, so his current knock-out ratio is 63%. Of his 7 loses, he's been stopped 3 times. He's boxed a total of 486 rounds, meaning his professional fights last 6.8 rounds on average.
What was Pacquiao's last fight?
Manny Pacquiao's last fight took place against Keith Thurman's on 20th Jul 2019, in Las Vegas, United States. He won by split decision after 12 rounds. That fight was 1 year and 11 months ago.
How active is Manny Pacquiao?
Pacquiao's last 5 fights have come over a period of 4 years, 7 months and 18 days, meaning he has been fighting on average every 11 months and 4 days. In those fights, he fought a total of 55 rounds, meaning that they have lasted 11 rounds on average.
Where is Manny Pacquiao From?
Pacquiao was born in Philippines.
How Old Is Manny Pacquiao?
The welterweight is currently 42 years old. He was born on 17th December 1978, so he will turn 43 in 5 months and 24 days.
How long has Pacquiao been fighting?
Manny Pacquiao made his professional debut in January 1995, so he has been a pro for 26 years and 5 months.
How good is Manny Pacquiao?
Pacquiao is currently ranked 3rd by the The Ring and 3rd by the IBF at Welterweight.
How tall is Manny Pacquiao?
Pacquiao is 5' 5" (5 Foot and 5 inches) which is 166cm (1 meter and 66 centimeters).
What is Pacquiao's Reach?
His reach is 66.9 inches (66.9") which is 170 cm (1 meter and 70 centimeters).
What stance does Manny Pacquiao use?
Pacquiao fights from a southpaw stance, which means he favours his left hand as his power hand when fighting.
What are some potential opponents for Manny Pacquiao?
Some potential future fights for Pacquiao include Amir Khan, Danny Garcia, Floyd Mayweather Jr, Jeff Horn and Kell Brook.
What will be Manny Pacquiao's Next Fight?
Manny Pacquiao is to face Errol Spence Jr next on Saturday 21st August 2021. The fight will take place at Las Vegas, United States. The fight will be broadcast on FOX Sports PPV in the United States.
How can I stream Manny Pacquiao's Fights?
In the US you can stream Manny Pacquiao fight via Fite.TV – PPV US.
What are some recent Manny Pacquiao results?
Pacquiao has beaten 4 of his last 5 opponents, stopping 1 of them, going the distance 3 times.
In his last fight, he won against Adrien Broner on 19th January 2019 by unanimous decision in their WBA World Welterweight championship fight at MGM Grand, Las Vegas, United States.
Previous to that, he had won against Lucas Martin Matthysse on 15th July 2018 by technical knockout in the 7th round in their WBA World Welterweight championship fight at Axiata Arena, Kuala Lumpur, Malaysia.
Going into that contest, he had been beaten by Jeff Horn on 2nd July 2017 by unanimous decision in their WBO World Welterweight championship fight at Suncorp Stadium, Brisbane, Australia.
Before that, he had beat Jessie Vargas on 5th November 2016 by unanimous decision in their WBO World Welterweight championship fight at Thomas & Mack Center, Las Vegas, United States.
He had defeated Timothy Bradley Jr on 9th April 2016 by unanimous decision in their 12 round contest at MGM Grand, Las Vegas.
Manny Pacquiao's next fight
When is Manny Pacquiao's Next Fight?
Manny Pacquiao is to face Errol Spence Jr next on Saturday 21st August 2021. The fight will take place at Las Vegas, United States. The fight will be broadcast on FOX Sports PPV in the United States.
US streams

PPV Stream
You can stream Manny Pacquiao via Fite.tv on a PPV basis. Once purchased, you can watch on your Smart TV, Phone or Desktop PC, and they have apps available on Roku, Xbox, Chromecast and Apple TV.
Stream now
Manny Pacquiao's Potential Fights
Where can I get Manny Pacquiao tickets?
We couldn't find any ticket details for Manny Pacquiao at the moment.