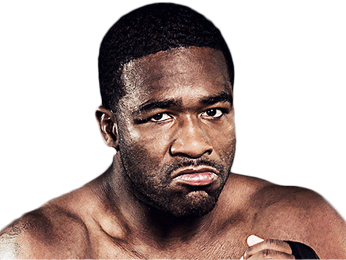 Form
UD 12
UD 12
MD 12
UD 12
SD 10
Adrien Broner, or AB, is a professional boxer and former world champion in four weight divisions who has held the WBO super featherweight title, WBC lightweight title, and WBA welterweight title. He was born on July 28, 1989, in Cincinnati, Ohio and according to his father, Thomas Knight, showed an early predilection to the sweet science at the age of five years old, prompting his parents to begin his first training regiments as a youth. Sporting a brash persona in and outside of the ring, AB's long-time trainer, Mike Stafford, is a far cry from his star pupil, but boasts an impressive resume of his own, he himself overseeing the careers of several other world champions, including Robert Easter Jr and Rau'shee Warren. Although polar opposites in terms of demeanor, the partnership between Broner and Stafford has proved to be fruitful in terms of success, continuing the Midwest's long-standing winning institution.
The Midwest is rife with a history of winning boxing tradition and has spurred the success of greats such as Sugar Ray Robinson, Joe Louis, and the Mayweather family. Adrien Broner has solidly placed himself amongst the ranks of these legendary champions, but the boxing titan had to first surmount his humble beginnings by displaying an unparalleled work ethic and dedication. Broner's first professional fight was against up-and-comer Allante Davis at the Hyatt Regency in Cincinnati, Ohio, in which he made quick work of his opponent, knocking him out in the 4th round.
Throughout his career, AB has been no stranger to controversy, following him inside and outside of the ring. On December 27, 2008, he received the first blemish on his record, receiving a disqualification against Eric Ricker after pushing his opponent from the ring. This decision was later overturned and repurposed as a No Contest, somewhat diminishing the damage to his perfect record. On March 5, 2011, at the Honda Center in Anaheim, Ca, AB faced off against veteran fighter and former super bantamweight champion Daniel Ponce de Leon for the vacant WBO Inter-Continental super featherweight title in what was supposed to be a showcase for the undefeated fighter's incredible skill-set. Ponce de Leon would be moving up in weight class and was viewed by many outside the Ponce de Leon camp to be an easy target for the larger, quicker fighter. Unexpectedly, Ponce de Leon stood toe-to-toe with AB, exchanging savage punches and capitalizing on his veteran savvy. This proved to be a close bout, with Harold Letterman scoring the fight 96-94 in favor of Ponce de Leon, however, the judges seemed to favor AB, who while landing fewer punches, landed a higher percentage of his punches, ending in a split decision for the undefeated fighter. This controversial decision led some to question AB's true talent level and overall work ethic.
On November 26, 2011, Broner received another title shot, facing Vicente Martín Rodríguez for the vacant WBO super featherweight title. Taking place at the U.S. Bank Arena in his hometown of Cincinnati, Ohio, this bout was especially significant and proved to truly display Adrien Broner's entire repertoire as he defeated Rodríguez easily by knockout in the 3rd round of what was scheduled to be a 12 round bout. Outclassing his opponent with a combination of supreme speed, accuracy, and ability to fight within the pocket, Rodríguez was flustered early, causing him to abandon his fight plan and go into survival mode. Already being considered one of the best fighters in his division, the quick dismantling of Rodríguez allowed AB's stock to skyrocket, putting many of boxing's elite on notice.
After a string of knockout victories, his reputation for a sub-par work ethic began to gain some steam when he squared-off against Paulie Malignaggi at the Barclays Center in New York City. Although garnering the split decision victory, this proved to be a very competitive bout, and because of Malignaggi's noted lack of power punching ability, many boxing experts believed AB should have been able to acquire the victory in a more destructive fashion. After the fight, he famously announced that he hadn't taken training camp seriously, further cementing negative opinions about his dedication to the craft.
He would soon face the test of his career in his match against Argentinian powerhouse, Marcos Maidana. Addressing the criticism he'd faced in an all-too-close match-up with Malignaggi, AB announced his rededication to pugilism, assuring fans that he would be fully prepared, and promised to put on a show. Things didn't go the way AB or Vegas envisioned as he was clearly outworked for the duration of the fight, being knocked down twice during the contest. Although he did manage to make Maidana respect his punching power and speed, AB was outclassed by a large margin and suffered his first defeat, surrendering the WBA welterweight title. This would be the first of two losses for AB, as his bout against contender Shawn Porter was billed as his first major test since being destroyed by Maidana. This was a test in which he seemed more prepared for than many of his previous fights, but he was ultimately unsuccessful, as it is speculated that he became a victim of his own hubris against a more than solid opponent.
Although there have been many comparisons to his close friend and mentor, Floyd Mayweather Jr. due to their shoulder-roll defensive fighting style, there have also been comparisons made because of the string of controversies outside of the ring. On October 12, 2016, he took to Instagram to air out hit his frustrations and shook his fanbase to the core when he alluded to the fact that he intended to take his own life. After posting a series of cryptic messages, he uploaded a photo of a gun placed on the dashboard of his vehicle and announced a time in which he intended to do the deed. Shortly after, his Instagram page was briefly shut down. While gaining notoriety for his lavish lifestyle and braggadocious persona, AB, in his brief career has accrued a staggering amount of accolades within the sport of boxing and continues to be one of its brightest stars.
What is Adrien Broner's Record?
Adrien Broner's record currently stands at 34 wins, 4 loses and 1 draw. Of those 34 wins he has stopped 24 of his opponents, so his current knock-out ratio is 71%. Despite his 4 loses, he has never been stopped. He's boxed a total of 247 rounds, meaning his professional fights last 6.3 rounds on average.
What was Broner's last fight?
Adrien Broner's last fight took place against Jovanie Santiago's on 20th Feb 2021, in Connecticut, United States. He won by unanimous decision after 12 rounds. That fight was 10 months and 27 days ago.
How active is Adrien Broner?
Broner's last 5 fights have come over a period of 4 years, 10 months and 29 days, meaning he has been fighting on average every 11 months and 24 days. In those fights, he fought a total of 58 rounds, meaning that they have lasted 11.6 rounds on average.
Where is Adrien Broner From?
Broner was born in the United States.
How Old Is Adrien Broner?
The welterweight is currently 32 years old. He was born on 28th July 1989, so he will turn 33 in 6 months and 12 days.
How long has Broner been fighting?
Adrien Broner made his professional debut in May 2008, so he has been a pro for 13 years and 7 months.
How tall is Adrien Broner?
Broner is 5' 6" (5 Foot and 6 inches) which is 168cm (1 meter and 68 centimeters).
What is Broner's Reach?
His reach is 68.9 inches (68.9") which is 175 cm (1 meter and 75 centimeters).
What stance does Adrien Broner use?
Broner fights from a traditional orthodox stance, which means he favours his right hand as his power hand when fighting.
What are some potential opponents for Adrien Broner?
Some potential future fights for Broner include Jessie Vargas, Amir Khan, Sergey Lipinets, Danny Garcia and Michel Rivera.
What will be Adrien Broner's Next Fight?
Adrien Broner's doesn't currently have a fight scheduled.
Some potential future fights for Broner include Jessie Vargas, Amir Khan, Sergey Lipinets, Danny Garcia and Michel Rivera.
How can I stream Adrien Broner's Fights?
In the UK you can usually stream Broner's fights on Fite.TV – PPV.
In the US you can usually stream Adrien Broner's fights via Showtime App and ShowTime via Hulu.
What are some recent Adrien Broner results?
Broner has beaten 2 of his last 5 opponents, stopping 1 of them, going the distance once.
In his last fight, he lost to Manny Pacquiao on 19th January 2019 by unanimous decision in their WBA World Welterweight championship fight at MGM Grand, Las Vegas, United States.
Previous to that, he had drawn with Jessie Vargas on 21st April 2018 by majority draw at Barclays Center, New York.
Going into that contest, he had been beaten by Mikey Garcia on 29th July 2017 by unanimous decision in their 12 round contest at Barclays Center, New York.
Before that, he had defeated Adrian Granados on 18th February 2017 by split decision in their 10 round contest at U.S. Bank Arena, Cincinnati.
He had beat Ashley Theophane on 1st April 2016 by technical knockout in the 9th round in their WBA World Super Lightweight championship fight at DC Armory, Washington.
Adrien Broner's next fight
When is Adrien Broner's Next Fight?
Adrien Broner's doesn't currently have a fight scheduled.
Some potential future fights for Broner include Jessie Vargas, Amir Khan, Sergey Lipinets, Danny Garcia and Michel Rivera.
Adrien Broner's Potential Fights
Where can I get Adrien Broner tickets?
We couldn't find any ticket details for Adrien Broner at the moment.