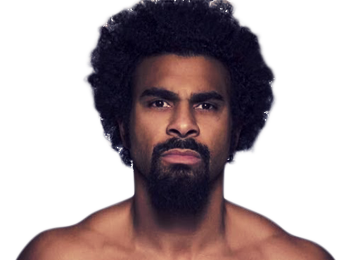 Form
UD 8
TKO 5
TKO 11
TKO 2
TKO 1
One of the most unique and talented fighters of his generation, David Haye is an accomplished British cruiserweight and heavyweight. He won titles in both of those weight, making him the second man to do so, after Evander Holyfield.
Born in Bermondsey, London, England, Haye came from a kind family, and was known for being an intelligent young man. He began his training at Fitzroy Lodge Boxing Club in South London, a hard-nosed, old-school gym, when he was only 10 years old. Later known as "The Hayemaker" for his punching power, he possessed that power even as a boy, and his trainer, Mick Carney, recalls how he knocked out about three kids in the first round. That made it difficult for him to get amateur matches.
He eventually was able to secure plenty of amateur fighters, even becoming the first British boxer to make it to the finals of the World Amateur Boxing Championships, although he lost and ended up with the silver medal. When he ended his amateur career, he had a solid record of 83 wins with 13 losses.
While his amateur record was solid, David Haye stepped his game up as a professional, knocking out his opponents left and right. In his first 10 fights, he collected 10 stoppages, with several occurring in the very first round. He won the vacant English cruiserweight title after scoring a first-round TKO over Tony Dowling on November 14, 2003.
Less than a year later, he was fighting for a world title, this one the IBO cruiserweight title in a match against 40-year-old Carl Thompson. In an incredible fight, he came out of the gates strong, viciously attacking Thompson and almost getting the TKO multiple times. However, he expended too much energy in pursuit of the finish, and Thompson started coming back, dropping him with a hard shot in the fifth round. Thompson then continued his attack, and Haye's corner had seen enough, throwing in the towel even though their fighter was up on the scorecards.
Haye didn't take much time thinking about his defeat, as he got right back in the ring three months later to face Valeri Semiskur, who he knocked out in the very first round. He continued to pick up KO and TKO victories, working his way up to a fight against Alexander Gurov on December 16, 2005 for the European cruiserweight title. The fight was in his home, England, and he put on an impressive performance for his home fans, scoring another first round knockout to win the belt. He went on to defend his belt three times, and then got an opportunity to jump up to heavyweight for a fight against top-10 fighter Tomasz Bonin. Always wanting to be a heavyweight champion, he decided to try his hand at the new weight class, and it was a huge success, as he came through with another first-round knockout.
Going back down to cruiserweight, he got another title shot, this time against Jean-Marc Mormeck for the WBA, WBC, The Ring and lineal cruiserweight titles. It was another back-and-forth title fight for him, as he took some punishment in the fourth round and ended up on the canvas. However, this time around, he was the one making a comeback, as he got up and took out Mormeck in the seventh round.
Enzo Maccarinelli, a dangerous knockout artist with the WBO cruiserweight title, was next. The fight was short-lived, as David Haye easily defeated him by way of second-round knockout, adding another belt to his growing collection. Satisfied with his legacy at cruiserweight, he decided that it was time to move up to go after that heavyweight title. He made his permanent move up on November 15, 2008 when he took out Monte Barrett in the fifth round.
While he was going to fight one of the Klitschko brothers next, neither fight came to fruition, and instead he fought the massive Nikolay Valuev for the WBA heavyweight title. He was at a weight disadvantage of almost 100 pounds, leading to the fight being billed as "David and Goliath." Despite that, he was able to use his speed and accuracy to score against the larger man, even landing a hard left hook that rocked Valuev in the 12th round. He ended up winning the belt by majority decision, with the scores being 114-114, 116-112 and 116-112.
His heavyweight performances only got better from there, as in his next fight, he stopped John Ruiz in the ninth round. He became only the second man to stop Ruiz. He then defeated Audley Harrison by third-round TKO, in a fight where Harrison landed only one out of 32 punches.
Finally, he got the fight he wanted – a heavyweight unification bout against Wladimir Klitschko, the longtime champion. However, he ended up losing a clear decision, as he was unable to get any of his offense going the entire fight and lost on all three of the judge's score cards. It was later said that he had a broken toe that limited his explosiveness.
He decided to retire after the Klitschko loss, although he didn't stay retired for long, as he was soon trying to get a fight against Vitali Klitschko. He wasn't successful, but he did get in a brawl with Dereck Chisora at the post-fight press conference for Klitschko-Chisora. That led to Haye getting a comeback fight against Chisora, and he took care of business in their grudge match. He controlled the first four rounds, and in the fifth, he put Chisora down with a hard shot. When Chisora got up, he floored him again and the referee called an end to the fight.
He had an even longer break after the Chisora victory, staying out of action from 2012 to 2016, and doctors advised him to retire after shoulder issues forced him to pull out of multiple fights in 2013. He came back on January 16, 2016 against Mark de Mori and didn't show any signs of ring rust, as he took out his opponent in a first-round TKO. He followed that up a few months later with a second-round TKO over Arnold Gjergjaj, showing that he still had plenty of power in his fists.
What is David Haye's Record?
David Haye's record currently stands at 28 wins, 4 loses and 0 draws. Of those 28 wins he has stopped 26 of his opponents, so his current knock-out ratio is 93%. Of his 4 loses, he's been stopped 3 times. He's boxed a total of 138
rounds, meaning his professional fights last 4.3 rounds on average.
What was Haye's last fight?
David Haye's last fight took place against Joe Fournier's on 11th Sep 2021, in Florida, United States. He won by unanimous decision in the 8th round. That fight was 4 months and 17 days ago.
How active is David Haye?
Haye's last 5 fights have come over a period of 6 years and 12 days, meaning he has been fighting on average every 1 year, 2 months and 16 days. In those fights, he fought a total of 27 rounds, meaning that they have lasted 5.4 rounds on average.
Where is David Haye From?
Haye was born in the United Kingdom.
How Old Is David Haye?
The heavyweight is currently 41 years old. He was born on 13th October 1980, so he will turn 42 in 8 months and 15 days.
How long has Haye been fighting?
David Haye made his professional debut in December 2002, so he has been a pro for 19 years and 1 month.
How tall is David Haye?
Haye is 6' 3" (6 Foot and 3 inches) which is 191cm (1 meter and 91 centimeters).
What is Haye's Reach?
His reach is 78 inches (78") which is 198 cm (1 meter and 98 centimeters).
What stance does David Haye use?
Haye fights from a traditional orthodox stance, which means he favours his right hand as his power hand when fighting.
What are some potential opponents for David Haye?
Some potential future fights for Haye include Unified Heavyweight Champion Tyson Fury.
What will be David Haye's Next Fight?
David Haye's doesn't currently have a fight scheduled.
Some potential future fights for Haye include Unified Heavyweight Champion Tyson Fury.
How can I stream David Haye's Fights?
In the UK you can usually stream Haye's fights on Fite.TV – PPV.
In the US you can usually stream David Haye's fights via Fite.TV – PPV US.
What are some recent David Haye results?
David Haye has stopped 3 of his last 5 opponents.
In his last fight, he lost to Tony Bellew on 5th May 2018 by technical knockout in the 5th round at The O2 Arena, London, United Kingdom.
Previous to that, he had been beaten by Tony Bellew on 4th March 2017 by technical knockout in the 11th round at The O2 Arena, London.
Going into that contest, he had beat Arnold Gjergjaj on 21st May 2016 by technical knockout in the 2nd round at The O2 Arena, London.
Before that, he had won against Mark de Mori on 16th January 2016 by technical knockout in the 1st round at The O2 Arena, London.
He had beat Dereck Chisora on 14th July 2012 by technical knockout in the 5th round at Upton Park, West Ham.
When is David Haye's Next Fight?
David Haye's doesn't currently have a fight scheduled.
Some potential future fights for Haye include Unified Heavyweight Champion Tyson Fury.
How can I stream David Haye's Fights?
In the UK you can usually stream Haye's fights on Fite.TV – PPV.
In the US you can usually stream David Haye's fights via Fite.TV – PPV US.
David Haye's Potential Fights
Where can I get David Haye tickets?
We couldn't find any ticket details for David Haye at the moment.