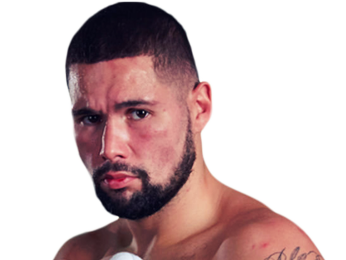 Tony Bellew
Form
KO 8
TKO 5
TKO 11
TKO 3
TKO 3
Born on November 30, 1982 in Liverpool, Merseyside, England, Tony Bellew is a rangy boxer who has fought at light heavyweight and cruiserweight. He had a successful amateur career, winning ABA titles in 2002 and 2003 and picking up quite a few KOs along the way. He even jumped up to heavyweight as an amateur.
Bellew decided to join the professional ranks on October 6, 2007 when he fought Jamie Ambler. The fight didn't last long, as he scored a TKO victory in the second round. Less than a month later he fought again, this time scoring a third-round TKO over Adam Wilcox. He had one more fight to finish the year, and it was against his first opponent with a winning record in the 3-0-1 Wayne Brooks. That didn't matter, as he put Brooks out in the third round to win by KO.
He continued building his record in 2008 and 2009, and by the time 2009 ended he was 12-0, with eight of those wins coming by knockout. That was good enough to get him a shot at the vacant Commonwealth light heavyweight title, although it was against an inexperienced opponent in the 4-1 Atoli Moore. Tony Bellew came out and dominated from the very beginning, finishing the fight by TKO in the first round. He beat Bob Ajisafe by unanimous decision and then finished Ovill McKenzie by TKO in the eighth round. He was then supposed to fight Nathan Cleverly in a world title fight but missed weight and lost that opportunity. In an interesting turn of events, he had to fight Ovill McKenzie again, this time winning a unanimous decision after 12 rounds and earning the British light heavyweight title in the process.
Bellew then got another chance to fight Nathan Cleverly, on October 15, 2011 for the WBO light heavyweight title. He came up short, though, as his opponent's boxing skills were just a bit too much for him to handle. He ended up dropping a majority decision in a close fight. Bouncing back with a fifth-round KO over Danny McIntosh, he then beat Edison Miranda by TKO in the ninth round to win the WBC Silver International light heavyweight title. He picked up the WBC Silver light heavyweight title in his next fight, and by November 30, 2013, he had earned another world title fight. This was against Adonis Stevenson for the WBC, The Ring, and lineal light heavyweight titles. He was no match for the power of Stevenson, losing by TKO in the sixth round.
Tony Bellew decided to drop to cruiserweight after that loss, and immediately picked up the WBO International belt with a 12th-round KO over Valery Brudov. After putting together a six-fight winning streak, he got to fight against Ilunga Makabu on May 29, 2016 for the WBC cruiserweight title. This time, Bellew wouldn't be denied a world title, as he stopped Makabu in the third round by KO. He followed that up with a title defense over BJ Flores where he once again won by third-round KO.
What was Bellew's last fight?
Batyr Akhmedov's last fight took place against Mario Barrios' on 28th Sep 2019, in LA, United States. He lost by unanimous decision after 12 rounds. That fight was 1 year and 3 months ago.
How active is Tony Bellew?
Akhmedov's last 5 fights have come over a period of 1 year, 5 months and 7 days, meaning he has been fighting on average every 4 months and 11 days. In those fights, he fought a total of 35 rounds, meaning that they have lasted 7 rounds on average.
Where is Tony Bellew From?
Bellew was born in the United Kingdom.
How Old Is Tony Bellew?
The cruiserweight is currently 38 years old. He was born on 30th November 1982, so he will turn 39 in 10 months and 7 days.
How long has Bellew been fighting?
Tony Bellew made his professional debut in October 2007, so he has been a pro for 13 years and 3 months.
How tall is Tony Bellew?
Bellew is 6' 3" (6 Foot and 3 inches) which is 191cm (1 meter and 91 centimeters).
What is Bellew's Reach?
His reach is 74 inches (74") which is 188 cm (1 meter and 88 centimeters).
What stance does Tony Bellew use?
Bellew fights from a traditional orthodox stance, which means he favours his right hand as his power hand when fighting.
What are some potential opponents for Tony Bellew?
Some potential future fights for Bellew include Mario Barrios.
What will be Tony Bellew's Next Fight?
Tony Bellew's doesn't currently have a fight scheduled.
Some potential future fights for Bellew include Mario Barrios.
How can I stream Tony Bellew's Fights?
We don't have streaming details for Tony Bellew's next fight yet.
What are some recent Tony Bellew results?
Akhmedov has won 5 of his most recent fights, stopping 4 of them, going the distance once.
In his last fight, he won against Francisco Gabriel Pina on 25th May 2019 by technical knockout in the 5th round at Gimnasio Oscar 'Tigre' García, Baja California, Mexico.
Previous to that, he had won against Viktor Plotnykov on 30th March 2019 by technical knockout in the 6th round at Ice Palace, Vladimir, Russia.
Going into that contest, he had beat Ismael Barroso on 18th August 2018 by knockout in the 9th round at Westin Bonaventure Hotel, California, United States.
Before that, he had defeated Oscar Barajas on 21st April 2018 by technical knockout in the 3rd round at Kings Theatre, New York.
He had won against Ricky Sismundo on 17th March 2018 by unanimous decision in their 10 round contest at Floyd Mayweather Boxing Academy, Zhukovka, Russia.
When is Tony Bellew's Next Fight?
Tony Bellew's doesn't currently have a fight scheduled.
Some potential future fights for Bellew include Mario Barrios.
Sorry, we couldn't find any streaming details for Tony Bellew yet. Please check back later.
Tony Bellew's Potential Fights
Where can I get Tony Bellew tickets?
We couldn't find any ticket details for Tony Bellew at the moment.