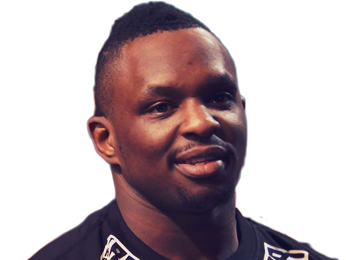 Dillian Whyte
Form
TKO 5
UD 10
UD 12
KO 11
UD 12
Stats
Full record
Ranking @ Heavyweight
Dillian Whyte's dynamic boxing career is a story of perseverance and excellence. Born in Port Antonio, Jamaica, Whyte moved with his family to the United Kingdom at the age of twelve. He says that he had "no schooling at all" while living in Jamaica and didn't do well academically overall. He credits boxing with changing his life.
His fighting career began in kickboxing and MMA before turning to boxing at age 20. In his first amateur bout, he defeated Anthony Joshua, a future Olympic gold medalist. After winning five of his first six fights, his trainer Chris Okoh wanted him to remain an amateur. Due to his kickboxing background, the ABA disagreed, which led to Whyte turning pro in 2011. Boxing promoter Frank Maloney jumped at the chance to sign him after friends had seen some of his impressive sparring sessions.
Whyte's professional career got off to a flying start. He won his first two fights by decision over Tayer Mehmed and Remigihus Ziausys within four months. His first TKO came three months later over Croatian Toni Visic, with the referee stopping the fight in the third round. Two more TKO victories came in 2012. In July of that year, Dillian Whyte fought Gabor Farkas. He knocked the six foot six inch Hungarian out in the second round for his first KO. Later on that year, after two more decisive victories, his young career took a sudden detour.
Before his last fight of 2012, against Sandor Balogue, Dillian Whyte took a drug test that later came back positive for Methylhexaneamin, a banned stimulant. This led to his victory over Baloque being stripped and a two year ban from competition. White had taken the supplement "Jack3D" and insisted that he had no idea that Methylhexaneamin was in it. He lost his appeal when an independent National Anti-Doping panel felt he didn't do enough to make sure the supplement was clean, including consulting a medical professional before taking it.
After two years on the shelf, White returned in 2014. He warmed up with easy victories over Ante Verunica and Tomas Mrazek. After several more victories that year and the next, including a knockout of previously undefeated Georgian Beka Lobjanidze, Dillian Whyte got his first title shot. His fight against American Brian Minto for the WBC International Silver Heavyweight Title was a part of the undercard of Anthony Joshua's title fight vs Gary Cornish. Whyte won by knockout in the third round, clinching his first title, but his clash with his old rival, Joshua was just beginning.
Since his first amateur victory over Joshua six years earlier, the two had trained together in heavyweight superstar Wladimir Klitschko's camps in Austria. After words were exchanged in the press, Whyte confronted Joshua and insisted on a long awaited rematch with the vacant British heavyweight title on the line. In September of 2015, Dillian got his shot. But Joshua proved to be more than a match for him this time around. After six hard fought rounds, Joshua landed an uppercut that knocked him out.
The setback of the loss to Joshua and subsequent shoulder surgery did not stop Dillian Whyte on his quest for the British heavyweight title. In 2016 he fought Ian Lewison for the once again vacated belt. Though he had mocked Lewison's weight at the press conference, leading to a near brawl between the two, the match turned out to be well contested. Whyte was victorious when, after ten rounds, the fight was stopped due to a nose problem with Lewison. He had finally achieved the coveted British Heavyweight Championship.
Having gone from Port Antonio to major title bouts at the O2 arena, Dillian White has never lost his genuine love for the sweet science of boxing. "I treat all bouts and shows with the same commitment and look forward to every fight," he says. "If it's a small hall or an arena show it makes no difference to me." It's that true love for the sport that has gotten him through setbacks in a career that continues to climb.
What was Whyte's last fight?
Dillian Whyte's last fight took place against Alexander Povetkin's on 22nd Aug 2020, in Essex, United Kingdom. He lost by technical knockout in the 5th round. That fight was 5 months and 5 days ago.
How active is Dillian Whyte?
Whyte's last 5 fights have come over a period of 2 years and 25 days, meaning he has been fighting on average every 6 months and 8 days. In those fights, he fought a total of 50 rounds, meaning that they have lasted 10 rounds on average.
Where is Dillian Whyte From?
Whyte was born in the United Kingdom.
How Old Is Dillian Whyte?
The heavyweight is currently 32 years old. He was born on 11th April 1988, so he will turn 33 in 2 months and 15 days.
How long has Whyte been fighting?
Dillian Whyte made his professional debut in May 2011, so he has been a pro for 9 years and 8 months.
How good is Dillian Whyte?
Whyte is currently ranked 4th by the The Ring and 6th by the WBC at Heavyweight.
How tall is Dillian Whyte?
Whyte is 6' 4" (6 Foot and 4 inches) which is 193cm (1 meter and 93 centimeters).
What is Whyte's Reach?
His reach is 78 inches (78") which is 198 cm (1 meter and 98 centimeters).
What stance does Dillian Whyte use?
Whyte fights from a traditional orthodox stance, which means he favours his right hand as his power hand when fighting.
What are some potential opponents for Dillian Whyte?
Some potential future fights for Whyte include Unified Heavyweight Champion Tyson Fury, Unified Heavyweight Champion Anthony Joshua, Martin Bakole Ilunga, Hughie Fury and Filip Hrgovic.
What will be Dillian Whyte's Next Fight?
Dillian Whyte is to face Alexander Povetkin next on Saturday 6th March 2021. The fight will take place in the United Kingdom. The fight will be shown on Sky Box Office HD in the UK, and DAZN in the United States.
How can I stream Dillian Whyte's Fights?
In the UK you stream Whyte's fight against Povetkin on Sky Sports Box Office.
In the US you can stream Dillian Whyte fight via DAZN.
What are some recent Dillian Whyte results?
Whyte has won 5 of his most recent fights, stopping 2 of them, going the distance 3 times.
In his last fight, he defeated Mariusz Wach on 7th December 2019 by unanimous decision in their 10 round contest at Diriyah Arena, Diriyah, Saudi Arabia.
Previous to that, he had defeated Oscar Rivas on 20th July 2019 by unanimous decision in their WBC Interim World Heavyweight championship fight at The O2 Arena, London, United Kingdom.
Going into that contest, he had beat Dereck Chisora on 22nd December 2018 by knockout in the 11th round at The O2 Arena, London.
Before that, he had won against Joseph Parker on 28th July 2018 by unanimous decision in their 12 round contest at The O2 Arena, London.
He had beat Lucas Browne on 24th March 2018 by knockout in the 6th round at The O2 Arena, London.
Bad Left Hook
Jan 21 2021
Dillian Whyte's next fight
US streams

Netflix of Spots
You can stream Dillian Whyte via the DAZN app and platform. You can download the app for PC, Apple, Android, Fire TV, Roku, your Smart TV and many others. Note: You save over 60% if you pay for a full year of DAZN.
| | |
| --- | --- |
| 1 Month | $19.99 |
| 1 Year | $99.99 |
Stream now
UK streams

You don't need to be a Sky customer to stream Dillian Whyte. Sky allow you to stream their pay-per-view cards via the Sky Sports Box Office app for Android or Apple. They also have a web player you can use. You'll need to sign-up and pay online before logging in.
Stream now
Dillian Whyte's Potential Fights
Where can I get Dillian Whyte tickets?
We couldn't find any ticket details for Dillian Whyte at the moment.