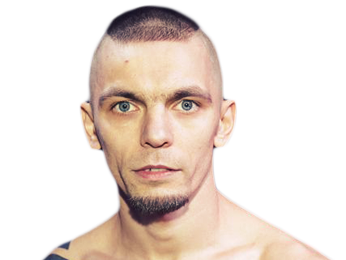 Ivan Redkach
Form
UD 12
KO 6
KO 1
UD 8
KO 4
What is Ivan Redkach's Record?
Ivan Redkach's record currently stands at 23 wins, 5 loses and 1 draw. Of those 23 wins he's stopped 18 of his opponents, so his current knock-out ratio is 78%. Of his 5 loses, he's been stopped 2 times. He's boxed a total of 145 rounds, meaning his professional fights last 5 rounds on average.
What was Redkach's last fight?
Ivan Redkach's last fight took place against Danny Garcia's on 25th Jan 2020, in New York, United States. He lost by unanimous decision after 12 rounds. That fight was 1 year and 1 month ago.
How active is Ivan Redkach?
Redkach's last 5 fights have come over a period of 3 years, 2 months and 18 days, meaning he has been fighting on average every 7 months and 23 days. In those fights, he fought a total of 31 rounds, meaning that they have lasted 6.2 rounds on average.
Where is Ivan Redkach From?
Redkach was born in Ukraine.
How Old Is Ivan Redkach?
Ivan Redkach is currently 34 years old. He was born on 11th March 1986, so he will turn 35 in 6 days.
How long has Redkach been fighting?
Ivan Redkach made his professional debut in November 2009, so he has been a pro for 11 years and 4 months.
How tall is Ivan Redkach?
Redkach is 5' 10" (5 Foot and 10 inches) which is 179cm (1 meter and 79 centimeters).
What is Redkach's Reach?
His reach is 70.9 inches (70.9") which is 180 cm (1 meter and 80 centimeters).
What stance does Ivan Redkach use?
Redkach fights from a southpaw stance, which means he favours his left hand as his power hand when fighting.
What are some potential opponents for Ivan Redkach?
Some potential future fights for Redkach include Shawn Porter and Adrien Broner.
What will be Ivan Redkach's Next Fight?
Ivan Redkach is to face Regis Prograis next on Saturday 17th April 2021. The fight will take place at Atlanta, United States. The fight will be broadcast on Triller in the UK, and Triller in the United States.
How can I stream Ivan Redkach's Fights?
In the UK you can usually stream Redkach's fights on BoxNation via BT Sports App and BoxNation.
In the US you can usually stream Ivan Redkach's fights via ShowTime via Hulu, ShowTime via Amazon Prime and Showtime Anytime.
What are some recent Ivan Redkach results?
Redkach has beaten 3 of his last 5 opponents, stopping 2 of them, going the distance once.
In his last fight, he defeated Devon Alexander on 1st June 2019 by knockout in the 6th round at Soboba Casino, California, United States.
Previous to that, he had defeated Tyrone Harris on 16th February 2019 by knockout in the 1st round at Microsoft Theater, California.
Going into that contest, he had beat Brian Jones on 9th June 2018 by unanimous decision in their 8 round contest at Staples Center, LA.
Before that, he had been beaten by John Molina Jr on 15th December 2017 by knockout in the 4th round at Pioneer Event Center, California, Afghanistan.
He had lost to Argenis Mendez on 2nd May 2017 by split decision in their 10 round contest at Sportsmans Lodge, California, United States.
Ivan Redkach's next fight
Ivan Redkach's Potential Fights
Where can I get Ivan Redkach tickets?
We couldn't find any ticket details for Ivan Redkach at the moment.