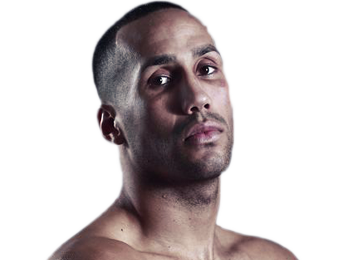 Form
UD 12
KO 3
UD 12
MD 12
MD 12
James DeGale is a professional boxer who was born in London, England, on February 3, 1986. He spent most of his childhood living in the Hammersmith district in the western portion of London. DeGale had a strong passion and dedication for boxing at a very young age. He began training in a local boxing gym at the age of 10.
DeGale showed off his skills on a big stage at the 2006 Commonwealth Games after a decade of training. He lost in the semifinal round of the prestigious tournament in Melbourne to Jarrod Fletcher to take home the bronze medal. He also took home the silver medal at the 2007 and 2008 European Union Championships. The impressive showing in these three tournaments made DeGale an easy pick to represent Great Britain in the middleweight division at the 2008 Olympic Games in Beijing. He easily won his first four fights in Beijing to set up a gold medal match against Cuba's Emilio Correa. The Cuban ultimately cost himself the match after he was docked two points for biting.
James DeGale knew it was time to start focusing on a professional career in boxing after winning the gold medal in Beijing. His first professional fight took place on February 28, 2009, against Vepkhia Tchilaia. DeGale won the four-round match by decision. He got his first chance at winning a title after starting his professional career with six straight wins. A fight against Sam Horton on May 15, 2010, decided the new WBA International super-middleweight champion. Horton did not put up much of a fight before getting knocked out in the fifth round. DeGale successfully retained his new title four months later with a first round technical knockout of Carl Dilks. He relinquished the title shortly after the victory over Dilks.
A ninth-round technical knockout over Paul Smith helped James DeGale win the British super-middleweight title on December 11, 2010. The first defense of the new title came against George Groves on May 21, 2011. Groves ultimately won a close match by majority decision. This was James DeGale's first loss in his professional boxing career. He followed up the loss with three easy wins before getting a shot at Fulgencio Zuniga's WBC Silver super-middleweight title on December 8, 2012. James DeGale won another title after getting a unanimous decision victory after 12 grueling rounds. He successfully defended the new title against Stjepan Bozic, Dyah Davis and Gevorg Khatchikian.
After starting his professional career with a 20-1 record, DeGale got the chance to fight Andre Dirrell for the vacant IBF super-middleweight title on May 23, 2015. James added another title to his impressive resume with a unanimous decision victory over Dirrell. The new IBF title was successfully defended against Lucian Brute and Rogelio Medina. Both fights were also won by unanimous decision. He put up the IBF super-middleweight title against WBC super-middleweight champion Badou Jack in a unification bout on January 14, 2017. The wild match saw both fighters get knocked down. The judges deemed the fight too close to call. Both fighters got to keep their titles after the majority draw decision.
What is James DeGale's Record?
James DeGale's record currently stands at 25 wins, 3 loses and 1 draw. Of those 25 wins he has stopped 15 of his opponents, so his current knock-out ratio is 60%. Despite his 3 loses, he has never been stopped. He's boxed a total of 210 rounds, meaning his professional fights last 7.2 rounds on average.
What was DeGale's last fight?
James DeGale's last fight took place against Chris Eubank Jr's on 23rd Feb 2019, in London, United Kingdom. He lost by unanimous decision after 12 rounds. That fight was 2 years and 10 months ago.
How active is James DeGale?
DeGale's last 5 fights have come over a period of 5 years and 2 days, meaning he has been fighting on average every 1 year. In those fights, he fought a total of 51 rounds, meaning that they have lasted 10.2 rounds on average.
Where is James DeGale From?
DeGale was born in the United Kingdom.
How Old Is James DeGale?
The super middleweight is currently 35 years old. He was born on 3rd February 1986, so he will turn 36 in 18 days.
How long has DeGale been fighting?
James DeGale made his professional debut in February 2009, so he has been a pro for 12 years and 10 months.
How tall is James DeGale?
DeGale is 6' 0" (6 Foot and 0 inches) which is 183cm (1 meter and 83 centimeters).
What is DeGale's Reach?
His reach is 74 inches (74") which is 188 cm (1 meter and 88 centimeters).
What stance does James DeGale use?
DeGale fights from a southpaw stance, which means he favours his left hand as his power hand when fighting.
What will be James DeGale's Next Fight?
James DeGale's doesn't currently have a fight scheduled.
How can I stream James DeGale's Fights?
In the UK you can usually stream DeGale's fights on Fite.Tv ITV.
In the US you can usually stream James DeGale's fights via Showtime App and ShowTime via Hulu.
What are some recent James DeGale results?
DeGale has beaten 3 of his last 5 opponents, stopping 1 of them, going the distance twice.
In his last fight, he beat Fidel Monterrosa Munoz on 30th September 2018 by knockout in the 3rd round at Citizens Business Bank Arena, California, United States.
Previous to that, he had beat Caleb Truax on 7th April 2018 by unanimous decision in their IBF World Super Middleweight championship fight at Hard Rock Hotel and Casino, Nevada.
Going into that contest, he had been beaten by Caleb Truax on 9th December 2017 by majority decision in their IBF World Super Middleweight championship fight at Copper Box Arena, London, United Kingdom.
Before that, he had drawn with Badou Jack on 14th January 2017 by majority draw in their 12 round contest in their WBC World Super Middleweight and IBF World Super Middleweight championship fight at Barclays Center, New York, United States.
He had won against Rogelio Medina on 30th April 2016 by unanimous decision in their IBF World Super Middleweight championship fight at Armory, Washington.
James DeGale's next fight
When is James DeGale's Next Fight?
James DeGale's doesn't currently have a fight scheduled.
James DeGale Potential Fights
Sorry, we don't know of any potential fights for James DeGale at the moment, why not send us some suggestions?
Where can I get James DeGale tickets?
We couldn't find any ticket details for James DeGale at the moment.