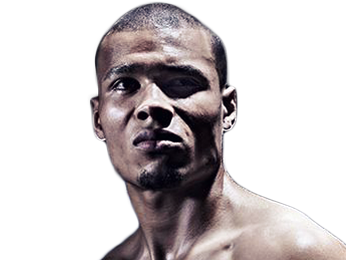 Form
TKO 5
UD 10
TKO 2
UD 12
TKO 3
Stats
Full record
Ranking @ Middleweight
Chris Eubank Jr is one of those fighters who can truthfully state that boxing is in his blood, as he's the son of former WBO middleweight and super middleweight champion Chris Eubank Sr. He was born in Hove, East Sussex, England, and even gained a bit of exposure during his early years when he appeared on the reality TV show "At Home with the Eubanks." When he was 16, he went to the United States with his brother to live with a guardian. Their mother later explained that this was done so both boys would have dual citizenship, and to give them a better chance of success in professional sports.
Eubank started his amateur boxing career shortly after getting to the United States, and he quickly climbed the ranks. First, he became Nevada's Amateur Golden Glove Champion. Next, he became the Amateur Golden Glove Champion for the Western States, and that was after having only eight amateur fights. He also competed in the 2008 National Golden Gloves, where he had one win and one loss. Overall, he went 24-2 as an amateur, for a successful but short amateur career.
By 2011, he had decided to turn pro, and he made his debut in Manchester on November 12, 2011. He fought Kirilas Psonko and had a dominant performance, scoring a TKO in the fourth round. He quickly built up a streak of wins, fighting often in England, Ireland and Denmark. Although three out of his first five wins went to the scorecards, he still demonstrated solid power in his bouts, and as he got further into his career he became more dangerous, collecting more TKO victories.
The one criticism that could be levelled at him during the start of his career was the lack of high-level competition, which is the case for many boxers when they begin their professional careers. His early fights were against what many would refer to as subpar competition. The only fighter he faced with much of a name was Bradley Pryce on December 8, 2012. Pryce had held multiple national titles, although he was on the downswing of his career by that point. Still, Chris Eubank Jr picked up a solid, albeit unspectacular win on points.
He had amassed an impressive 18-0 record and had finished 10 straight opponents when he earned his first title fight. It was on November 29, 2014, and the opponent was Billy Joe Saunders, a slick fighter who had boxed in the 2008 Olympics. The fight was for Saunders' European, British and Commonwealth middleweight titles, and it was also a title-eliminator fight for WBO world middleweight title. Saunders' big fight experience was apparent from the outset, as he controlled the fight for the first six rounds. Eubank, on the other hand, didn't do much for that first half of the fight, keeping a very slow pace that led many to think he was nervous from the pressure of his first big fight. To his credit, he started fighting with much more intensity from the seventh round through the end of the fight, turning the match into an exciting slugfest. However, his slow start likely cost him the fight, as he lost the fight via split decision, with the scores being 115-114, 115-114 and 113-116.
Three months later, the young fighter bounced back with a dominant victory over Dmitry Chudinov for the WBA interim middleweight title, stopping Chudinov in the 12th round. He then destroyed Tony Jeter in two rounds later that year and closed the year out with another stoppage against Gary O'Sullivan.
His next fight was against Nick Blackwell for the British middleweight championship, and the fight received international attention for what happened in the ring and afterwards. With Eubank dominating the fight from the beginning, it was clear that Blackwell was outclassed and could get badly hurt. That's when the young boxer's father instructed him between rounds to hit Blackwell to the body instead of the head, both to stop him more quickly and to prevent further serious damage since the referee wasn't taking the initiative to stop the fight.
The referee eventually did call the fight in the 10th round, but Blackwell still needed to go to the hospital immediately afterwards. Tests showed that he had bleeding in his brain, and he was put in a medically-induced coma. Fortunately, he did make a full recovery, although he had to retire because of his injuries.
Chris Eubank Jr moved on to a fight against Tom Doran at the 02 Arena, the site of a few of his memorable performances. He put on another one against Doran, knocking the game fighter down once in the third round and then three times in the fourth to earn himself a TKO victory. He also called out Gennady Golovkin in his post-fight interview, which is impressive merely for how few fighters wanted to take on the dangerous boxer known as "GGG" at that time.
Eubank followed in his father's footsteps for his next fight, as he jumped up a division to take on Renold Quinlan for his IBO super middleweight title. As the smaller fighter, he was able to use his superior speed to his advantage, particularly after about the fifth round, when he started to pour it on with ferocious punching combinations. After several rounds of Quinlan absorbing punishment, the referee stopped the fight in the 10th round, as he was simply leaning on the ropes taking shot after shot.
Eubank would return five months later to fight the ageing veteran Arthur Abraham, picking up a comfortable points victory over the slow German. Just before the fight, it was announced that the winner would enter the World Boxing Super Series at Super Middleweight.
Eubank would face off against Turk, Avni Yildirim, in the quarter-final in Stuttgart in October 2017. Arguably his most impressive victory to date, he knocked Yildirim out in spectacular fashion in the third round. This victory would set up an all British semi-final against Geroge Groves in Manchester in February 2018.
In his biggest contest to date, Eubank struggled to gain a foothold in their eventual fight, losing on the scorecards. This loss would yet again draw criticisms of Eubanks training methods and boxing ability at the highest level.
It's not easy to be the son of a champion, but Eubank Jr has done an admirable job of living up to the family name. Despite some deserved criticism, he's an excellent all-around fighter, with great technical skills, speed, and power, along with the heart to press forward even in difficult fights. He also benefits from having his father in his corner to guide him, learning from the retired champion's wealth of experience.
What is Chris Eubank Jr's Record?
Chris Eubank Jr's record currently stands at 31 wins, 2 loses and 0 draws. Of those 31 wins he has stopped 23 of his opponents, so his current knock-out ratio is 74%. Despite his 2 loses, he has never been stopped. He's boxed a total of 201 rounds, meaning his professional fights last 6.1 rounds on average.
What was Eubank Jr's last fight?
Chris Eubank Jr's last fight took place against Wanik Awdijan's on 16th Oct 2021, in Tyne and Wear, United Kingdom. He won by technical knockout in the 5th round. That fight was 3 months and 8 days ago.
How active is Chris Eubank Jr?
Eubank Jr's last 5 fights have come over a period of 3 years, 3 months and 27 days, meaning he has been fighting on average every 7 months and 30 days. In those fights, he fought a total of 32 rounds, meaning that they have lasted 6.4 rounds on average.
Where is Chris Eubank Jr From?
Eubank Jr was born in the United Kingdom.
How Old Is Chris Eubank Jr?
The middleweight is currently 32 years old. He was born on 18th September 1989, so he will turn 33 in 7 months and 25 days.
How long has Eubank Jr been fighting?
Chris Eubank Jr made his professional debut in November 2011, so he has been a pro for 10 years and 2 months.
How good is Chris Eubank Jr?
Eubank Jr is currently ranked 7th by the The Ring, 5th by the WBO, 3rd by the WBC and 1st by the WBA at Middleweight.
How tall is Chris Eubank Jr?
Eubank Jr is 5' 11" (5 Foot and 11 inches) which is 180cm (1 meter and 80 centimeters).
What is Eubank Jr's Reach?
His reach is 72.4 inches (72.4") which is 184 cm (1 meter and 84 centimeters).
What stance does Chris Eubank Jr use?
Eubank Jr fights from a traditional orthodox stance, which means he favours his right hand as his power hand when fighting.
What are some potential opponents for Chris Eubank Jr?
Some potential future fights for Eubank Jr include Billy Joe Saunders, Callum Smith, Gennady Golovkin, Gilberto Ramirez and Martin Murray.
What will be Chris Eubank Jr's Next Fight?
Chris Eubank Jr is to face Liam Williams next on Saturday 5th February 2022. The fight will take place at Motorpoint Arena, Wales, United Kingdom. The fight will be broadcast on Sky Sports Arena in the UK, and Fite.tv PPV US in the United States.
How can I stream Chris Eubank Jr's Fights?
In the UK you stream Eubank Jr's fight against Williams on NowTV and Sky Go.
In the US you can stream Chris Eubank Jr fight via Fite.TV – PPV US.
What are some recent Chris Eubank Jr results?
Eubank Jr has won 5 of his most recent fights, stopping 4 of them, going the distance once.
In his last fight, he defeated Avni Yildirim on 7th October 2017 by knockout in the 3rd round at Hanns-Martin-Schleyer Halle, Stuttgart, Germany.
Previous to that, he had defeated Arthur Abraham on 15th July 2017 by unanimous decision in their 12 round contest at Wembley (SSE) Arena, London, United Kingdom.
Going into that contest, he had beat Renold Quinlan on 4th February 2017 by technical knockout in the 10th round at Olympia, London.
Before that, he had won against Tom Doran on 25th June 2016 by technical knockout in the 4th round in their BBBOC British Middleweight championship fight at The O2 Arena, London.
He had beat Nick Blackwell on 26th March 2016 by technical knockout in the 10th round in their BBBOC British Middleweight championship fight at Wembley Arena, London.
Chris Eubank Jr's next fight
When is Chris Eubank Jr's Next Fight?
Chris Eubank Jr is to face Liam Williams next on Saturday 5th February 2022. The fight will take place at Motorpoint Arena, Wales, United Kingdom. The fight will be broadcast on Sky Sports Arena in the UK, and Fite.tv PPV US in the United States.
US streams

PPV Stream
You can stream Chris Eubank Jr via Fite.tv on a PPV basis. Once purchased, you can watch on your Smart TV, Phone or Desktop PC, and they have apps available on Roku, Xbox, Chromecast and Apple TV.
Stream now
UK streams

Cheap Sky Sports
You can stream Chris Eubank Jr via NowTV. They allow you to stream Sky Sports boxing cards via their app, based on a 24 hour, weekly or monthly passes. You'll also get access to 11 Sky Sports Channels during your pass period. They also do a monthly smartphone only pass for £5.99, which is great if you need to catch Chris Eubank Jr on the move.
| | |
| --- | --- |
| 24 Hours | £8.99 |
| 1 Week | £14.99 |
| 1 Month | 33.99 |
| 1 Month (Mobile Only) | £5.99 |
Stream now

Sky on the Go
Existing or new Sky Sports subscribers can stream Chris Eubank Jr, and all Sky boxing cards, via the Sky Go App. This is free is you're already a Sky Sports TV customer. It's available for Apple, Android, Firestick, Roku and games consoles.
| | |
| --- | --- |
| Existing Customers | Free |
| 1 Month (for TV) | £45 |
Stream now
Chris Eubank Jr's Potential Fights
Saturday, 5 February 2022
Where can I get Chris Eubank Jr Tickets?
Tickets are officialy on sale for Eubank Jr vs Williams from Ticketmaster but currently under limited availability or sold out.
You can also buy Eubank Jr vs Williams tickets on the resale market for this fight from StubHub. Tickets are currently under limited availability or sold out.