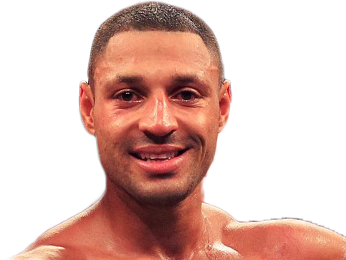 Form
TKO 4
KO 7
UD 12
KO 2
KO 11
Stats
Full record
Ranking @ Welterweight
Born on May 3, 1986 and hailing from Sheffield, South Yorkshire, England, Kell Brook cut his teeth in Brendan Ingle's Wincobank boxing gym, the same place where the electrifying Prince Naseem Hamed trained. He was nine years old when he started working out at the gym, going through many of Ingle's famous drills. He had a fairly successful amateur career where he won four national titles, and then turned pro at 18 years old.
His first professional fight occurred on September 17, 2004, and to say he was at an experience disadvantage would be a massive understatement. His opponent, Peter Buckley, had 230 fights at the time, although his record was a poor 31-189-10. Brook ended up cruising to a comfortable victory on points after six rounds. He would stay very active throughout the rest of the year, fighting once in October, once in November and twice in December. He ended up scoring three straight TKOs, two in the first round, and picking up another points win after six rounds to close out the year.
For almost the first four years of his career, he fought journeyman fighters, most of whom had losing records. However, he was beating all of them, staying active and demonstrating that he had potential. His technique was sharp, and he could switch smoothly from orthodox to southpaw at any time. He had a very relaxed, fluid style and could stay defensively sound even though he had his hands held rather low.
It wasn't until June 14, 2008 that he got his first opponent with a strong record in the 15-1 Barrie Jones, who had stepped up and taken the fight on short notice. Kell was 16-0 at the time, and the two were fighting for the British welterweight title. Kell Brook showed that he could step his game up for the big fights, as he scored an impressive TKO stoppage in the seventh round to take the belt.
While his level of competition rose from here on out, he continued to step his game up, scoring TKO after TKO. He defended that British welterweight title three times with three impressive victories, resulting in his being named the young British boxer of the year. To kick off 2010, he got a shot at the WBO Inter-Continental welterweight title against Krzysztof Bienias, who was on a 17-fight winning streak. That streak ended decisively as Brook took control of the fight from the very beginning, eventually battering Bienias in the sixth round for a TKO.
His two other fights in 2010 were a fifth-round TKO win over Michael Jennings and a second-round TKO win over Philip Kotey. That put him on a streak of eight consecutive stoppage victories and ran his record to a perfect 23-0, which set him up with another title shot. It was for the WBA Inter-Continental welterweight title, against Lovemore N'dou on June 25, 2011. He didn't keep his streak of stoppages alive, but he did win the belt with a clear 12-round unanimous decision victory.
He had two other fights in 2011, against Rafal Jackiewicz and Luis Galarza, and won both of them by way of TKO. In the fight against Galarza, he got the chance to introduce himself in person to an American audience. Taking place in Atlantic City, New Jersey, it was his first fight in the United States.
Next up was another title shot, this time for the IBF International welterweight belt. He fought Matthew Hatton, brother of British boxing great Ricky Hatton, in Sheffield on March 17, 2012. He had another impressive performance in a title fight, knocking Hatton down once in the ninth round and picking up a clear unanimous decision victory. His next fight, however, was his most trying up to that point. He faced the American boxer Carson Jones in Sheffield on July 7, 2012. In an incredible fight, Kell Brook started strong before tiring and getting his nose broken in round eight. He showed his heart by fighting until the end, hanging on even after taking heavy punishment in the final round. He ended up winning by majority decision, with scores of 116-113, 115-113 and 114-114, then going to the hospital immediately afterwards because of all the blood he had lost.
In his next fight, he took out Hector Saldivia with ease, notching a third-round TKO. After injury issues with both Brook and potential opponents of his, his next fight ended up being a rematch with Jones. This time around, he started strong and never looked back, eventually scoring an eight-round TKO to leave no doubt that he was the better fighter.
After two more TKO victories, he got his first shot at a world title in a match against the 24-0-1 Shawn Porter, who was the favorite, at the StubHub Center in Carson, California. The highly-anticipated fight took place on August 16, 2014, and it lived up to the hype. Kell had to weather an early storm, before fighting back to take control. It was a competitive contest, and he ended up winning a majority decision by scores of 117-111, 116-112 and 114-114.
He made three defenses of his welterweight title and scored three dominant stoppage victories in the fourth, sixth and second rounds. While he was then going to fight Jessie Vargas, the WBO welterweight champion, to unify their belts, the negotiations for that fight ended up falling through. Instead, he decided to jump up two weight divisions to middleweight, taking on the vicious, undefeated power puncher Gennady Golovkin. On September 10, 2016 at the 02 Arena in London he fought Golovkin for the WBC, IBF and IBO middleweight titles. The fact that he was putting his own 36-0 record on the line to move up in weight and take on such a dangerous fighter showed his courage, and he fared better than many of Golovkin's victims. He hung on after taking heavy shots and even fired right back, but he ended up with an injured eye socket. During a particularly brutal sequence in the fifth round, his trainer threw in the towel to save him from any further punishment.
What is Kell Brook's Record?
Kell Brook's record currently stands at 39 wins, 3 loses and 0 draws. Of those 39 wins he has stopped 27 of his opponents, so his current knock-out ratio is 69%. Of his 3 loses, he's been stopped 3 times. He's boxed a total of 220 rounds, meaning his professional fights last 5.2 rounds on average.
What was Brook's last fight?
Kell Brook's last fight took place against Terence Crawford's on 14th Nov 2020, in Las Vegas, Nevada, United States. He lost by technical knockout in the 4th round. That fight was 1 year and 2 months ago.
How active is Kell Brook?
Brook's last 5 fights have come over a period of 4 years, 8 months and 1 day, meaning he has been fighting on average every 11 months and 7 days. In those fights, he fought a total of 36 rounds, meaning that they have lasted 7.2 rounds on average.
Where is Kell Brook From?
Brook was born in the United Kingdom.
How Old Is Kell Brook?
The welterweight is currently 35 years old. He was born on 3rd May 1986, so he will turn 36 in 3 months and 5 days.
How long has Brook been fighting?
Kell Brook made his professional debut in September 2004, so he has been a pro for 17 years and 4 months.
How good is Kell Brook?
Brook is currently ranked 13th by the WBC at Welterweight.
How tall is Kell Brook?
Brook is 5' 9" (5 Foot and 9 inches) which is 175cm (1 meter and 75 centimeters).
What is Brook's Reach?
His reach is 68.9 inches (68.9") which is 175 cm (1 meter and 75 centimeters).
What stance does Kell Brook use?
Brook fights from a traditional orthodox stance, which means he favours his right hand as his power hand when fighting.
What are some potential opponents for Kell Brook?
Some potential future fights for Brook include Keith Thurman, Manny Pacquiao, Liam Smith, Austin Trout and Jeff Horn.
What will be Kell Brook's Next Fight?
Kell Brook is to face Amir Khan next on Saturday 19th February 2022. The fight will take place at Manchester Arena, Manchester, United Kingdom. The card will be shown by Sky Box Office HD in the UK
How can I stream Kell Brook's Fights?
In the UK you stream Brook's fight against Khan on Sky Sports Box Office.
What are some recent Kell Brook results?
Brook has beaten 3 of his last 5 opponents, stopping 2 of them, going the distance once.
In his last fight, he won against Mark DeLuca on 8th February 2020 by knockout in the 7th round at Sheffield Arena, Sheffield, United Kingdom.
Previous to that, he had won against Michael Zerafa on 8th December 2018 by unanimous decision in their 12 round contest at Sheffield Arena, Sheffield.
Going into that contest, he had beat Sergey Rabchenko on 3rd March 2018 by knockout in the 2nd round at Sheffield Arena, Sheffield.
Before that, he had been beaten by Errol Spence Jr on 27th May 2017 by knockout in the 11th round in their IBF World Welterweight championship fight at Bramall Lane, Sheffield.
Hehad lost to Gennady Golovkin on 10th September 2016 by technical knockout in the 5th round in their WBC World Middleweight and IBF World Middleweight championship fight at The O2 Arena, London.
When is Kell Brook's Next Fight?
Kell Brook is to face Amir Khan next on Saturday 19th February 2022. The fight will take place at Manchester Arena, Manchester, United Kingdom. The card will be shown by Sky Box Office HD in the UK
UK streams

You don't need to be a Sky customer to stream Kell Brook. Sky allow you to stream their pay-per-view cards via the Sky Sports Box Office app for Android or Apple. They also have a web player you can use. You'll need to sign-up and pay online before logging in.
Stream now
Kell Brook's Potential Fights
Saturday, 19 February 2022
Where can I get Kell Brook Tickets?
Tickets are officialy on sale for Khan vs Brook from Ticketmaster but currently under limited availability or sold out.
You can also buy Khan vs Brook tickets on the resale market for this fight from TicketNetwork. Tickets are currently under limited availability or sold out.
StubHub also has resell tickets available from . Tickets are currently under limited availability or sold out.
Finally, StubHub also have tickets available from . Tickets are currently under limited availability or sold out.