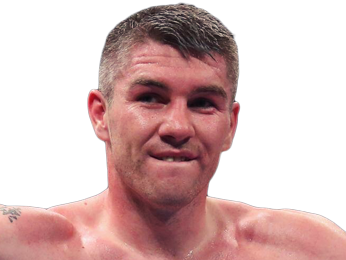 Liam Smith
Form
UD 10
TKO 7
TKO 5
UD 12
MD 12
Stats
Full record
Ranking @ Super Welterweight
Born on July 27, 1988 in Liverpool, Merseyside, England, Liam Smith comes from a boxing family, as his three brothers also became professional boxers. He had a strong amateur career, winning the 2007 and 2008 ABA Championships, and then deciding to turn pro.
He had his first fight on October 10, 2008 against Duncan Cottier, who sported a 2-43-3 record. Smith cruised to an easy decision victory on points after four rounds. In his next fight two months later, he got his first stoppage with an impressive first-round TKO of John Van Emmenis.
In his next three fights, he picked up three wins on points, albeit against weak competition. All the boxers he faced had losing records, and his sixth fight against the 6-5-4 Terry Carruthers was his first against anyone with a winning record. It wasn't a good performance by Liam Smith, as he couldn't do enough to get the win. Instead, the fight was ruled a draw after four rounds.
To his credit, Smith bounced back well after that draw, scoring a TKO over Matt Scriven in the second round on December 11, 2010. On September 17, 2011, he took on his toughest opponent to that point in the 16-8 Barrie Jones and won by KO in the third round. He followed that up less than a month later with a first-round KO over Gerard Healy.
Despite his string of three consecutive finishes, he wasn't the most highly regarded prospect at that point in his career. He had good technique and solid power. He was facing low-level competition, but that's common to start a career, especially in England. However, he wasn't as active as many fighters were when starting out, occasionally having breaks of six months or more between fights.
After running his record to 12-0-1 and staying very active throughout 2012, he got to fight for the Commonwealth light middleweight title on December 15, 2012 against Steve O'Meara. He took the fight by unanimous decision after 12 rounds. Two fights later, he earned the British light middleweight title when he beat Erick Ochieng by 12-round unanimous decision.
Liam Smith went on one of the more impressive runs of his career next, as he started landing harder shots on his opponents and put together a streak of eight consecutive finishes from December 7, 2013 to June 4, 2016. He also added three belts to his collection over that winning streak, the WBA Continental light middleweight title, the WBO Inter-Continental light middleweight title and the WBO light middleweight title.
That set up his first match outside of England, as he traveled to Arlington, Texas on September 17, 2016 to take on the Mexican superstar, Saul Canelo Alvarez. Many felt that he would be outmatched by Canelo, who was much larger and seen as the far superior boxer. Unfortunately for Smith, those predictions proved accurate. He fought hard throughout the contest, but Canelo dropped him in the seventh and eighth rounds with powerful punches, and then finished him off with a brutal left hook to the body in round nine, wiping out his undefeated record.
What is Liam Smith's Record?
Liam Smith's record currently stands at 29 wins, 2 loses and 1 draw. Of those 29 wins he's stopped 16 of his opponents, so his current knock-out ratio is 55%. Of his 2 loses, he's been stopped 1 time. He's boxed a total of 194 rounds, meaning his professional fights last 6.1 rounds on average.
What was Smith's last fight?
Liam Smith's last fight took place against Roberto Garcia's on 20th Dec 2019, in Arizona, United States. He won by unanimous decision in the 10th round. That fight was 1 year and 3 months ago.
How active is Liam Smith?
Smith's last 5 fights have come over a period of 3 years, 5 months and 6 days, meaning he has been fighting on average every 8 months and 7 days. In those fights, he fought a total of 46 rounds, meaning that they have lasted 9.2 rounds on average.
Where is Liam Smith From?
Smith was born in the United Kingdom.
How Old Is Liam Smith?
The super welterweight is currently 32 years old. He was born on 27th July 1988, so he will turn 33 in 3 months and 10 days.
How long has Smith been fighting?
Liam Smith made his professional debut in October 2008, so he has been a pro for 12 years and 6 months.
How good is Liam Smith?
Smith is currently ranked 2nd by the WBO at Super Welterweight.
How tall is Liam Smith?
Smith is 5' 9" (5 Foot and 9 inches) which is 176cm (1 meter and 76 centimeters).
What stance does Liam Smith use?
Smith fights from a traditional orthodox stance, which means he favours his right hand as his power hand when fighting.
What are some potential opponents for Liam Smith?
Some potential future fights for Smith include Sadam Ali, Kell Brook, Jarrett Hurd, Unified Super Welterweight Champion Jermell Charlo and Jessie Vargas.
What will be Liam Smith's Next Fight?
Liam Smith is to face Magomed Kurbanov next on Saturday 8th May 2021. The fight will take place at Ekaterinburg, Russian Federation.
How can I stream Liam Smith's Fights?
We don't have streaming details for Liam Smith's next fight yet.
What are some recent Liam Smith results?
Smith has beaten 4 of his last 5 opponents, stopping 3 of them, going the distance once.
In his last fight, he won against Mario Alberto Lozano on 24th August 2019 by technical knockout in the 7th round at Centro de Usos Multiples, Sonora, Mexico.
Previous to that, he had won against Sam Eggington on 30th March 2019 by technical knockout in the 5th round at Echo Arena, Liverpool, United Kingdom.
Going into that contest, he had been beaten by Jaime Munguia on 21st July 2018 by unanimous decision in their WBO World Junior Middleweight championship fight at Hard Rock Hotel and Casino, Nevada, United States.
Before that, he had beat Liam Williams on 11th November 2017 by majority decision in their 12 round contest at Metro Radio Arena, Newcastle, United Kingdom.
He had defeated Liam Williams on 8th April 2017 by technical knockout in the 9th round at Manchester Arena, Manchester.
When is Liam Smith's Next Fight?
Liam Smith is to face Magomed Kurbanov next on Saturday 8th May 2021. The fight will take place at Ekaterinburg, Russian Federation.
How can I stream Liam Smith's Fights?
We don't have streaming details for Liam Smith's next fight yet.
Liam Smith's Potential Fights
Where can I get Liam Smith tickets?
We couldn't find any ticket details for Liam Smith at the moment.