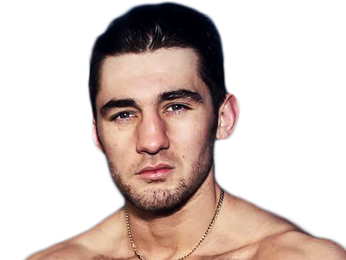 Nathan Cleverly
Form
TKO 5
TKO 6
UD 12
TKO 1
SD 12
Born on February 17, 1987 in Caerphilly, Wales, Nathan Cleverly was always a natural athlete, as he excelled in football and cross country running growing up. As he kept getting into fights, he decided to join a nearby boxing gym. He immediately loved the sport and found success as an amateur, medaling in multiple national tournaments. When he finished his amateur career, he had a record of 32-4.
Ready to take on a new challenge, Cleverly turned pro on July 23, 2005 and took on Ernie Smith, who sported a 12-84-4 record. He ended up with a points win after four rounds in his first fight. He had the same result in his next fight, which was against Darren Gethin. On December 4, 2005, he closed out the year with an impressive third-round TKO in his third fight.
Nathan Cleverly started piling up the wins, although the majority were on points and against journeyman fighters. At 10-0, he got the toughest challenge of his young career when he faced off against the 10-1 Joey Vegas. He picked up the win on points after eight rounds, but it was a grueling fight which saw both men land big shots.
After another victory, he earned a shot at the Commonwealth light heavyweight title on October 10, 2008 against Tony Oakley. It was the first time that Cleverly had to go 12 rounds, but he showed that he had solid cardio as he picked up a unanimous decision victory. He would then go on a streak of seven consecutive finishes, proving that in addition to his technical skills, he also had solid punching power. During that time, he won the British and European light heavyweight belts. He also got his degree in mathematics from Cardiff University in 2010.
On December 11, 2010, Nathan Cleverly fought for his first world title, the WBO interim light heavyweight belt. He took on Nadjib Mohammedi, and although it was a bit of an awkward fight because of his opponent's style, he still won the title with a 12-round unanimous decision win. Because of issues with the champion, Jurgen Brahmer, the WBO eventually upgraded this interim title to the real thing.
Over the next two-and-a-half years, he defended his WBO title five times. However, on August 17, 2013, he ran into the powerful Russian, Sergey Kovalev, who had an undefeated record with quite a few impressive stoppages. Cleverly was no match, and lost for the first time when he was stopped in the fourth round.
He decided to jump to cruiserweight after the loss, and in his first fight in his new weight class, he won the WBA Inter-Continental title with a second-round TKO over Shawn Corbin. He defended that belt with a fourth-round TKO over Alejandro Emilio Valori, but then lost a close split decision to Tony Bellew.
He went back to light heavyweight and knocked out Tomas Man in just one round. His next fight was on October 16, 2015 for the WBC International light heavyweight title, but he lost a unanimous decision to Andrzej Fonfara.
What is Nathan Cleverly's Record?
Nathan Cleverly's record currently stands at 30 wins, 4 loses and 0 draws. Of those 30 wins he has stopped 16 of his opponents, so his current knock-out ratio is 53%. Of his 4 loses, he's been stopped 2 times. He's boxed a total of 217
rounds, meaning his professional fights last 6.4 rounds on average.
What was Cleverly's last fight?
Nathan Cleverly's last fight took place against Badou Jack's on 26th Aug 2017, in Las Vegas, United States. He lost by technical knockout in the 5th round. That fight was 4 years ago.
How active is Nathan Cleverly?
Cleverly's last 5 fights have come over a period of 6 years, 9 months and 26 days, meaning he has been fighting on average every 1 year, 4 months and 13 days. In those fights, he fought a total of 36 rounds, meaning that they have lasted 7.2 rounds on average.
Where is Nathan Cleverly From?
Cleverly was born in the United Kingdom.
How Old Is Nathan Cleverly?
The light heavyweight is currently 34 years old. He was born on 17th February 1987, so he will turn 35 in 5 months.
How long has Cleverly been fighting?
Nathan Cleverly made his professional debut in July 2005, so he has been a pro for 16 years and 1 month.
How tall is Nathan Cleverly?
Cleverly is 6' 2" (6 Foot and 2 inches) which is 187cm (1 meter and 87 centimeters).
What is Cleverly's Reach?
His reach is 74 inches (74") which is 188 cm (1 meter and 88 centimeters).
What stance does Nathan Cleverly use?
Cleverly fights from a traditional orthodox stance, which means he favours his right hand as his power hand when fighting.
What will be Nathan Cleverly's Next Fight?
Nathan Cleverly's doesn't currently have a fight scheduled.
How can I stream Nathan Cleverly's Fights?
We don't have streaming details for Nathan Cleverly's next fight yet.
WorldBoxingNews
Jul 02 2018
Nathan Cleverly's next fight
When is Nathan Cleverly's Next Fight?
Nathan Cleverly's doesn't currently have a fight scheduled.
How can I stream Nathan Cleverly's Fights?
We don't have streaming details for Nathan Cleverly's next fight yet.
Nathan Cleverly Potential Fights
Sorry, we don't know of any potential fights for Nathan Cleverly at the moment, why not send us some suggestions?
Where can I get Nathan Cleverly tickets?
We couldn't find any ticket details for Nathan Cleverly at the moment.