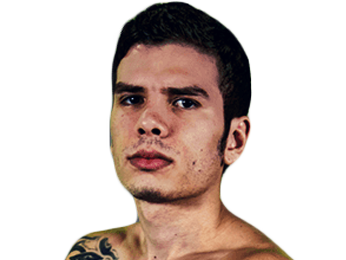 Form
UD 12
UD 12
UD 10
TKO 3
KO 1
Belts held
WBA World Super Featherweight champion

Colbert (16-0-0) 26-Feb-2022
Alvarado (32-9-0)
UD 12
14-Aug-2021
168 days - (5 months & 15 days)
Alvarado (32-8-0)
UD 12
02-Jan-2021
392 days - (1 year & 27 days)
Aug 14 2021
UD 12
Alvarado
(32-9-0)
Every 392 days - (1 year & 27 days)
392 days - (1 year & 27 days)
Stats
Full record
Ranking @ Super Featherweight
What is Roger Gutierrez's Record?
Roger Gutierrez's record currently stands at 26 wins, 3 loses and 1 draw. Of those 26 wins he has stopped 20 of his opponents, so his current knock-out ratio is 77%. Of his 3 loses, he's been stopped 2 times. He's boxed a total of 119 rounds, meaning his professional fights last 4 rounds on average.
What was Gutierrez's last fight?
Roger Gutierrez's last fight took place against Rene Alvarado's on 14th Aug 2021, in Texas, United States. He won by unanimous decision after 12 rounds. That fight was 5 months and 14 days ago.
How active is Roger Gutierrez?
Gutierrez's last 5 fights have come over a period of 2 years, 6 months and 15 days, meaning he has been fighting on average every 6 months and 5 days. In those fights, he fought a total of 38 rounds, meaning that they have lasted 7.6 rounds on average.
What belts does Roger Gutierrez hold?
He won WBA World Super Featherweight belt against Rene Alvarado, beating him by unanimous decision after 12 rounds on 2nd January 2021. He has held this belt for a total of 391 days (1 year and 26 days) and has defended the belt 1 time. He is yet to make a mandatory defence of this belt.
Where is Roger Gutierrez From?
Gutierrez was born in Venezuela.
How Old Is Roger Gutierrez?
The super featherweight is currently 26 years old. He was born on 11th April 1995, so he will turn 27 in 2 months and 14 days.
How long has Gutierrez been fighting?
Roger Gutierrez made his professional debut in October 2013, so he has been a pro for 8 years and 3 months.
How good is Roger Gutierrez?
Gutierrez is currently ranked 6th by the The Ring at Super Featherweight.
How tall is Roger Gutierrez?
Gutierrez is 5' 10" (5 Foot and 10 inches) which is 177cm (1 meter and 77 centimeters).
What is Gutierrez's Reach?
His reach is 69.7 inches (69.7") which is 177 cm (1 meter and 77 centimeters).
What stance does Roger Gutierrez use?
Gutierrez fights from a traditional orthodox stance, which means he favours his right hand as his power hand when fighting.
What are some potential opponents for Roger Gutierrez?
Some potential future fights for Gutierrez include Lamont Roach.
What will be Roger Gutierrez's Next Fight?
Roger Gutierrez is to face Chris Colbert next on Saturday 26th February 2022. The fight will take place at The Cosmo, Las Vegas, United States. The fight will be shown on ShowTime in the United States.
How can I stream Roger Gutierrez's Fights?
In the US you can stream Roger Gutierrez fight via Showtime App and ShowTime via Hulu.
What are some recent Roger Gutierrez results?
Gutierrez has beaten 4 of his last 5 opponents, stopping 3 of them, going the distance once.
In his last fight, he lost to Rene Alvarado on 2nd January 2021 by unanimous decision in their WBA World Super Featherweight championship fight at American Airlines Center, Texas, United States.
Previous to that, he had beat Andres Tapia on 14th December 2019 by unanimous decision in their 10 round contest at Auditorio del Estado, Baja California, Mexico.
Going into that contest, he had won against Angel Mujica on 19th October 2019 by technical knockout in the 3rd round at Centro Recreacional Yesterday, Turmero, Venezuela.
Before that, he had beat Eduardo Hernandez on 13th July 2019 by knockout in the 1st round at Dignity Health Sports Park, California, United States.
He had defeated Leonardo Padilla on 20th December 2018 by knockout in the 5th round at Plaza de La Paz, Cartagena, Colombia.
Roger Gutierrez's next fight
US streams

Showtime Free For 30 Days!
Stream Roger Gutierrez live online or in the SHOWTIME app on supported TV and mobile devices. The Showtime have native apps for Apple TV (4th Gen+), Roku, Fire TV, Xbox One, iOS, and Android TV and mobile. You'll also get access to Showtime's full TV and movie catalog!
| | |
| --- | --- |
| 30 Days | Free |
| 3 Months (per Month) | $4.99 |
| 1 Month (normal) | $10.99 |
Stream now

Showtime via Hula
You can stream Roger Gutierrez via Hula when you buy a Showtime add-on, on top of a standard Hulu package (From $5.99).
| | |
| --- | --- |
| 1 Month | $10.99 (+ Standard Live Package) |
Stream now
Roger Gutierrez's Potential Fights
Saturday, 26 February 2022
Where can I get Roger Gutierrez Tickets?
Tickets are officialy on sale for Gutierrez vs Colbert from Ticketmaster and are priced at $30 - $200.
You can also buy Gutierrez vs Colbert tickets on the resale market for this fight from TicketNetwork. Tickets are exchanging hands from $109 - $319.