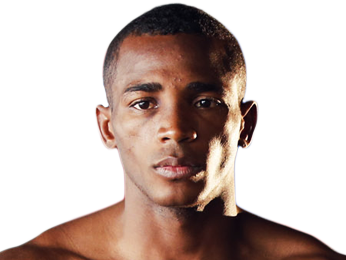 Erislandy Lara
Form
UD 12
TKO 2
SD 12
SD 12
UD 12
Belts held
WBA World Super Welterweight champion

Vendetti (22-3-1)
UD 12
29-Aug-2020
232 days - (7 months & 20 days)
Alvarez (28-7-3)
TKO 2
31-Aug-2019
596 days - (1 year & 7 months)
Aug 29 2020
UD 12
Vendetti
(22-3-1)
Every 596 days - (1 year & 7 months)
596 days - (1 year & 7 months)
Stats
Full record
Ranking @ Super Welterweight
Erislandy Lara is a professional boxer who was born in Guantanamo, Cuba, on April 11, 1983. While he did not take up the sport of boxing at a young age, Lara became known for his technical skills in the ring early in his amateur career. After a rough start, he finally became one of the best amateur boxers in Cuba in 2005. This recognition earned him a spot on the Cuban roster for the 2005 Boxing World Cup in Moscow. Lara dominated the early portion of the tournament, but eventually lost in the final match to Russian Andrey Balanov to get the silver medal.
He would also get the chance to represent Cuba in the welterweight division at the 2005 World Amateur Boxing Championships in Mianyang, China. An early victory over his Russian rival Balanov put Lara in great position to succeed. He went on to win every match in the tournament to earn the gold medal. He added another gold medal to his impressive amateur boxing resume when he was the top fighter at the 2006 Central American and Caribbean Games in Cartegena, Columbia.
Erislandy Lara was expected to be a big contributor for the Cuban boxing team at the 2008 Olympic Games in Beijing, but he was banned for the sport indefinitely for attempting to defect to Brazil in 2007. He did not let the governmental ban prevent him from his passion, so Lara used a boat to get to Mexico in 2008. He then went to Hamburg, Germany, to seek asylum. The successful defection to Germany allowed him to start his professional boxing career with a win over Ivan Maslov on July 4, 2008.
Erislandy Lara successfully won his first 13 professional fights before getting a chance to win a title. A match on November 27, 2010, against Tim Connors was for the vacant WBA Fedelatin light middleweight title. Lara won the match with a first round technical knockout. His first professional loss came against Paul Williams on July 9, 2011. Erislandy responded with two straight victories following the loss to Williams. This ability to rebound earned him a shot at the vacant WBA light middleweight title against Alfredo Angulo. Both fighters put on a good performance, but Angulo ultimately got knocked out in the 10th round.
Lara successfully defended his new WBA title with a unanimous decision victory over Austin Trout on December 7, 2013. While waiting for a strong contender to emerge, he decided to move up a weight class to face Canelo Alvarez. The risky decision did not pay off because Alvarez won the fight by split decision. Erislandy Lara added another title belt to his waist when he defeated Delvin Rodriguez on June 12, 2015, in a match for the vacant IBO light middleweight title. Both of the prestigious light middleweight titles were successfully defended against Jan Zaveck and Vanes Martirosyan to end 2016 with a professional record of 23-2-2. Ersilandy added another successful title defense to his career record when defeated Yuri Foreman with a fourth round knockout on January 13, 2017.
What is Erislandy Lara's Record?
Erislandy Lara's record currently stands at 27 wins, 3 loses and 3 draws. Of those 27 wins he's stopped 15 of his opponents, so his current knock-out ratio is 56%. Despite his 3 loses, he's never been stopped. He's boxed a total of 225 rounds, meaning his professional fights last 6.8 rounds on average.
What was Lara's last fight?
Erislandy Lara's last fight took place against Greg Vendetti's on 29th Aug 2020, in Los Angeles, California, United States. He won by unanimous decision after 12 rounds. That fight was 7 months and 19 days ago.
How active is Erislandy Lara?
Lara's last 5 fights have come over a period of 3 years, 6 months and 3 days, meaning he has been fighting on average every 8 months and 13 days. In those fights, he fought a total of 50 rounds, meaning that they have lasted 10 rounds on average.
What belts does Erislandy Lara hold?
He won a vacant WBA World Super Welterweight belt against Ramon Alvarez, beating him by technical knockout in the 2nd round on 31st August 2019. He has held this belt for a total of 595 days (1 year, 7 months and 17 days) and has defended the belt 1 time. He is yet to make a mandatory defence of this belt.
Where is Erislandy Lara From?
Lara was born in Cuba.
How Old Is Erislandy Lara?
The super welterweight is currently 38 years old. He was born on 11th April 1983, so he will turn 39 in 11 months and 25 days.
How long has Lara been fighting?
Erislandy Lara made his professional debut in July 2008, so he has been a pro for 12 years and 9 months.
How good is Erislandy Lara?
Lara is currently ranked 2nd by the The Ring at Super Welterweight.
How tall is Erislandy Lara?
Lara is 5' 9" (5 Foot and 9 inches) which is 175cm (1 meter and 75 centimeters).
What is Lara's Reach?
His reach is 74 inches (74") which is 188 cm (1 meter and 88 centimeters).
What stance does Erislandy Lara use?
Lara fights from a southpaw stance, which means he favours his left hand as his power hand when fighting.
What are some potential opponents for Erislandy Lara?
Some potential future fights for Lara include Unified Super Welterweight Champion Jermell Charlo, Demetrius Andrade, Jarrett Hurd, Jeison Rosario and Brian Carlos Castano.
What will be Erislandy Lara's Next Fight?
Erislandy Lara is to face Thomas Lamanna next on Saturday 1st May 2021. The fight will take place at Dignity Health Sports Park, California, United States. The card will be shown by FOX in the United States.
How can I stream Erislandy Lara's Fights?
In the US you can stream Erislandy Lara fight via ESPN / ESPN 2 / FS1 via Hulu Live TV and FOX NOW.
What are some recent Erislandy Lara results?
Lara has beaten 3 of his last 5 opponents, stopping 2 of them, going the distance once.
In his last fight, he beat Ramon Alvarez on 31st August 2019 by technical knockout in the 2nd round in their WBA World Super Welterweight championship fight at Minneapolis Armory, Minnesota, United States.
Previous to that, he had drawn with Brian Carlos Castano on 2nd March 2019 by split draw in their WBA World Super Welterweight championship fight at Barclays Center, New York.
Going into that contest, he had been beaten by Jarrett Hurd on 7th April 2018 by split decision in their IBF World Junior Middleweight and WBA Super World Super Welterweight championship fight at Hard Rock Hotel and Casino, Las Vegas, Nevada.
Before that, he had beat Terrell Gausha on 14th October 2017 by unanimous decision in their WBA Super World Super Welterweight championship fight at Barclays Center, New York.
He had won against Yuri Foreman on 13th January 2017 by knockout in the 4th round in their WBA Super World Super Welterweight championship fight at Hialeah Park Racing & Casino, Hialeah.
Erislandy Lara's next fight
US streams

Stream Live Cable!
You can stream Erislandy Lara on this cable channel via Hula's massive Live TV package. You can watch Hulu via your Apple, Android, Firestick, Roku devices, smart TV or your games consoles.
| | |
| --- | --- |
| 7 Days | Free |
| 1 month | $64.99 |
Stream now

Free FOX Stream
You can live stream Erislandy Lara on regular Fox via the FOX NOW app. The app is available on Apple, Android, Fire TV, Roku and many others.
Stream now
Erislandy Lara's Potential Fights
Where can I get Erislandy Lara tickets?
We couldn't find any ticket details for Erislandy Lara at the moment.