Features
10 Stone Cold Classic Fights From The DAZN Boxing Archive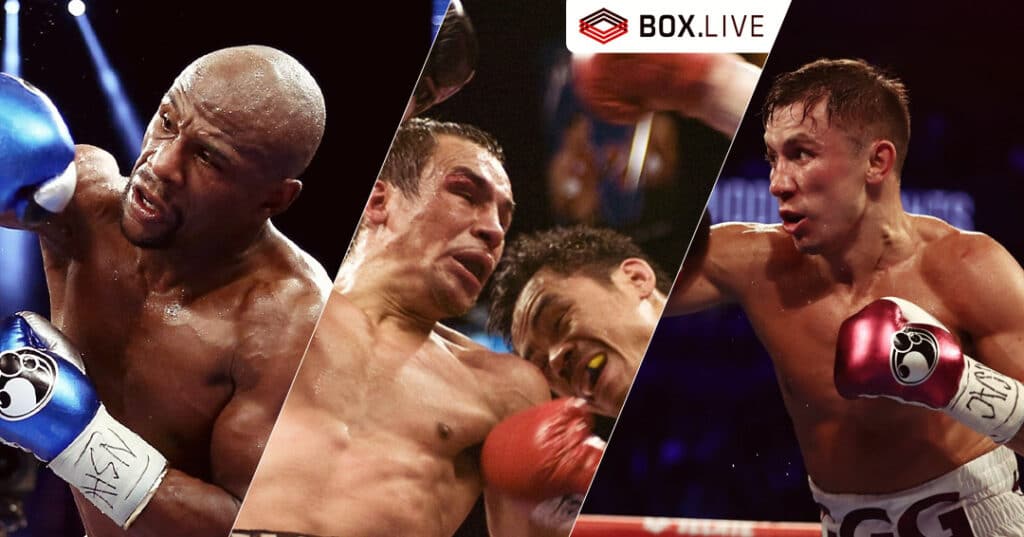 With this week's launch of Eddie Hearn's Matchroom's first exclusive show on DAZN in the UK, we decided to delve into their classic fight archive, and pick out some classics you can enjoy on-demand on the upstart's streaming app today. 
Our team have picked out ten pièce de résistances to whet your appetite and get you ready for the next 3 weeks of Fight Camp.
Keen not to just be a one-trick pony, and just live stream some of the best fights around the world, DAZN offer you the chance to jump into an archive of classic fights from the past 25 years.
There're also some really impressive original documentaries, so we're personally hoping they can eventually fill the HBO '24/7' sized gap missing from the boxing world over the past few years.
For now, enjoy these classics on your £1.99 p/m subscription and let us know if we missed any of your favourites in the comments!
10# De La Hoya vs Pacquiao (2008)
This was billed as 'The Dream Match', as Pacquiao's status as the best fighter in boxing (note: Mayweather was technically 'retired' at this point) met with the immense star power of the 'The Golden Boy', Oscar De La Hoya. Both had held world titles in five and six different weight divisions, respectively, heading into the fight.
Pacquiao stepped up two weight divisions (from lightweight), and De La Hoya had to go down one weight division (from light-middleweight). Many feared for Pacquiao leading into the fight, believing that he was biting off more than he could chew with the size difference.
What would unfold would catapult Manny Pacquiao into mainstream superstardom, and a near 7 years melodrama build-up to the biggest fight in boxing history against Floyd Mayweather.
Extra Fact: British legend Ricky Hatton turned down the opportunity to fight De La Hoya before this was made, due to the original proposed fight date coming too quickly after his fight with Mexican, Juan Lazcano.
Watch Fight
9# Canelo vs GGG I (2017)

You don't need blood and guts to make a great fight. This is a high level, high pressure, highly skilled demonstration of the sweet science.
Golovkin had been a wrecking ball for the best part of 10 years as a pro. Canelo, whom it may be hard to believe now, had many doubters that his popularity didn't match up with an elite level of talent.
Fans had been champing at the bit for the best part of 2 years for the fight, by the time the first bell sounded. This didn't, and still doesn't, disappoint as an example of the highest level of the sport.
Extra Fact: The WBC had ordered Canelo to defend the middleweight belt he'd won by defeating Miguel Cotto in late 2015. In May 2016, Alvarez vacated the title, which the WBC immediately awarded to Gennady Golovkin.
Watch Fight
8# Mayweather vs Canelo (2013)

Witness and be in awe of prime 'money' Mayweather. Canelo might have been slightly green, but at 23, already had several really impressive wins on his slate and a decent size advantage too.
Enjoy a defensive masterclass from the self-anointed 'The Best Ever', as he masterfully makes Canelo look rather average.
You can certainly see why no one holds this single loss against Canelo, and he credits this loss with moulding him into an elite talent in his own right.
Extra Fact: Fight judge, CJ Ross, who inexplicably scored this fight even at 114 – 114, making the official score a majority decision, has never judged a professional boxing match since.
Watch Fight
7# Hopkins vs De La Hoya (2004)

A chance to witness two great fighters, who would later become great friends and business partners.
All the marbles were available, as Hopkins' made his way to the ring with WBA, WBC, IBF, The Ring and lineal middleweight championships, and De La Hoya held the light regarded (at the time) WBO middleweight championship.
This was a cagey encounter, but the skills on show and dramatic finish make it worthy of your attention!
Extra Fact: This was Hopkin's 19th win in his historic run at middleweight, which would eventually match Larry Holmes' record of 20 consecutive successful title defences. It would also be his last knock out victory as a professional, despite competing for another remarkable 12 years.
Watch Fight
6# Whyte vs Chisora I (2016)

This isn't one for the purist. Leaky defences, often sloppy techniques and some questionable stamina and fitness levels combine with both men's incredible chins and pure toughness to create one of the most entertaining fights in recent British boxing history.
Put your sensibilities aside, lighten up and enjoy this beautiful piece of carnage.
Extra Fact: Whyte was supposed to defend his British title, but the British Boxing Board of Control removed the fight's title status. Chisora famously attempted to throw a table at Whyte during a press conference in fight week.
The fight looked in doubt as Chisora was brought in front of the Board just a day before the fight to explain his actions, but eventually escaped with a £25,000 fine, and a two-year suspended ban.
Watch Fight
5# Hopkins vs Calzaghe (2008)

Two legends go at it, and this one is closer than a lot of fans remember it. Hopkin shocks Calzaghe with an early knockdown. The two masterful boxers spend the rest of the fight trying to out outmanoeuvre each other, throwing some of the best short-range punches you're ever likely to see.
Extra Fact: This was Calzaghe's debut fight in America, having just fought twice outside the UK in his first 42 fights. He had previously defended his WBO super middleweight title outside his homeland in both Germany & Denmark.  
Watch Fight
4# De La Hoya vs Mayweather (2007)

The sport's biggest fight of the 2000s. At the time, the bout was the most lucrative boxing match ever, with over $130 million in generated revenue, smashing the previous PPV record at 2.4 million buys.
This is a classic clash of styles, as Mayweather put on yet another defensive masterclass against the pressure of De La Hoya.
Despite retiring after the contest for over a year, the fight would propel Mayweather into a superstar and the highest-earning fighter the sport has ever seen.
Extra Fact: Heading into the fight, De La Hoya had been trained for five years by Floyd Mayweather Sr, the then estranged father of Mayweather Jr. Senior demanded $2M to continue train De La Hoya for the fight, leading to the boxer hire Freddie Roach.
Watch Fight
3# Margarito vs Mosley (2009)

This one caught the imagination of the boxing world, as both had been in recent burn burners. Margarito had knocked out undefeated Miguel Cotto to capture the WBA welterweight title. Mosley had stopped Ricardo Mayorga in the 12th round of their own war.
Despite being the sizable underdog, Mosley surprised everyone, turning back the clock, with one of his finest nights, in a long and storied, hall of fame career.
This was a masterful beat down of one of the toughest guys in the sport at that time.
Extra Fact: This fight had probably the biggest scandal of modern boxing. Mosley's trainer, Naazim Richardson, pointed out something suspicious in the padding while Margarito was having his hands wrapped. A laboratory later confirmed the substance to be similar in nature to plaster of Paris in the original wraps and Margarito was banned for a year.
Watch Fight
2# Marquez vs Pacquiao II (2008)

Arguably one of the greatest rivalries and series in the sport's long history, Marquez and Pacquiao delivered 4 incredible fights.
The first and fourth fights obviously get a lot of attention for good reason, but there is no disgrace in being the 3rd best fight of four amazing bouts.
The 3rd fight is a low-key classic, with a lot more skills on show than some of the blood and guts sister fights, with another razor-thin decision.
Extra Fact: Having captured the WBC Super featherweight title in this contest, Pacquiao became the first Asian boxer to win world titles in four different weight classes. He would go on to hold a legitimate claim of being champion in a further four, bringing his total to eight different divisions!
Watch Fight
1# Canelo vs GGG II (2018)

The bad blood was ready to boil over in this highly anticipated rematch. Mix together a controversial draw in the first fight, a Mexican beef scandal delaying the original date, and some sharp words from two notoriously stoic fighters meant this one got spicy.
While their first fight felt like a high wire act, the rematch saw both fighters standing in the pocket and throw the proverbial kitchen sink at each other.
Pretty much all the stars align and two future Hall of Famers put on a fight for the ages.
Extra fact: Named 'Fight of the Year 2018' by The Ring magazine, this was the last PPV fight aired on HBO before they ended their boxing coverage indefinitely in November 2018.
Watch Fight
These classic fights, along with the exclusive broadcast rights of all future live Matchroom shows, including the next three Saturdays of Matchroom fight camp are only available to stream on DAZN. Sign-up and start your £1.99 per month subscription today.